227 Views
Bakeries are an essential part of the Parisian lifestyle. Crispy baguettes, multigrain Pain aux Céréales, leafy shaped Fougasses, and gluten-free takes on traditional French snacks are just some of my favorite parts of visiting a boulangerie.
I have been to Paris, more times than I can count on my hands and have visited endless bakeries, so I would consider myself an expert when it comes to this topic.
My morning ritual when I'm on vacation in the city of lights usually looks like me ordering a flaky croissant with a double espresso and sitting out front, watching the chaos of the city unfold in front of my eyes.
In this article, you can find my list of the best bakeries in Paris to grab a rustic sourdough made Pain Poilâne straight from the oven and an extra strong cup of arabica.
Here are my picks!
Maison Landemaine
Maison Landemaine might be a popular chain, but don't let that put you off. It has a real upmarket vibe with a warm atmosphere. As soon as I arrived at this place on my last big trip around Europe, I was met by dozens of Parisians queueing out the door, waiting for their daily bread.
As I patiently waited to be served, I was chatting with people in the queue, and they told me to make sure to ask for a 'Baguette Tradition.'
By law, this can only include four ingredients: flour, leavening, water, and salt. And, let me tell you, it didn't disappoint: the crunch of the crust went perfectly with the soft layer on the inside.
The staff there also offered me a demi-baguette, which is half the size of the baguette tradition, but I wanted to go all out. Also available were garnished focaccias and quiche lorraines.
Since I still had room for more, I went back inside to treat myself to one of the Tarte au Citron. The way the pastry shell and the lemon tart mix go so well together, it's like heaven.
Some of the other pastry offerings include escargots, babka filled with hazelnuts, and chocolate pecan cookies with praline coverings.
If tarts aren't your thing, Maison Landemaine serves some of the best croissants I have ever had. They're really rich and extra flaky after they come out of the oven, just how I like them.
Hours: 7 am to 8:30 pm every day
Address: Maison Landemaine, 123 Rue Monge, 75005 Paris, France
Website: https://maisonlandemaine.com/

Pain Pain
Awarded the coveted prize of the best baguette in Paris back in 2012; when I first heard about Pain Pain, I made it my mission to get there as soon as I arrived back in Paris.
Of course, I started out with a classic baguette. It was absolutely huge, and the golden crispy outer layer was slightly salty and nothing short of delightful.
It was also hard to resist Pain Pain's selection of sweet treats. They had a colorful lineup of French classics, including cream puffs, some with a Pain Pain twist, such as the luscious mango and passionfruit eclair that produced a tangy explosion on my palette.
The sleek décor and wooden furnishings are just as stylish as the cakes. Although you can sit in with a coffee and people watch, when the weather is good, the best way to enjoy Pain Pain's delights is by heading to the steps of the Sacré-Cœur to picnic in the sun with Montmartre locals.
Visit bakeries like Pain Pain on your Chef PJ Montmartre food tour, where you'll spend up to three hours in some of the area's most cherished bread shops and meet the bakers behind the oven.
Hours: Tuesday to Saturday from 7 am to 8 pm and Sunday from 7:30 am to 7:30 pm
Address: 88 Rue des Martyrs angle, 59 Rue d'Orsel, 75018 Paris, France
Website: http://www.pain-pain.fr/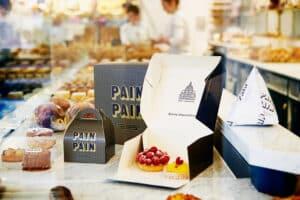 La Bague de Kenza, 11eme
Amongst Paris' traditional French bakeries, I found there's also a strong Algerian influence. Algerian bakeries were not so easy to find for me until I heard about the fabulous La Bague de Kenza.
Specializing in traditional Algerian pastries, I might have gone a little overboard at this spot.
La Bague de Kenza is quite a small bakery. But it has such a nice ambiance created by the friendly staff who work there. They are more than happy to give you some recommendations if you're confused about what to order.
The moment I spotted Baghir pancakes on the menu, I was sold. They were so spongy. When the syrup dripped into the little pockets, I took a bite, and the honey syrup burst onto my palette sending shockwaves through my tastebuds.
Since it's not every day I get to try some traditional Algerian bites, I ordered the Khoubz Eddar, a flat loafed Maghrebi leavened bread. It was stuffed with Nigella seeds that added a subtle touch of flavor, similar to sourdough.
Hours: Monday to Saturday, 10:30 am to 10 pm, and Friday, 2:30 am to 10 pm
Address: La Bague de Kenza, 106 Rue Saint-Maur, 75011 Paris, France
Website: http://www.labaguedekenza.com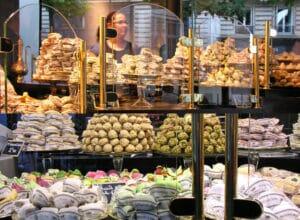 Tout Autour du Pain, 3eme
After my first bite of a baguette at Tout Autour du Pain, it was easy to see how this Paris bakery has placed three times in the top ten finalists of the Best Baguettes in Paris competition. From the tender crumb to the rustic crust, I still remember it like it was yesterday.
I was looking forward to trying the pain au chocolat, and let me tell you, it was everything I expected. Especially the melted chocolate that exploded in my mouth as soon as I took my first bite out of the oven-baked brioche bun.
Like many bakeries in Paris, Tout Autour du Pain is quite small and cozy, with smoky red-bricked walls. If the weather is nice, you can walk across the street to the public benches available to enjoy your goodies, as there's no seating inside.
Hours: Monday to Friday, 6 am to 7:30 pm
Address: Tout Autour du Pain, 134 Rue de Turenne, 75003 Paris, France
Website: https://toutautourdupain.eatbu.com/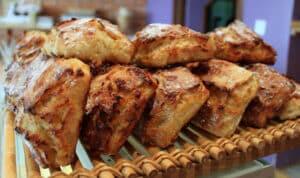 Nanan, 11eme
I didn't find any bread when I visited Nanan, so I cannot officially call it a boulangerie (bakery), but their pastries sure did make up for it, especially the cinnamon rolls drenched in sugar. I only managed to have one because of how sweet they were.
If you're looking for something for a goûter – an afternoon sweet treat served with coffee or tea – the cakes are also delicious, bringing together classic French patisserie with fresh Japanese flavors such as matcha and yuzu.
From the outside, I found Nanan to be unassuming, to say the least; it just didn't seem as extravagant as some of the other places on this list.
It's set in a standard building with only a couple of stools, but the quality of their sweet baked goods is next-level, between the skills and methods the bakers use and the fresh ingredients.
Hours: Wednesday to Saturday, 10:00 am to 7:30 pm, and 9 am to 1:30 pm
Address: 38 Rue Keller, 75011 Paris, France
Website: https://nananpatisserie.fr/
Ten Belles Bread
Ten Belles Bread brings traditional British baking techniques to Paris. I first found out about this place when I was searching for a sustainable bakery in the city, and it was one of the first to pop up on my browser.
Before I talk about the food, I have to fill you in on the interior. It's not what you'd see in your typical bakery. Throughout, I noticed trendy paintings all over the walls and stretch-long tables normally used in bars, but it was super cool and gave it some character.
The server said I could choose from a freshly made selection of homemade sandwiches and doorstop slices of cake (the lemon was so fresh and particularly good).
The alternative was their staple sourdough bread, rumored to be the best in town, so I went for that, and all I can say is wow, thick crackling crust and slightly sour.
Hours: Monday to Friday, 8:30 am to 7:00 pm, and Saturday-Sunday 9 am to 5:30 pm
Address: 17-19 bis rue Bréguet, 75011 Paris
Website: https://www.tenbelles.com/paris-11/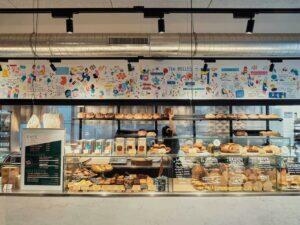 Benoît Castel
After co-founding the famous Liberté bakery, one of the best pastry shops now in Paris, celebrated pastry chef Benoît Castel parted ways to set up his own Boulangerie.
Lucky for the locals of the 11th and 20th arrondissements, who now have gourmet bakery store like Benoît Castel on their doorstep. It's open-airy establishment with jet-black out-front seating and all-you-can-eat service on Saturdays and Sundays.
I couldn't get enough of the bread here; they put a lot of time and effort into crafting it with natural organic ingredients, especially the traditional cereal bread, which is incredibly delicious.
The way the flour complements the natural sourdough contributed to its mouthwatering fermented taste, which I was a massive fan of.
The desserts here offer a fresh twist on French classics. Think deconstructed and stylish versions of tarte au citron. The way the caramel was topped with Maldon salt still fills me with excitement. It had a hint of saltiness while maintaining its high level of sweetness.
Another one of the signature pieces that I tried was the tarte a la crème. It's a surprisingly hard-to-find dessert in Paris, which consisted of a crisp base topped with vanilla Crème that was way too much than I could handle, but I didn't complain.
Hours: Wednesday to Friday, 7:30 am to 8:30 pm, Saturday, 8:00 am to 8:00 pm; and Sunday, 8:00 am to 6 pm.
Address: 150 Rue de Ménilmontant, 75020 Paris, France
Website: https://benoitcastel.com/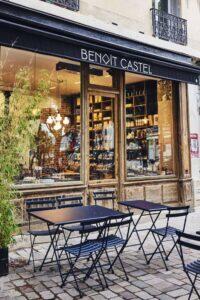 Stohrer
If there was one bakery that screamed elegance when I was in Paris, it was the Stohrer. It had a vintage charm to it that I hadn't seen in a while, with fanciful aesthetics, deluxe chandeliers, and royal branding throughout the building.
A fun fact about Strohrer that I only learned when I walked in the front door was that it's the oldest pastry shop in all of Paris. They take real pride in this, and the staff were more than happy to fill me in on some of the history of the establishment.
There was so much to choose from at Stohrer I actually felt a bit overwhelmed when it came to picking what I wanted.
In the end, I kept things simple and went for the baguette, mainly because I saw the chef cutting the freshly carved ham. A distinct smokiness from it paired with the creaminess of the butter spread on the inside of the roll so well that it was like a match made in heaven.
Hours: Monday to Saturday, 8:00 am to 8:30 pm, and Sunday, 8:00 am to 8:00 pm
Address: 51 Rue Montorgueil, 75002 Paris, France
Website: https://stohrer.fr/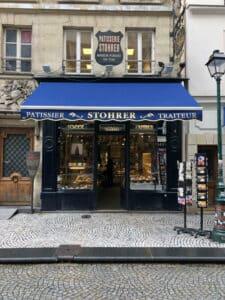 LA PARISIENNE Madame
Up next is the fabulous French bakery, LA PARISIENNE Madame, offering an incredible range of artisanal bread like Buckwheat baguettes and fresh patisseries, including the much-loved pistachio tabby.
I hadn't actually planned to stop by this place initially; I was out for a walk around the nearby Jardin du Luxembourg, and on my way home, the cute seating area out front immediately caught my eye, so I had to pop in for a look.
The inside of the building was decorated beautifully with traditional Parisian touches. The only negative I have to say about LA PARISIENNE is the lack of lounge areas. Unless you get there early in the morning, you'll probably have to eat your portion of fresh madeleines on the go.
It was a no-brainer that I had to go for some traditional French bread, so I opted for the typical Parisienne baguette. Each bite was a challenge for me (in a good way) because of the chewy texture of it.
After seeing the fine spread of the French pastries, I knew my sweet tooth couldn't resist, so I ordered a raspberry fruit tart served on a crusty biscuit, and it tasted divine, from the tartness and juiciness of the raspberries to the sweet crumble of the biscuit.
That wasn't enough, though; I thought it would be rude not to have at least one macaron, so I opted for a green one; the sweet, nutty shell was just what I needed to satisfy my sugar craving.
Hours: Tuesday to Monday, 7 am to 8 pm, and closed on Wednesdays
Address: 48 Rue Madame, 75006 Paris, France
Website: http://www.boulangerielaparisienne.com/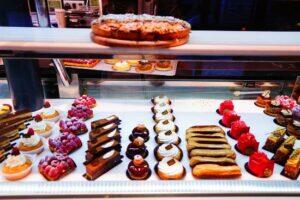 Conclusion
There you have it, my list of the best bakeries in Paris! There's nothing quite like waking up bright and early before heading to the Eiffel Tower to grab yourself a fresh baguette, some shortbread, or a flaky apple turnover. With so many great pastry shops between the Latin Quarter, Montmartre, and Le Marais, it might feel overwhelming when choosing where to go. Use this article to your advantage to discover the best bakeries the French capital has to offer.