5896 Views
There's no easier way to get the pulse on this city, its inhabitants, and the cuisine they hold dear than by visiting a food market in Amsterdam. All told, there are around a dozen spread throughout the city and operating on most days of the week. I'll take you through my favorites, and give you tips you shouldn't miss for each one!
Ten Katemarkt: where the locals actually go
You may call me biased, as this Oud-West staple is in my neighborhood, but I think that the Ten Katemarkt is one of the best in the city. In the last 7 years that I've been going, most of the faces and stands have stayed the same. It's open every day except Sunday, with Monday being slightly quieter with fewer stalls and Saturday being the busiest.
Here you can find really good deals on produce. There are several stands selling an excellent range of Dutch cheese, and in the actual storefronts off of the market, you'll find several tokos (stores) with tropical fruits and vegetables. The award for best shop name and marketing goes to the Energy Dictator. There's also an excellent selection of warm snacks to pick up. Usually, you'll find flatbreads stuffed with cheese, olive, mince or potato, baked fresh on a stone right at the stand.
Towards the end furthest away from Kinkerstraat, there are some quite hip new shops, cafes and restaurants that have opened recently, and the Bellamyplein has been totally renovated. But my all-time favorite from this market has got to be Gouden Tent, a stand that sells olives, the creamiest feta you've ever tasted and more hummus varieties than you can imagine. It's a vegetarian's paradise, though even meat-eaters will be satisfied here. You can even order a falafel wrap with whatever toppings you like to sample their salads.
And if the weather starts to turn, you can always head inside to Foodhallen: it's right around the corner!  Like how all of this sounds? You might enjoy our Taste of Amsterdam at Twilight tour, which takes you to the culinary highlights of this neighborhood.
I always go for:

a massive

lavas

bread, somehow both light and chewy and topped with nigella seeds, from Bakkerij Dunya
Albert Cuypmarkt: the largest in the Netherlands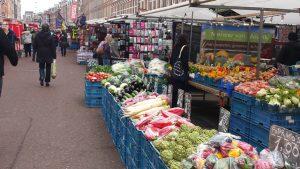 At 260 stalls, Albert Cuyp market is the largest in Amsterdam, situated right in the center of the bustling neighborhood of De Pijp. As one of the most popular in the city, it's hard to say something that hasn't already been said about this behemoth.
There's a little something for everyone here, but I really love the warm stroopwafels you'll find: gooey caramel smashed between two buttery wafer-thin waffles, more chewy than crunchy. They're gigantic, so they're more of a meal onto themselves than a dessert. This Want more of a deep dive into the wonders of this market? Read this blog with more Albert Cuyp Market tips!
I always go for:

a break at Bazar, enjoying a coffee with some baklava. It's served alongside long strings of caramel-flavored cotton candy that oddly resembles… blonde hair? Whatever, it tastes fantastic.
Foodhallen: 21 restaurants under one roof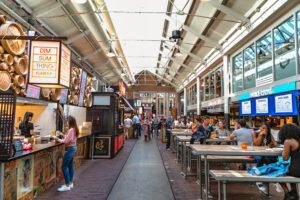 Nestled off of the busy Kinkerstraat is De Hallen, a former tram depot that sat empty for years before being renovated and turned into a hub of the neighborhood. Alongside a denim workshop, a library, a cinema, you'll find Foodhallen, the next stop on our list.
For a city this rainy, it took a surprisingly long time to get an indoor food market in Amsterdam. With 21 different stands, this is the perfect place to go when you and your friends just can't agree on what to eat. There really is something for everyone, or you can cobble together a meal from several rounds of snacks.
The hall has kept its slightly industrial feel, but you'll find some pretty polished meals here, running the culinary gambit from sushi to oysters to Basque tapas. It can get pretty busy in the evening, which is no surprise since they also have four different bars. A few nights a week, you'll get treated to live bands or a DJ.
If you'd rather make sure you get a seat while you're eating, I would suggest going in the lull between lunch and dinner. Or designating a hawk-eyed friend to scope out tables while the rest order. A stop at Foodhallen is also a great way to replenish after an afternoon walking around Ten Katemarkt!
I always go for:

No nonsense burgers from the Butcher and an Oedipus brew from the craft beer bar.
Noordermarkt: organic delights and a neighborhood feel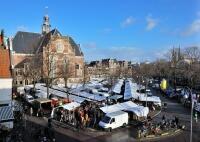 Nestled right in the heart of the Jordaan, which I hope is already on your list, the Noordermarkt is the closest you'll feel to being in a small village square while still in the city. This market is also open on Monday with vintage clothes galore, but for one of my favorite food markets in Amsterdam, stop by on Saturday. From 9 am to 4 pm, 30 stands sell a bountiful variety of organic food, ranging from fresh organic vegetables, fruit, bread, cheese, mushrooms, herbs, meat, fish, honey, flowers and some hot food you can eat on the market.
Many of the stands are run by the makers themselves, and as you walk around, ask questions and sample their wares, you really get a sense of the pride they take in what they sell. There are so many scrumptious things to choose from, and I have a very fond memory of walking around this market with a visiting friend, buying a massive bottle of organic cider and some fries, and munching them down in the sun as we watched boats go by on the Prinsengracht.
For the more practical and less romantic: try to bring cash before you come. There's an ATM close by on the Westerstraat, but there's always a bit of a line and sometimes it runs out of cash. 
I always go for:

I'm a sucker for fancy mushrooms, so I always swing by Portabella Paddenstoelen.
So, these were just my favorite picks. Craving for more? Check out our list of all of the markets in Amsterdam, food or otherwise!