7692 Views
Oh c'mon, admit it: we all cave into the conveniences and fried goodness of fast food every once in a while. Okay, well even if you swear on Saint Ludmila you don't, when in Prague, you should probably consider it. And no, we're not suggesting McDonalds happy meals. On the contrary, we're talking local Czech fast food: the hearty meats and fried cheeses sold at outdoor stalls throughout Prague (and the rest of the country, for that matter).
So what exactly is Czech fast food? Well, the two word answer is the hot dog (aka: párek v rohlíku). How come, you ask? For starters, they're filling (one is always enough). For another, they're quick. The hot dog also presents no stress – once you order, the only remaining decision is with ketchup and mustard or without. They're functional – they make for the perfect road trip food (you can even find them at gas stations throughout the Czech Republic), they pack great protein punch, and they make for a fantastic on-the-go meal! And obviously, they're tasty. Oh and did we mention the cheap factor (get one for 20Kc – that's like a dollar!)?!
Now that you've been informed, you're much more apt to notice Czechs of all ages eating hot dogs everywhere, no matter where and no matter the occasion. Hot dogs just are the thing. At the park, on the streets, on the tram, on the bus, on the paddle boats…they're being consumed all over the Czech capital. And it's totally acceptable–no need to feel self-conscious. Even if people stare, it's most likely just out of resentment because they don't have one too!
You may also notice that Czech hot dogs look a bit different than the "typical dog". Czech hot dogs are wrapped inside the traditional rohlík (long bread roll). The advantage? Apart from the very last ketchupy or mustardy bite every hot dog lover looks forward to, there's no mess when eating it! The condiments stay right put! Speaking of the toppings, Czechs like 'em simple. No relish or other fancy extras. Just ketchup or mustard.
So where do we get our párek v rohlíku? A very good question. When it comes to dogs, we proceed with caution and use our local street smarts. Read on, we'll share our tips. The last thing we want is for you to regret your decision…because while there are good ones out there, there are also bad ones. Learn from our experiences, if you will.
How to Find the Best Hot Dog Stands in Prague
1. Tip one: what you'll find at the Wenceslas Square stands are klobasas – not hot dogs!
While klobasas are tasty and meaty, when in Prague, a proper delicious hot dog is what you want. Trust us.
2. The best choices are a bit "out of the way"…but not all that far (and totally worth it).
The best of the best (even won the "Best Hot Dog Stand" competition) is the vendor at Naměstí Míru. The stall is right next to a beautiful church adjacent the tram stop and metro entrance. It's easy to spot because there's almost always a line. Their dogs are to die for! Tasty with a perfectly-prepared rohlík and ketchup or mustard (regular or spicy). They serve until they run out.
Open Monday to Friday from 9:30 am (hot dogs for breakfast, anyone?) 'til the dogs are gone. Price for one hot dog is 20Kč.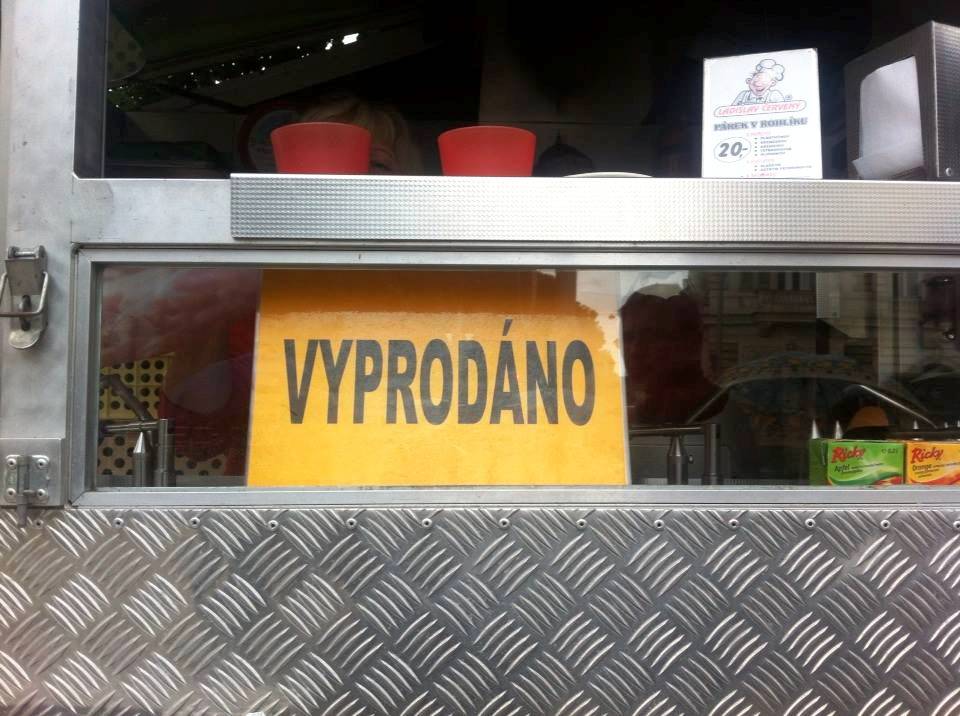 3. Our other favorite option is the Euro Hot Dog.
Our second recommendation is also our last. But that's because Euro Hot Dog is actually a little chain in Prague with more than four locations. You know what that means, right? A hot dog tour of the city is a totally plausible feat!
Euro Hot Dog's got special sausages (Speciál or Gigant = giant) on the menu plus various mustards (kremžšká=wholegrain, spicy and regular). Personally, we think regular all around is the way to go but we're traditionalists. Open daily noon to 8pm. Price for a regular is 20Kč.
The best (and most central) Euro Hot Dog locations:
Malostranská metro stop
Anděl (in front of Daichman)
Florenc (near the tram stop)
Národní třída (right next to TESCO)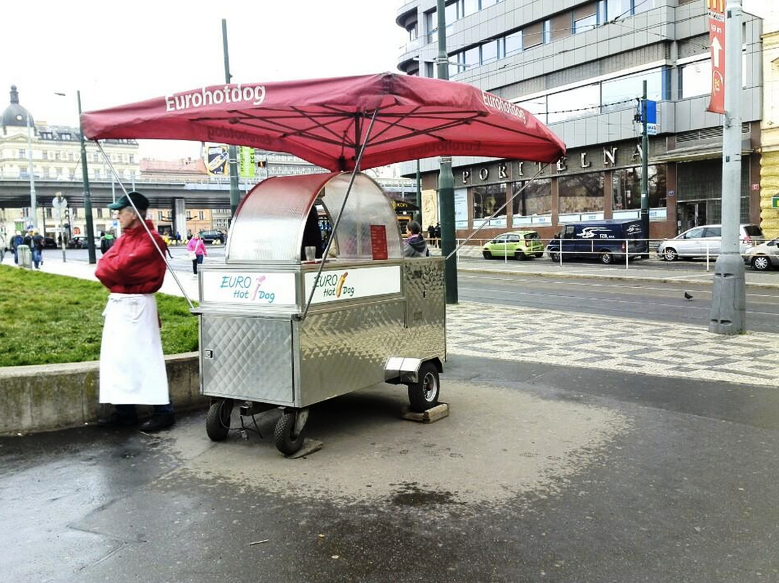 If you follow those easy three tips, you won't go wrong. Though if you twisted our arm to choose just one, it'd be the stand at Naměstí Míru. The neighborhood is charming, accessible, local and presents a beautiful view of Church of Saint Ludmila. Overall, a pretty breathtaking and unique way to enjoy a proper párek v rohlíku in Prague.
Dobrou chuť!