5102 Views
For those who consider themselves foodies, the process of truly getting to know a place often begins at its markets. Markets are renowned for offering a unique insight into local culture and, most importantly, local food that differs from what you find in a restaurant or guide book. Amsterdam markets are no different, and the city is home to a handful of bustling ones all eager to please your senses and fill you in on day-to-day Amsterdam life. Which are the best Amsterdam markets to visit? Well, here are our favorites.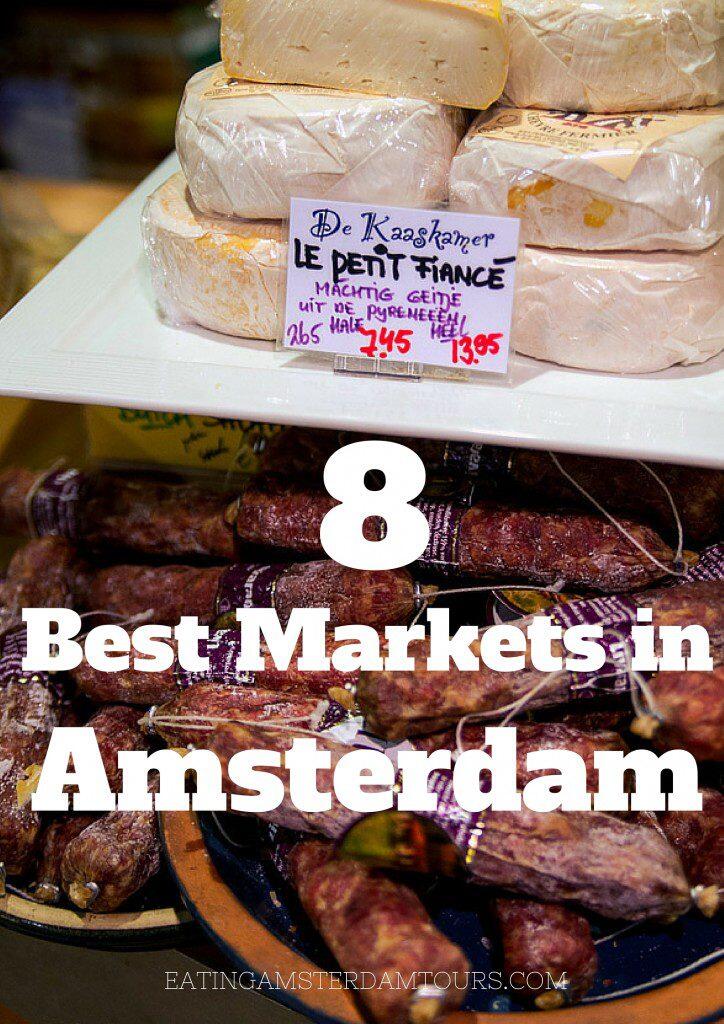 Daily Markets
Ten Katemarkt
Only a short walk from the Jordaan neighborhood, this medium-sized market in the Oud-West area of Amsterdam is an ideal place to get your Amsterdam market feet wet. Ten Katemarkt is typically home to more than 50 stalls selling everything from fresh fruits, fish, and vegetables to clothes, mini-speakers, and baby strollers.
Ten Katestraat
tenkatemarkt.nl
Open: Mon – Sat 9 am – 5 pm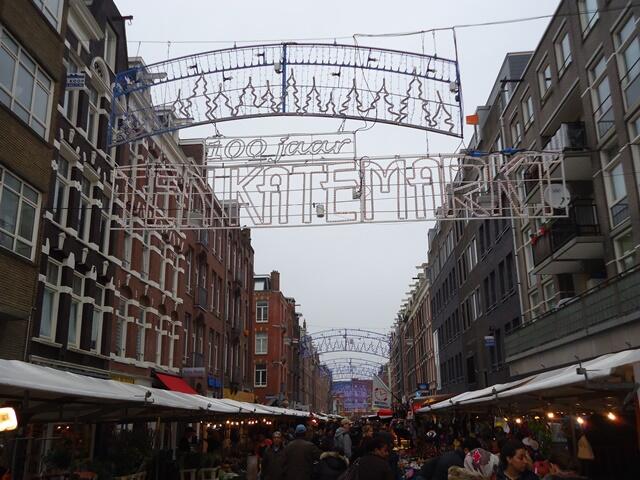 De Hallen
Directly next door and interconnected to the Ten Katemarkt is De Hallen and its foodie jewel, the Foodhallen. The trams that used to call this renovated depot home are gone, but in their place are food-truck-style stalls selling fun and funky international food. Combining the two markets offers a true glimpse of Amsterdam classic vs. Amsterdam cool.
Hannie Dankbaar Passage 33
+31 (0)20 705 8164
dehallen-amsterdam.nl
Open: Daily 11 am – 10 pm (later for drinks)
Albert Cuypmarkt
The most famous market in Amsterdam and forks-down the best of the daily markets in Amsterdam to eat at, Albert Cuypmarkt is without a doubt a must-see when you are here. Stretching and stimulating the senses for what feels like miles in Amsterdam's bohemian De Pijp neighborhood, Albert Cuypmarkt is home to pretty much anything your appetite desires. Fresh stroopwaffels, fries, herring, pancakes, and Dutch cheese are just a sample of the smorgasbord available at the market, all served up in a fun and festive carnival-like atmosphere bustling with tourists and locals alike. In addition to food, the classic Amsterdam market staples of produce, homewares, clothes, and all manner of bicycle accessories are for sale as well.
Albert Cuypstraat
albertcuypmarkt.nl
Open: Mon – Sat 9 am – 5 pm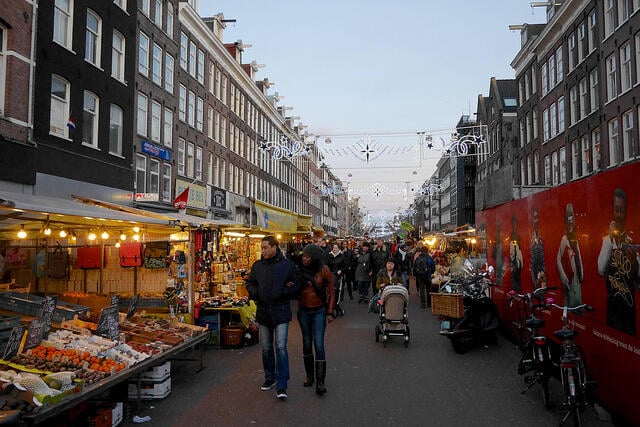 Dappermarkt
A bustling market in Amsterdam Oost, Dappermarkt is the perfect market if you are staying off the beaten path or just want to witness the amazing diversity this city is known for. Dappermarkt's stalls are home to the typical assortment of food, clothes, and quick snacks, with one particular stall, Beste Doner Kebab, being widely regarded as the home of the best doner kebab in all of Amsterdam. The Dappermarkt is the antithesis of touristy, and offers the best insight of all the markets into the true local experience of Amsterdammers from all walks of life, backgrounds, and nationalities.
Dapperstraat
dappermarkt.nl
Open: Mon – Sat 10 am – 4.30 pm
Waterlooplein Market
The most centrally located of the markets in Amsterdam, Waterlooplein Market is smack bang in the middle of the city and offers a wide range of oddball knick-knacks, second-hand clothes, and vintage finds. Not a market to go to stock up your pantry, this is the market to find a quirky hidden gem that ends up being your favorite memory from Amsterdam.
Waterlooplein
waterlooplein.nl
Open: Mon – Sat 9 am – 6 pm
Weekly and/or Special Markets
Noordermarkt Farmer's Market
In the heart of the foodie-heaven Jordaan, the Noordermarkt Farmer's Market features local farmers and their fresh organic goods. This is the perfect place to pick up premium ingredients for that dish you may be preparing in your rented apartment, or just to sample a healthy and natural snack. The Noordermarkt is right next to the Westerstraat, one of Amsterdam's best streets for bars and cafes, so we definitely recommend a pit stop there before or after the Noordermarkt.
Noordermarkt
noordermarkt-amsterdam.nl
Open: Sat 9 am – 5 pm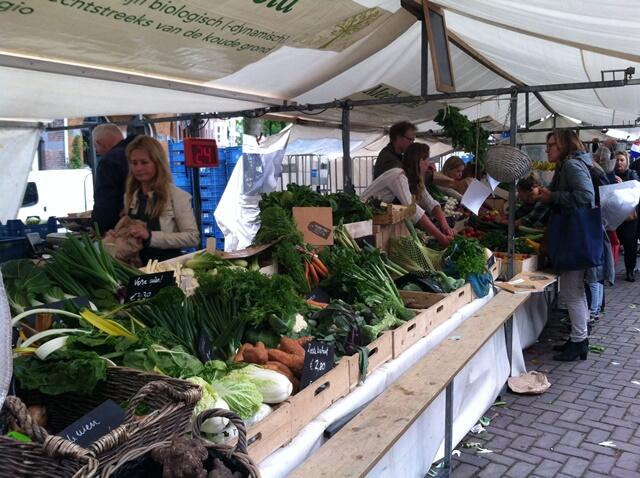 ZuiderMRKT
With a focus on fresh farmed and organic products (much like the Noordermarkt only a little smaller), the ZuiderMRKT is home to a cozy and laidback atmosphere full of neighbors having fun munching and lunching. Fresh vegetables, fruits, and seafood are featured along with artisanal cheese, sausage, and breads. This market is actually run as a cooperative among local residents, and the neighborly atmosphere shines through.
Square at the corner of Jacob Obrechtstraat and Johannes Verhulststraa
zuidermkrt.nl
Open: Sat 9.30 am – 5 pm
IJ Hallen Flea Market
Known as the largest flea market of its kind in Europe, the IJ Hallen Flea Market is commonly home to more than 500 stands, all selling unique second-hand items. In fact, some bargain hunters have been known to plan their entire trip to Amsterdam around this flea market. Even with its massive size and popularity, both supply and demand remain vibrant with more than enough fun finds to go around for everyone.
Neveritaweg 15
+31 (0)229 581 598
ijhallen.nl
See website for dates and opening times