6158 Views
If food markets are an interest of yours then London needs to be next on your travel list. London's bustling food market scene is ever growing and the food options for a great price are endless. In this post, we're sharing ten of our favourites along with their times and locations and why they should be next on your street food hit list.
Of course, when making a list of London's street food markets, we have to begin with Borough Market. Not only is Borough Market one of the largest food heavens in the city but also, one of the oldest. Borough has grown to be a market that is rich in history and full of variations of food in the last 1000 years its existed.
1. Borough Market
With over 100 stalls under Borough's open-roof structure, this market not only provides great produce but also the biggest variation of foods. So whatever you're in the mood for, Borough Market can provide it – from vegan eats to Lebanese choices, the list is endless!
When: Monday-Saturday, Various times
8 Southwark Street, SE1 1TL, boroughmarket.org.uk
2. Dinerama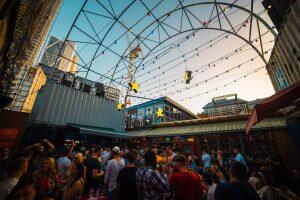 If you're in the Shoreditch area and looking for grub and an exciting atmosphere then Dinerama is the place to be. This former bullion trunk yard is the spot for fantastic eating and partying in summer or winter. It had to be at the top of the October Street Food List in London because of their dedication to keeping the party going in the colder months. Dinerama will have a roof over your heads during these cold months so you can continue to enjoy their endless options of top quality street food, cocktails, wine and beer.
When: Wednesday-Saturday, 5pm-Late
19 Great Eastern Street, EC2A 3EJ, streetfeast.com
3. Camden Market
Next on our list is Camden Market. Another gem on the street food scene. With over 25 stalls of delicious food, once again you won't be stuck for choice here. Some of our highlights include Only Jerkin' for all your 'Chicken and chips with a Carribean twist' needs and to finish off for dessert you can't miss La Churreria. Not only are their churros some of the best we have ever tasted but you can also choose your toppings that include melted Belgian chocolate before deliberating over sprinkles including pistachios, almonds and popping candy – every foodie's dream.
When: Everyday, 10am-6pm
Camden Lock Place, Camden Town, NW1 8AF, camdenmarket.com
4. KERB
The next street food oasis we have to mention is KERB. KERB has not one, but eight lunchtime food markets to choose from. This makes them the ultimate food gurus because not only are you spoilt for choice but also they can cater to ALL your street food cravings. They even have their 'Meatless Market' which hosts a huge variety of vegan and vegetarian options which is not to be missed.
When: Wednesday – Friday, 12pm-2pm
Devonshire Square, EC2M 4Y.
5. Maltby Street Market
The Maltby Street Market may be slim but due to its popularity, it definitely earns a spot on our list of 10 best street food markets in London. But be warned! You may feel slightly claustrophobic if you take a visit here during the weekend. Take a trip to Beef Steak for some of the best beef steak dishes you can find in London (and at a reasonable price). If cheese toasties (aka grilled cheese) are more up your alley then stop by The Cheese Truck for the most delicious and Instagram-worthy sandwiches!
When: Saturday 10am-5pm, Sunday 11am-4pm
Maltby Street, SE1 3PA, maltby.st
6. Broadway Vegan Market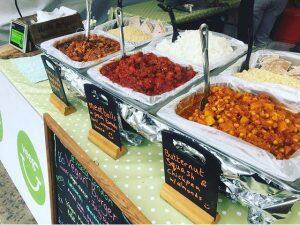 For visitors looking for a vegan-friendly street food option, of course, London has what you need. Head to the Broadway Vegan Market on Saturdays to get your fill of delicious vegan food and experience tastes from across the world. Choose from cuisines across the world including Moroccan, Indian, and Vietnamese dishes. Our favourite pick for October has to be Dees Table. Make sure to visit this delicacy for some sunshine in the autumn months.
When: Saturday, 10am-4pm
London Fields Primary School, Westgate Street, E8 3RU, thespreadfood.com
7. Street Food Union
For lunchtime in Soho, Street Food Union is a must. Come rain or shine, Street Food Union will be serving delicious eats from London's up and coming street food talent Monday to Saturday from 11 am to 3 pm so make sure to stop by for the best lunch choices. On top of this, the location also turns completely animal product free every Saturday for the newly launched Soho Vegan Market.
When: Wednesday-Saturday, 11am-3pm
51-53 Rupert Street, Soho, W1D 7PQ, streetfoodunion.com
8. Southbank Centre Food Market

Right beside the River Thames, the South Bank is a dynamic area at the heart of London's cultural scene. It is also home to the Southbank Centre Food Market. This market offers a great range of cocktails, wines and beers, artisan coffee, tea, and sweet treats. And don't forget about their unbelievable street food inspired by Europe, Africa, Asia and American cuisines. They also feature guest traders each week, creating a new delicious surprise for you each week!
Friday, 12 noon – 8pm
Saturday, 11am – 8pm
Sunday, 12 noon – 6pm
Monday (bank holidays only), 12 noon – 6pm
Belvedere Rd, Lambeth, London SE1 8XX, UK, southbankcentre.co.uk
9. Leather Lane Stars Market
Leather Lane Stars Market is next on our list of paradises for food lovers. Leather Lane Stars mixes the best of traditional London with the new. This 400-year-old market is one of the best in the capital and is constantly evolving. There are new vendors appearing all the time, giving you all the choices you need in cuisine, coffee and beers.  
When: Monday-Friday, 10am-2pm
Leather Lane, EC1N 7TJ, leatherlanestars.wordpress.com
10. Brockley Market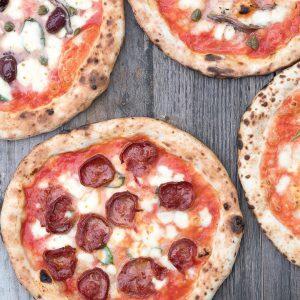 Last but not least we have to give a mention to the Brockley Market as it has to be the most exciting car park in London! This weekly food market serves breakfast, brunch and lunch. Apart from serving delicious dishes they also feature local produce and traders so you can bring all the tastes home to your kitchen.
When: Saturday, 10am-2pm
Lewisham Way, Brockley, SE4 1UT, brockleymarket.com
If all of this sounds delicious to you and gets you excited, then why not take part in Eating Europes East End Food Tour in London? Not only will you sample eight delicious tastings in markets, grocers, bakeries, pubs, and restaurants but you will also be led by an expert guide who can answer all your foodie questions.