8159 Views
As the weather starts to turn, we're donning our flannels and dusting off our indoor activities lists. And for those visiting the Czech Republic this autumn and winter, lucky for you as we're sharing our favorite tips!
Way down in the depths of Czech cellars all around the country, there's something golden brewing. Ahhhh, yes, you've guessed it… the glorious Czech pilsners! In a country world famous for its beers and breweries, sampling the golden pivo straight from the source comes easy here. Read on for our top recommendations, which extend our breweries in the Capital City list to Bohemia's West and South. And yes, they are certainly worthy of a road trip!
Budweiser Budvar Czech Brewery (Budějovický Budvar)
České Budějovice, Czech Republic
Not to be confused with Anheuser-Busch's American Budweiser, this Czech brew was founded in 1785 in České Budějovice and later exported to the States in 1871. The two brews have been caught in trademark disputes for years; the outcome being the Czech beer could claim its original name ("Budweiser") on home turf and in the EU but "Czechvar" or "Budvar" in the US, Canada and much of the rest of the world. Using domestic ingredients including the brewery's own water drawn from more than 300-meter deep wells, Budvar lager incorporates long-time traditions in the brewing processes. You'll get a gander on the brewery tour.
Located in Southern Bohemia, a town of nearly 100,000, České Budějovice has a lovely center and river walk in addition to many restaurants and cafes to be explored.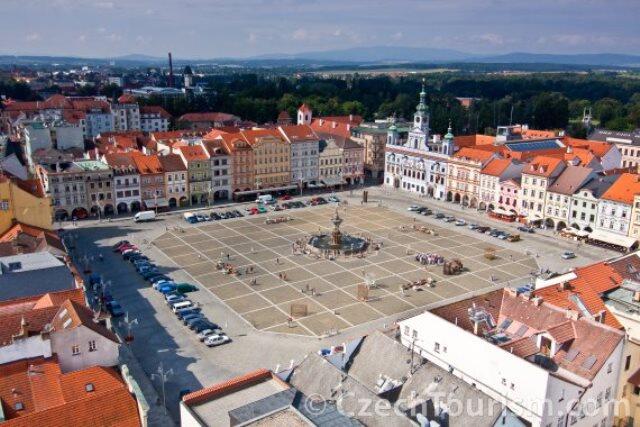 K. Světlé 4, České Budějovice
387 705 347
http://www.visitbudvar.cz/en/
Tours: 60 minutes, regularly starting at 2pm, reservations highly recommended
180 CZK
Getting to České Budějovice from Prague:
By bus: buses leave frequently from Na Knížecí and Roztyly bus stations in Prague. The trip is approximately 2.5-3 hours. In České Budějovice, the bus station is at the Mercury Centrum, which is just outside the city center at the top of a two-story shopping mall. The brewery is not too far down the street from the train station.
By train: trains run from Prague to České Budějovice hourly. The trip takes 2 hours and 40 minutes.
For more information regarding rates and schedules, check out: www.idos.cz and www.studentagency.cz
Staropramen Brewery
Prague, Czech Republic 
Founded in 1869, the Staropramen (meaning "old spring") Brewery is the second largest brewery in the Czech Republic. The brewery is located in the Smíchov district of Prague on the left bank of the Vltava River, just a short stroll from Anděl metro/tram stop. Anděl (translation: Angel) is a local's draw for shopping, work, entertainment and beer!
If you don't have the luxury of time for traveling outside of Prague for a brewery tour, in addition to our brewery tour stop, Staropramen is one to visit. Quench your thirst with pivo from the cellars and head next door to sample more Staropramen beers at their restaurant, Potrefena husa.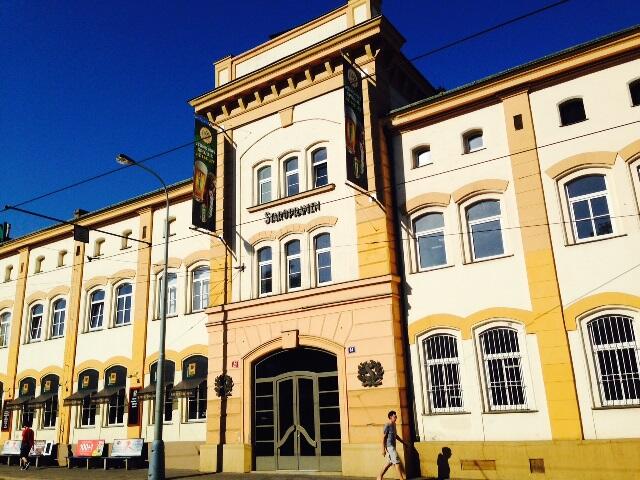 And if you're up for exploring the industrial Smíchov neighborhood further, walk a few blocks to one of our favorite places, Wine Food Market, for post-tour coffees and desserts. Followed by a walk to the old train bridge, over the river and finally up the hill to one of our other favorite places, Vyšehrad for magnificent views of Prague and beyond, you'll be guaranteed a lovely afternoon.
Or… plan B: following the tour, head back towards Anděl and then to Mala Strana/Lesser Town. There are many great restaurants, cafes and stores to be discovered along the way.
Pivovarska 9, Prague 5
273 132 589
centrumstaropramen.cz
Tour: 50 minutes, reservations recommended
199 CZK
Pilsner Urquell
Plzen, Czech Republic
Pilsner Urquell (in Czech: Plzeňský Prazdroj) is probably the most well-known Czech beer around the world. Did you know the German "Urquell" and Czech "Prazdroj" both translate to "the ancient source"? Fitting because Pilsner Urquell is the original pilsner and first "official" pale lager beer. On the tour, you'll learn about the history, see (and smell) the pilsners in progress, and visit the cellars to taste the unfiltered and unpasteurized brew straight from oak barrels. The Pilsner Urquell brewery is located in Western Bohemia about an hour-and-a-half drive from Prague.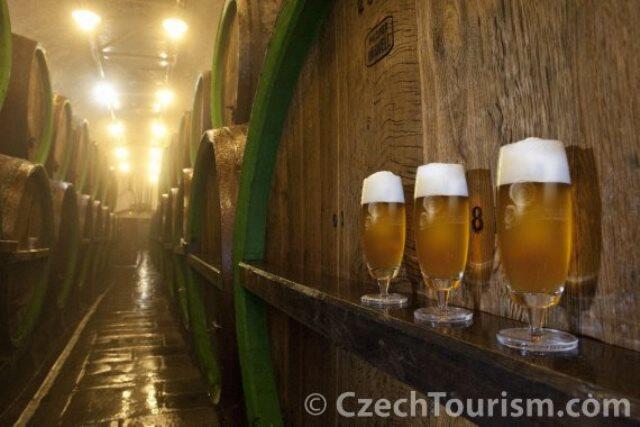 You'll undoubtedly work up an appetite traveling to Western Bohemia and touring the brewery. While there are good options for eating (and obviously drinking) at the brewery, we recommend exploring the city of Plzen a bit. Visit U Salzmannů, the oldest beer house in the town center, for a hearty meal and a happy selection of draft beers including some of the freshest and unpasteurized Pilsner Urquell you'll find in the land!
U Prazdroje 7, 304 97 Plzeň
377 062 888
prazdrojvisit.cz
Tour: 100 minutes, see the tour schedule
190 CZK
Getting to Plzeň from Prague:
By train: the Prague-Plzen train leaves hourly. The trip takes 1 hour 35 minutes (150 CZK).
By bus: Prague-Plzen (from Zličín bus and metro station or Florenc bus station). Tickets can be purchased at the counter (100 CZK). Student Agency buses are sometimes full, so it's advised to make reservations in advance.
For rates and schedules: www.idos.cz and www.studentagency.cz
Eggenberg
Český Krumlov
While Eggenberg beer isn't as well known around the world per se, a visit to this little medieval brewery and charming town is well worth it! Český Krumlov is the darling of South Bohemia, and the Czech Republic for that matter. Located about 100 miles south of Prague and nestled in the curve of the Vltava River, Český Krumlov truly is one of the most picturesque locations in the Czech Republic. The friendly tours of their historic 1560s brewery is just one of many highlights.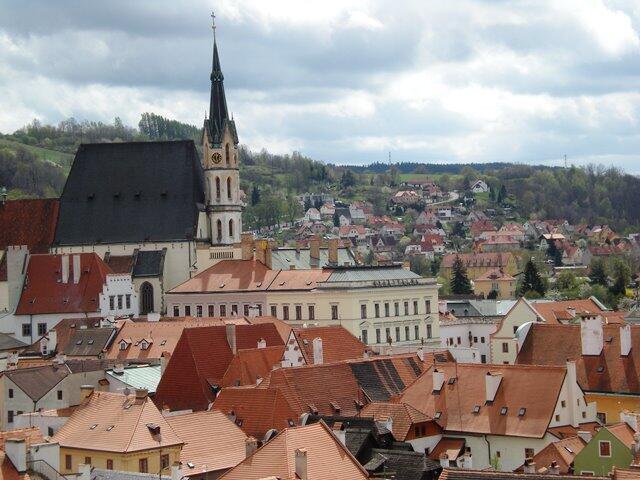 Latrán 27, Český Krumlov
380 711 426
eggenberg.cz
Tour: 60 minutes, daily at 11am departing from the main gate
80 CZK
While it's possible to visit for the day, we'd recommend staying the night as there's lots to be enjoyed in this quaint little town.
Getting to Český Krumlov from Prague:
By bus: Direct buses from Prague to Český Krumlov take about 3 hours. Seat reservations are recommended especially on weekends and during high tourist season. Once arriving in town, it's about a 10-minute walk to the center and brewery.
By train: A little more complex than taking the bus, it's worth it if you've got time and like countryside views. There are no direct trains going from Prague to Český Krumlov so you'd need to change trains in České Budějovice. The trip from Prague to České Budějovice takes 2.5 – 3.5 hours and then it's an additional 45 minutes to get to Český Krumlov by local commuter train. The train station is about a 20-30 minute walk from the city center so you may want to call a taxi.