7103 Views
This post was originally published on September 9, 2014 and was updated on October 21, 2016.
When you visit Prague, or the Czech Republic, two things are musts: you need to eat good food and drink good beer. But (there always is a but…) you need to make sure that when you eat and drink our specialties, you do so at a place that deserves your visit, a place where they won't rip you off and where you will feel at home. With our suggestions you will be able to do just that! So Dobrou chuť! as we say in Czech! (Which roughly translates as "enjoy your meal" or bon appetit!)
Best Prague Restaurants for Czech Food
U Medvídků
From the outside, this place looks like a small and cozy restaurant, but don't be fooled. Inside, U Medvídků is spacious, always packed (reservations are highly recommended) and it's actually a brewery! They serve very good local food: everything from the typical guláš to even more typical svíčková. And the best part is that all portions are prepared with care, they are the right size (not too small, not too big) and everyone is smiling. Sadly, you can't order their beer along with your meal, but you can purchase it at the little shop by the entrance. What's more, you must try the famous Beer Ice Cream for dessert (also for sale at the shop, if you'd prefer a walk around town eating ice cream)! What's not to like?
Na Perštýně 7, Prague 1
224 211 916
umedvidku.cz
Open: Mon –Fri 11 am –11 pm, Sat 12 noon –11 pm, Sun 12 noon –10 pm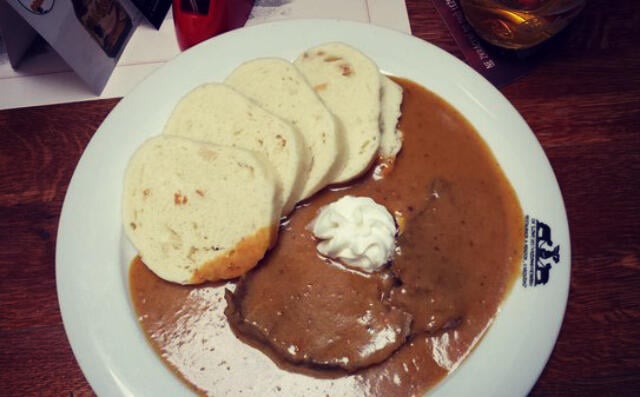 Klášterní pivovar Strahov
When you are in the Castle district, you really should visit this restaurant. Admittedly, it may seem like a tourist trap but we can assure you it isn't! The reality is that despite the tourists, Klášternípivovar Strahov still keeps its charm. The surrounding church and library bring unexpected peace and quiet in the middle of the busy city. The meals here are delicious: the svíčková is so divine it melts in your mouth (and melts the beer). Oh, the beer! Brewed just around the corner, you can try some deliciously unique flavors: Sv. Norbert jantarový (light beer), Sv. Norbert tmavý (dark beer) and Sv. Norbert IPA. If you fall in love with the beer, you can also buy it by the bottle.
Strahovskénádvoří 301, Prague 1
233 353 155
klasterni-pivovar.cz
Open: Mon – Sun 10 am – 8 pm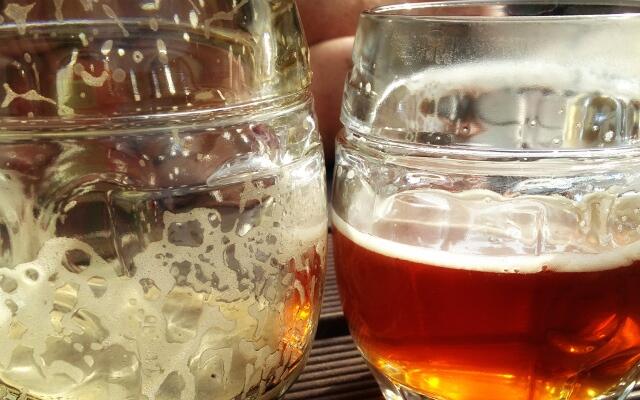 Havelská koruna
Havelskákoruna takes Czechs back in time…When we visit, we feel as if a time machine has taken us back to elementary school. The difference is that here the food is really good. They serve all the typical meals our school canteen would, but a million times better. You will find a selection of traditional soups, such as chicken broth, soup with liver dumplings, and so on, as well as classic dishes, such as the confusingly named Moravian sparrow (don't worry –it's actually pork!) with spinach or cabbage, goulash, and much more. The only downside is the line you find yourself standing in when you arrive.  But the reward is worth the wait so we suggest you bring a book…
Havelská 21, Prague 1
224 235 574
havelska-koruna.cz
Open: Mon – Sun 10 am – 8 pm
**********************
Like this? Check out Eating Europe on social media!
With Czech foodie ideas, mouthwatering pics and much more, we're on…
Facebook | Twitter | Pinterest | Instagram
**********************
These places are the cherries on top of the cake made of beer and Czech cuisine. There are many others to choose from, including:
Lokál (Dlouhá 33, Prague 1)
VinohradskýParlament (Korunní 1, Prague 2)
Kolkovna Olympia (Vítězná 7, Prague 1)
Malostranskábeseda (MalostranskéNáměstí 21, Prague 1)
You can't go wrong at any of these Czech restaurants; they serve delicious meals and have Pilsner on draft. But we wanted to show you places that Czech locals love and cherish. If you visit any of them, let us know!
Planning your trip to Prague? Explore the city's culture, history, and food by taking our Prague Food Tour or our Brews and Views Beer Tour for incredible Czech delicacies!