3665 Views
Come visit some of our favorite places in Rome!
Dess'Art Pasticceria (Cake shop), Rome, Italy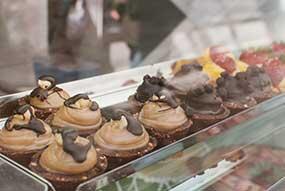 "When I put dough in the oven and see it transform, it gives me so much joy. For us Sicilians, cooking runs through our veins. At home, everyone cooked – my grandmothers, my mum and my aunts."
– Costanza
Aside from being known as THE place to get Cannoli in Rome, this cute forno / pasticceria (bakery cake shop) also offers an ever-evolving selection of desserts, pastries, and savory snacks. Costanza uses influences from her hometown of Palermo to create both innovative new recipes and classic Sicilian delicacies.
To find Dess'Art Pasticceria:
Website: www.dessart.it
Phone Number: 393 240 7323
Address: Testaccio Market, Via Beniamino Franklin