2668 Views
The foodie version of a pub crawl, affectionately dubbed the "food crawl", has become more and more popular over the last few years. As Amsterdam is compact and easily walkable, the city is also the perfect place for a scenic stroll full of street treats. So for those who prefer stacks of snacks to shot glasses, here is an Amsterdam food crawl just for you.
Food Crawl Stop 1 – Bitterballen
The perfect starter and a staple of the bar menus at Dutch bars and cafes, bitterballen are crunchy little breaded spheres filled with a meaty ragout. The little "crunchballs" as they are called by some, are designed for dipping, and you will typically be given a spicy mustard sauce to dunk them in on the side. Eat with caution, though, as the center of the bitterballen is notorious for being lava-hot, so it is always a smart move to just nibble off a bit off the end first to let a little steam out.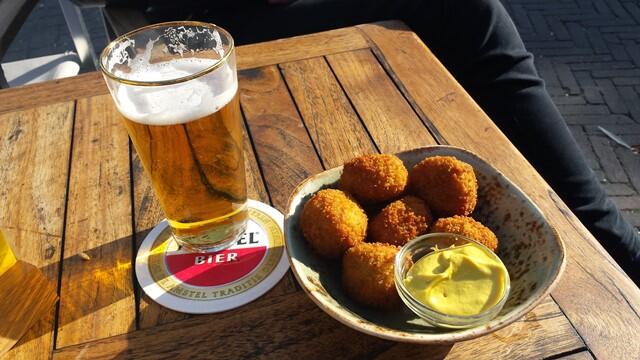 Where to find it: Patisserie Holtkamp is a great option but they should be on the menu at any traditional Amsterdam cafe – just look for the pane-glass windows and faded brown walls.
Food Crawl Stop 2 – Dutch Cheese
Wheels of Gouda and Edam cheese are a common sight around the Dutch capital, and cheese is the perfect post-bitterballen palate cleanser. While it may be tempting to pop into the touristy cheese shops with their legions of free samples – and even the locals have been known to succumb from time to time – a dedicated cheese specialist shop will offer the best selection of young, old, and artisanal varieties. Whether you want to purchase a full wheel or just a few slices, a cheese shop will be more than happy provide a solution for your cheesy needs.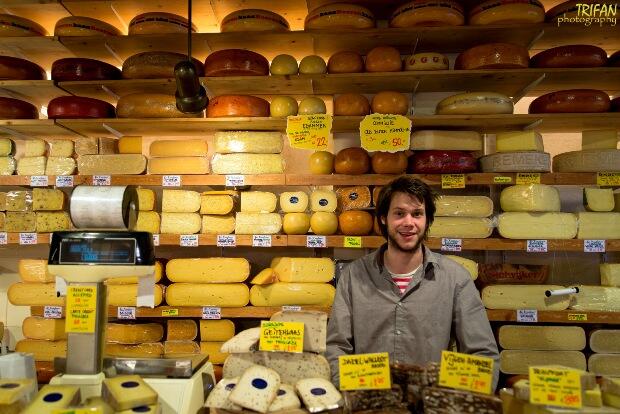 Where to find it: De Kaaskamer in the beautifully quaint 9 Little Streets area, or any of the tourist shops along the main pedestrian streets in the city.
Food Crawl Stop 3 – Frites
While the Netherlands' neighbors to the south, Belgium, may consistently grab bigger headlines as the home of the best frites (fries) in the world, those in the know are well aware that some great frites are fried up here in Amsterdam, too. Hot and crispy on the outside but pillowy soft on the inside is the hallmark of this perfect street snack, and the array of sauces on offer on the side will dazzle your taste buds. Stick with traditional mayonnaise or go with something unique like satay or sambal sauce to do as the locals; but, whatever you do, don't ask for ketchup.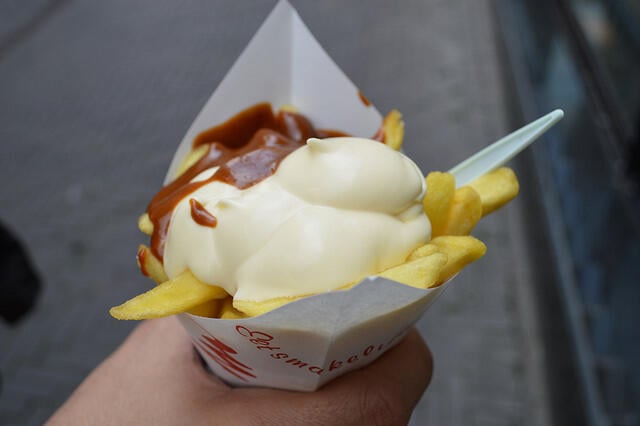 Where to find it: Vleminckx is Amsterdam's favorite, but as long as the place you get your frites from is offering a range of sauces, you should be in good hands.
Food Crawl Stop 4 – Herring
There isn't a food much more associated with the city of Amsterdam than herring, and you can't swing a fish by its tail in the center of town without seeing a stall selling this seafood treat. Whether you choose to have your herring on a bun or eat it the traditional way by holding it above your head by the tail, you won't soon forget your Dutch herring experience.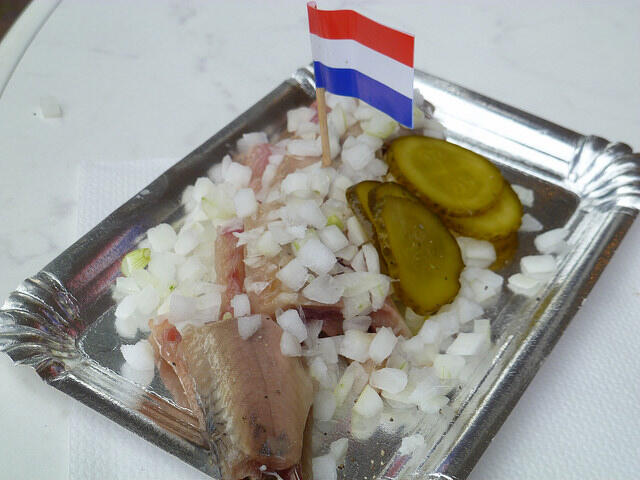 Where to find it: Vishuisje Herengracht, which is well known for its high quality herring, or any of the other aforementioned stalls lining the canals and streets of the center.
Food Crawl Stop 5 – Pancakes
Thin, warm, and often blanketed with a generous portion of powdered sugar, Dutch pancakes are a delicious sight to behold on your fork, and make the perfect finish for your Amsterdam food crawl. Your feet may be a bit tired from your crawl, so it's a good thing that pancakes are typically enjoyed at a relaxing sit-down venue. Most venues offer a mix of sweet and savory pancakes, with some getting extremely creative with toppings such as bacon, chili pepper, and banana.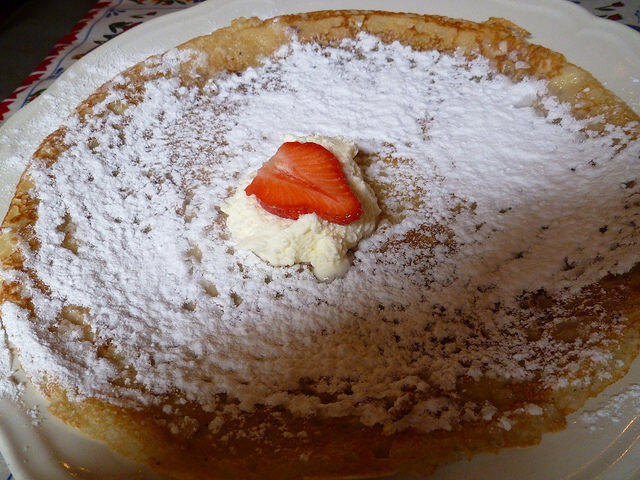 Where to find it: Pancakes! in the 9 Little Streets offers a great cross-section of traditional and modern. Other great options are The Pancake Bakery and "Upstairs" Pannekoekenhuis.
Of course, for an even more delicious Amsterdam food crawl featuring some of these foods and more (including several other mouthwatering Dutch staples) why not come along on one of our Eating Amsterdam food tours?