2319 Views
Come visit some of our favorite places in Rome!
I Guerrini Forno (bakery), Rome, Italy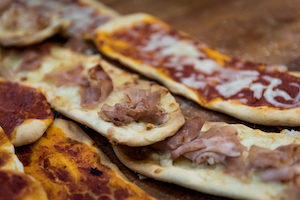 "From grandfather to father, to son… the Guerrini tradition continues. Since 1962, delicious "pizza bianca" filled with our local homemade ingredients."
– Davide and family
This bakery (or forno in Italian), has been around for generations – run by the same family since 1962. A young baker called Guerrino started working here back in the 50s, before buying it up in 1962. It takes its name "I Guerrini" from the fact that it's now run by members of Guerrino's family. These days, Guerrino's son Davide mans the oven with his eldest son Christian and best friend Marcello. His sister Daniella runs the front of the house, helped out in the school holidays by Damiano, Davide's 13-year old son, who is the same age as Davide was when he started out in the bakery under his father's guidance. Davide has another 2 young sons, all bakers in the making (or fornaio in Italian), who will start helping their dad out when they're old enough – a true family enterprise!
To find I Guerrini:
Address: Via Galvani 35/37