2588 Views
Come visit some of our favorite places in Rome!
Innocenti Biscottificio (Cookie shop), Rome, Italy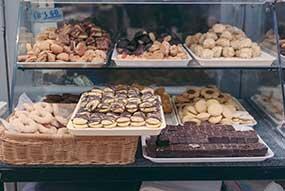 "If you ate our cookies 50 years ago, they taste more or less the same today. I used to watch my dad bake and it seemed so easy but in fact, far from it! Artisan products like ours require quality ingredients, but honestly, the most important ingredient is love."
– Stefania
The Innocenti has been treating Trastevere to its mouthwatering cookies since 1920 and is still run by the same family. Owner Stefania Innocenti and her daughter Michela still bake the huge selection of sweet and savory delights in their amazing 16m oven which dates back to the 1950s.
To find Innocenti Biscottificio:
Phone Number: 06 5803926
Address: Via della Luce 21