4992 Views
Remember when I told you about how hot Rome gets in the summer? Those ever-rising temperatures that make things like no-cook pesto, refreshing insalata di riso, and chocolate gelato the best things to eat?
Well, we're now officially in to fall, which means for most people that days at the beach have been replaced by days in the office, and t-shirts and sandals have been exchanged for sweaters and boots. If you're me, however, this change in season also signals that it's safe to turn the stove on again and make food that is above room temperature and capable of combatting the cooler weather. My go-to fall recipes tend to be cozy and hearty dishes like ragu' alla bolognese, risotto with peas and of course pasta e fagioli, the star of today's recipe.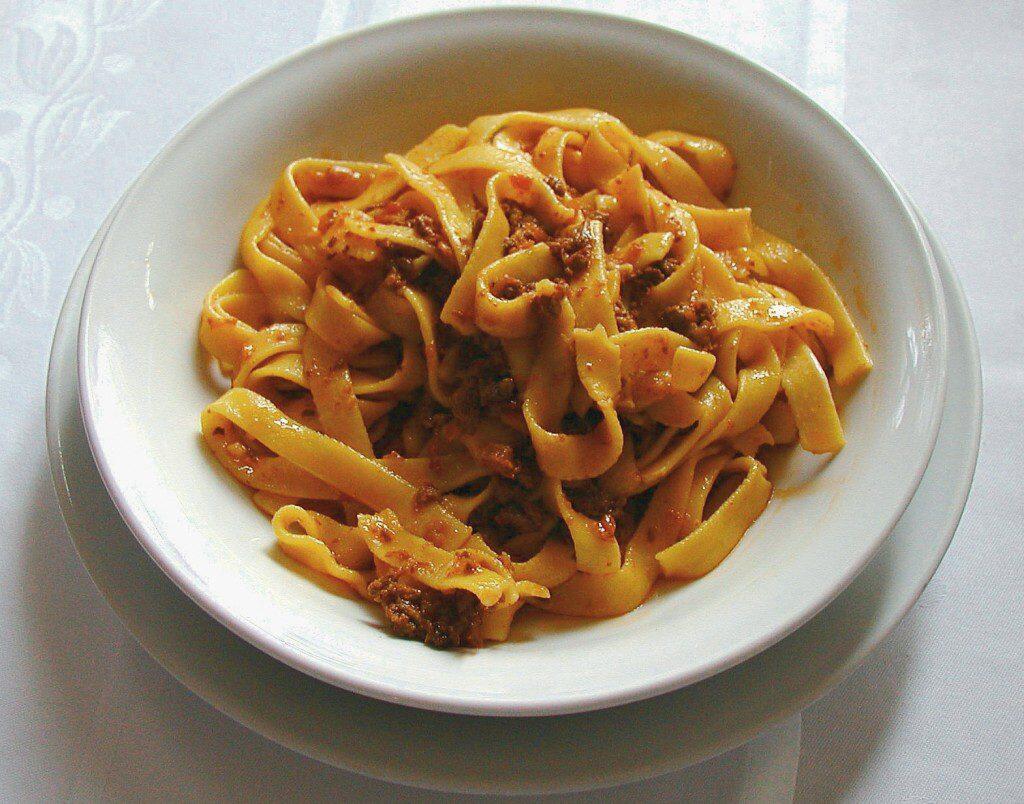 Pasta e fagioli—which means pasta and beans—is an Italian soup that, much like polenta, used to be considered a "peasant" dish. It is composed of inexpensive ingredients that are still filling and nutritious. Nowadays, it can now be found on menus in Italian restaurants. And it was a staple in my house growing up—I remember that there was nothing better than coming out of the below 0˚ New England temperatures and having a pot of this soup waiting for us for dinner.
Despite its simple ingredients, it is a soup full of flavor thanks to three different types of herbs, plus the untraditional but tasty addition of pancetta (note that this can be left out for a vegetarian version). It is warming, filling and perfect with freshly grated parmesan cheese on top and a side of bread to get every last bit of broth in the bowl. Note that this dish is also better a day or so after it is made, as the flavors develop even more. Enjoy everyone! 
Pasta e fagioli soup with tomatoes.
Recipe: Pasta e fagioli
Ingredients
4 sprigs fresh thyme
1 large sprig fresh rosemary
1 bay leaf
2 tablespoons olive oil
1 cup (or 1 medium) chopped onion
3 ounces (84 grams) pancetta, chopped
5 3/4 cups (1435 ml) chicken broth
2 (14.5-ounce or about 500 ml) cans red kidney beans, drained and rinsed
3/4 cup (170 g) ditalini pasta (or any small pasta)
Freshly ground black pepper
1/3 cup (75 g) freshly grated parmesan
Extra virgin olive oil
Directions
Wrap the thyme, rosemary and bay leaf in a piece of cheesecloth and secure closed with kitchen twine. Heat the olive oil in a heavy large saucepan over medium heat. Add the onion and pancetta and sauté until the onion is translucent, about 3 minutes. Add the chicken broth, beans and sachet of herbs. Cover and bring to a boil over high heat, then decrease the heat to medium and simmer until the vegetables are tender, about 10 minutes. Discard the sachet. Puree 1 cup of the bean mixture in a blender until smooth—be very careful when you do this, as the soup will be hot. Before putting the puree back into the soup, add the ditalini and boil the pasta e fagioli with the lid on until the pasta is tender but still firm to the bite, about 8 minutes. Return the puree to the remaining soup in the saucepan and stir well. Season the soup with ground black pepper and salt, to taste.
Ladle the soup into bowls. Sprinkle with some parmesan and drizzle with extra-virgin olive oil just before serving. Serves 8.
*Recipe slightly adapted from foodnetwork.com.