2828 Views
Come visit some of our favorite places in Amsterdam!
JWO Lekkernijen – Delicatessenwinkel (deli store), Amsterdam, THE NETHERLANDS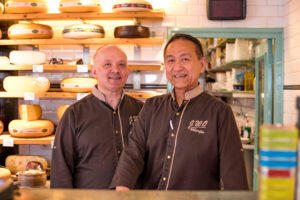 "We strive to provide the best quality for a reasonable price. That's why there's such a diversity of products in our assortment – we want to give people the best of everything!"
– Ongkie and Jan-Willem
With its stained-glass windows and intricate metalwork, JWO is as beautiful to look at as it is to eat at. Selling everything from Dutch cheeses and French charcuterie to Italian wine and gourmet sandwiches, JWO is a deli to return to time and time again. You simply won't be able to taste all the wonderful products on offer in one visit!
To find JWO Lekkernijen:
Phone: 020 623 1804
Address: Tweede Goudsbloemdwarsstraat 1