6733 Views
The Karlín that we know and love today actually came as a silver lining of the clouds that brought massive flooding to Prague in 2002. Before that, it was not an area of the city that any locals would have recommended to visitors. However, after finding itself under feet of water in the flood, Karlín got the chance to undergo a neighborhood-wide renovation. Now, just over a decade later, the results are stunning.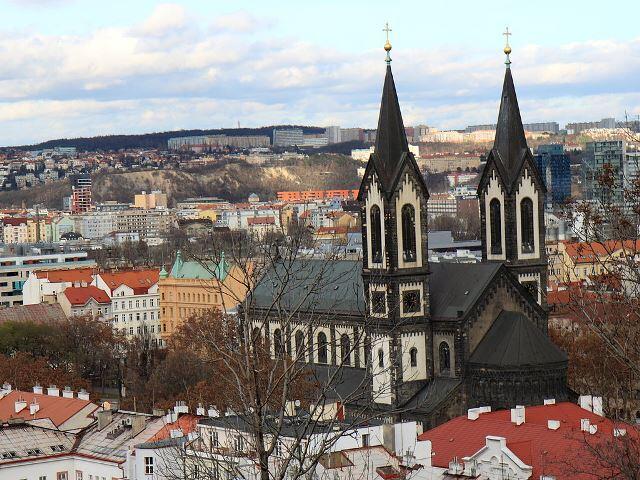 If you take the chance to wander around the gridded streets, you'll run into restaurants and cafes one after another, each more inviting than the next. If the streets seem quiet at night, it's just because everyone's already found a cozy place to be. If you'd like to explore it yourself, here are a few recommendations on where to begin.
Lunchtime Gems
Karlín is most lively at lunchtime, when all the professionals in the area stream out of their offices towards their favorite midday meal. If lunch is what you're in the market for, try coming a little before or after noon, so you're not waiting for ages.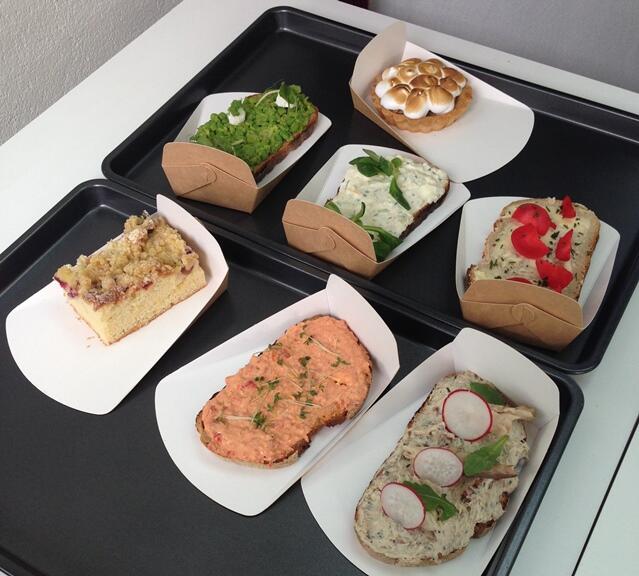 For a modern take on an old Czech favorite, try the bakery section at Eska, the newest offering from the countrywide Ambiente group. There, you can get a selection of fresh and colorful open-faced sandwiches, known in Czech as chlebíčky. And it is a bakery, so don't forget dessert.
Eska
Pernerova 49
+420 731 140 884
Eska.ambi.cz
Open: Mon – Fri 11.30 am – 3 pm, 5.30 pm – 11.30 pm; Sat – Sun 9 am – 3 pm; 5.30 pm – 11.30 pm
Just blocks away you'll find Polévkárna, a typically Karlín restaurant in that its simple appearance hides many surprises. The name indicates to Czechs that soup is its focus, but insiders know that it's actually a Georgian restaurant. If you've never tried the cuisine of the small Caucasian republic of Georgia, you're in for a real treat. Expect fresh, flavorful soups chock-full of meat and vegetables, and the meal is not complete without a slice of khachapuri, or cheese bread, on the side.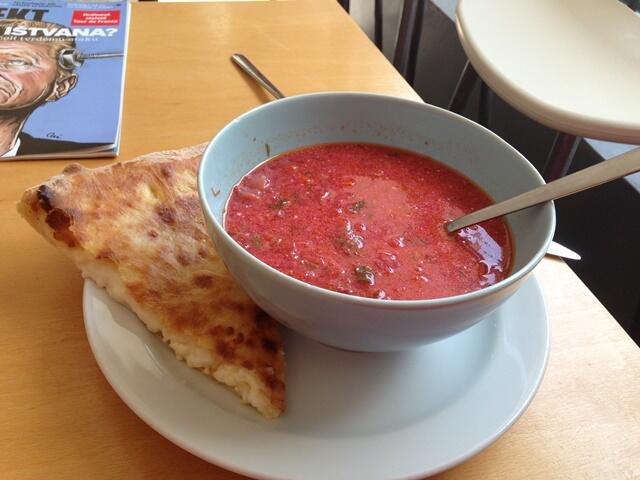 Polévkárna
Sokolovska 97
+420 608 074 414
Polevkarna.cz
Open: Mon – Fri 8 am – 6 pm
If your aim is to add a little spice to your life, head to the aptly named Red Hot Chilli. This stylish little Vietnamese bistro will charm you with its décor and atmosphere even before you've had a look at the menu. They've got both Thai and Vietnamese options, and unlike a lot of what you'll find in the Czech Republic, they're happy to ramp up the spiciness factor for you.
Red Hot Chilli
Krizikova 67
+420 607 780 717
Red Hot Chilli on Facebook
Open: Mon – Thu 9.30 am – 9 pm; Fri 9.30 am – 5 pm
Beat the Afternoon Blues
We've all been there – you've had a great lunch, you're ready to get back on your feet and go see something else, but your legs, for whatever reason, just don't want to move! It's the mid-afternoon, and you need a jolt of caffeine. Fortunately, Karlín has you covered there too.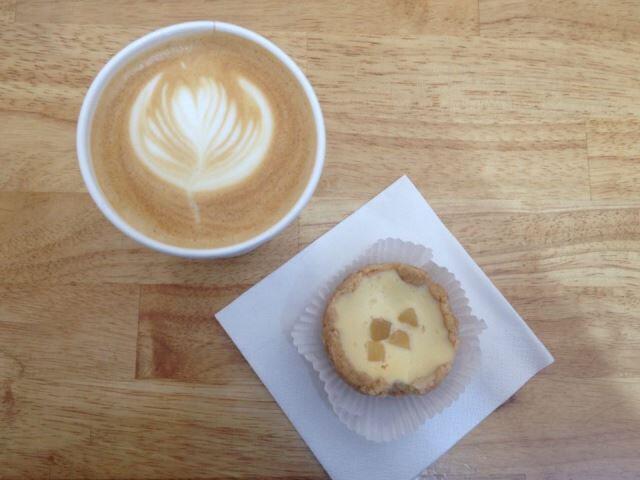 Locals and tourists alike generally recognize Můj Šálek Kávy, which translates to "my cup of coffee", as some of the best coffee you'll find in Prague. For that reason, it's never a bad idea to have a reservation if you're planning on dropping by. Once you've made your way down the tree-lined streets that lead to the doorstep, the combined scents of freshly ground coffee and freshly baked treats will pull you in. Sit down, relax, and enjoy the coffee recommendations from the very knowledgeable baristas. They also have breakfast daily and weekend brunch specials.
Můj Šálek Kávy
Krizikova 105
+420 725 556 944
mujsalekkavy.cz
Open: Mon – Sat 9 am – 10 pm, Sun 10 am – 6 pm
For a coffee on the run, you can't do better than the charmingly tiny Kafe Karlín. Basically just a coffee counter with a few extra feet to move around in, don't expect a sit-down experience, but do expect very friendly service, quality brews, and possibly even a little something sweet – we recommend the mini cheesecakes, if they happen to have them. They sometimes play host to little pop-up restaurants, so if you see a crowd, hurry over and try some for yourself.
Kafe Karlín
Sokolovska 46/51
+420 222 311 279
kafekarlin.cz
Open: Mon – Fri 7.30 am – 6.30 pm
Dinner in Style
Dinnertime means that the area will have cleared out a little, but we still advise you to make reservations for these popular joints.
If you're going international – or feeling homesick – one of Prague's favorite burger places, Peter's Burger Pub, can be found just meters away from the tunnel that leads up to the Žižkov neighborhood. Rather than the flavors you know and love, expect new combinations that will inspire curiosity first and satisfaction later. They also carry beer from the Kocour microbrewery, which, in addition to a typical Czech lager, makes one of the best IPAs to be found in the country.
Peter's Burger Pub
Pernerova 10/32
+420 222 312 091
burgerpub.cz
Open: Mon – Sun 11 am – 11 pm
Superb Czech cuisine also resides within the neighborhood's limits. For an old pub feeling with an especially good beer selection, head to Pivovarský Klub, or "Brewery Club". The rooms are decorated with old posters and paraphernalia, and the menu is hearty and classic. For a crisper take on Czech pub culture, your best bet is the neighborhood Lokal. In addition to all the Czech favorites, they serve the freshest Pilsner Urquell you can find.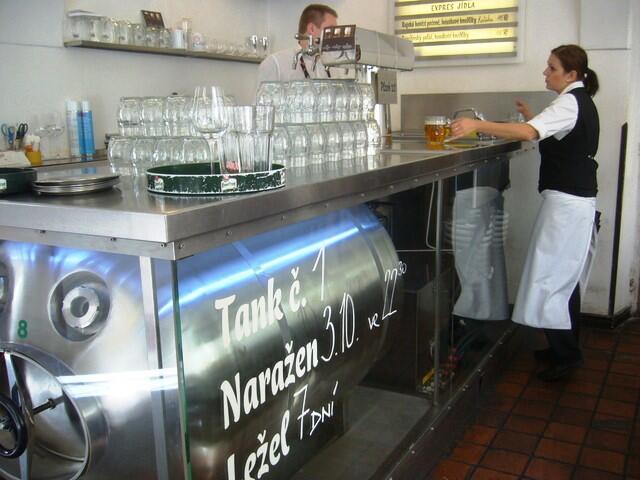 Pivovarský Klub
Krizikova 17
+420 222 315 777
pivovarskyklub.com
Open: Daily 11.30 am – 11.30 pm
Lokál Hamburk
Sokolovska 55
+420 222 310 361
local-hamburk.ambi.cz
Open: Mon – Thu 11 am – 12 midnight; Fri 11 am – 1 am; Sat 12 noon – 1 am; Sun 12 noon – 11 pm
Have a Drink
Karlín isn't known for its bar scene – you'd have to go to the neighboring Žižkov for that. Still, though, there are a few places worth popping into.
Veltlin is undoubtedly one of the coolest places to drink wine in the beer soaked country that is the Czech Republic. You can brush up on your Central European history and geography with the hand-painted map of the former Austro-Hungarian Empire—of which the Czech lands were once a part—that they have on their wall. Then, following the theme, all their wines hail from within that region. Moravian wines from the southeast of the Czech Republic have been gaining some interest lately, but you can also sample their more famous Hungarian cousins, for example.
Veltlin Wine Bar
Krizikova 115
+420 777 082 316
veltlin.cz
Open: Mon – Sat 5 pm – 11 pm
No trip to Prague is complete without a stop at The PUB, short for The Pilsner Unique Bar, where each table comes complete with a tap. Practice pouring your own beers, while the tap keeps track of how much you've drunk. TV screens and projectors around the restaurant also keep track of the table and pub totals, so you can in effect "compete" with PUBs across the country.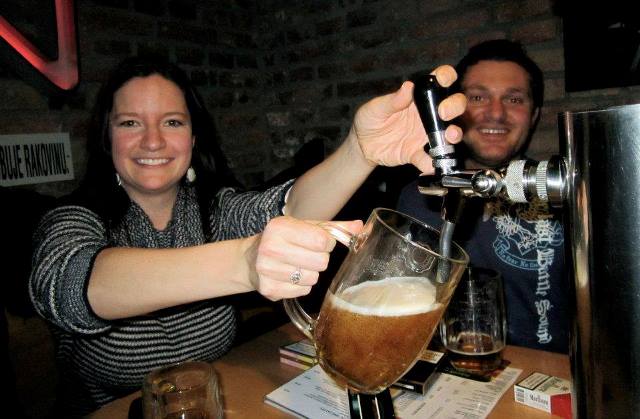 The PUB Praha 8
Krizikova 28
+420 608 444 034
thepub.cz.praha-8
Open: Mon – Thu 11 am – 1 am; Fri 11 am – 2 am; Sat 5 pm – 2 am