9402 Views
Carbonara is one of my all time favourite dishes. The mixture of eggs, bacon and cheese is always a winner for me, an English girl. So when I first moved to Rome, my search began for the perfect carbonara. The problem was that finding the best is not as easy as it seems. With such simple ingredients as pancetta or guanciale, pecorino cheese and the freshest of eggs, it's incredibly easy to get it wrong. There is no cream, no mushrooms, no peas. Keep it simple: that's the Roman way. So, with that in mind here are five of my favourites and where to find them.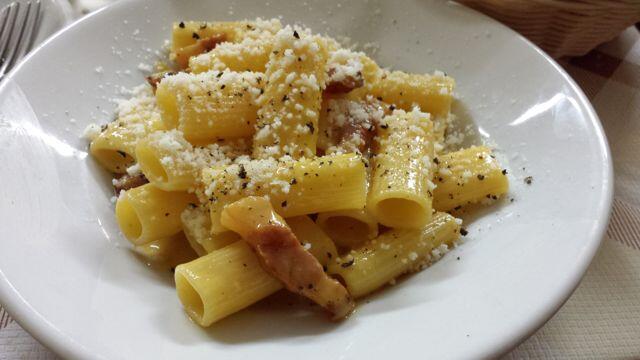 Best Carbonara Pasta in Rome
Da Danilo
Vaunted as the best carbonara in Rome, this was the first good carbonara I ate here. Beautifully presented with crispy bacon shards placed on top and swirled throughout the spaghetti, this carbonara is neither too heavy, nor too light, neither too rich, nor too eggy. A little bit goldilocks, this carbonara is just right. The spaghetti is cooked al dente, at first it might seem too much so, but they know what they are doing. Booking is essential.
Via Petrarca, 13. Esquilino area.
Tel: 06 772 00111
trattoriadadanilo.it
Da Enzo
Busy and bustling you couldn't get a more Roman trattoria. The service is brisk but fun, "Why are you in Rome? English teachers? Can we have lessons?" The last time I went, we were early enough and lucky enough to get a table without a reservation, and by the time we left the queue outside was enormous. Another rigatoni alla carbonara, this pasta dish is cheesy and peppery with the eggy sauce left at the bottom to mix in yourself. Crunchy strips of salty guanciale (just how I like them) completed the dolce/salato, or sweet and savoury, effect. Yum!
Via dei Vascellari, 29. Trastevere
Tel: 06 581 2260
daenzoal29.com
Da Sergio
Recommended by my friend Silvia as her especial favourite, Da Sergio is a smallish trattoria hidden away in the side streets around Campo dei Fiori. For those of you who like your food a little more on the rustic side, this is the sort of carbonara for you. Homely and rich with less attention paid to the presentation and more focus on the flavours. Maybe the pasta sauce isn't quite as silky smooth as some of the others, maybe the spaghetti is not so al dente, but overall a carbonara here is a dish that tastes of home.
Vicolo delle Grotte, 27. Campo dei Fiori area.
Tel: 06 686 4293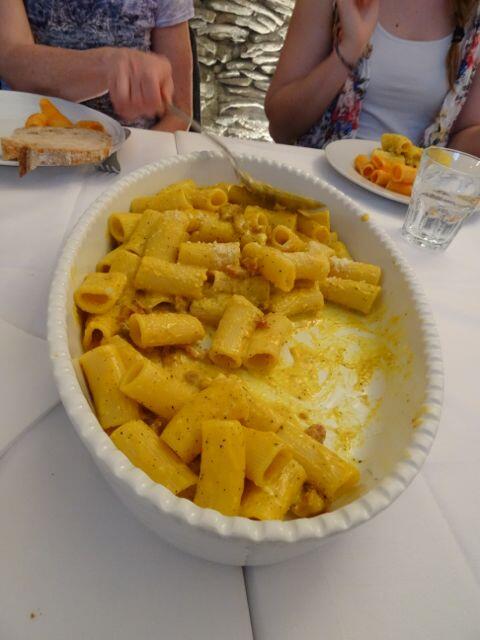 Flavio al Velavevodetto
Rigatoni alla Carbonara is served in this Testaccio institution. Generous strips of crispy bacon in a seemingly too bright yellow sauce that reflects the quality of the eggs. With a good balance of flavours, this carbonara was voted the 2nd best in the city, and the best pasta of the day by my fellow diners. Don't worry about the big portion size in the photograph: it was taken of a large communal bowl!
Via di Monte Testaccio, 97. Testaccio
Tel: 06 574 6841
flavioalvelavevodetto.it
L'Arcangelo
The food here is something finer and offers a little more than the average trattoria. However, for their carbonara they stick with tradition. The rigatoni are cooked to perfection and slicked in a silky, glossy sauce. Italian friends who dined with me agreed that this was the real thing. So good, none could possibly go to waste; one friend even fare la scarpetta – wiped his plate clean with bread (literally, "do the little shoes"). What better endorsement could there be?
Via Giuseppe Gioacchino Belli, 59. Prati
Tel: 06 321 0992