10142 Views
With its narrow cobbled lanes, magnificent squares, and breathtaking views of Prague, Hradčany, the district surrounding Prague Castle, promises fairytale enchantment! But trying to find a decent spot to eat near the castle doesn't always come with a happy ending. These are some of our favorite places to recuperate after a long day of castle-going, or to stop and refuel in the midst of marveling.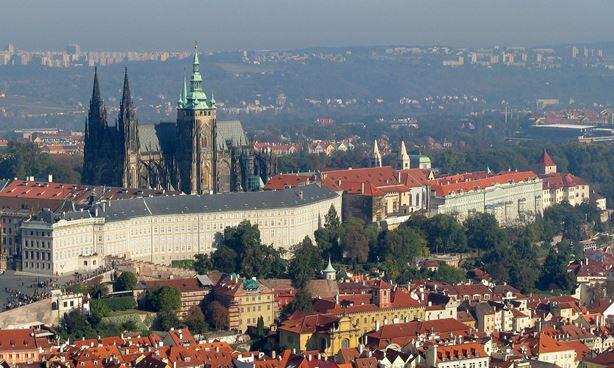 Top 5 Restaurants Near the Prague Castle
1. U Černého Vola
If gruff service, a smoke-choked atmosphere, and the smell of stale beer spell authentic to you, The Black Bull is a good bet. Located mere steps from the Loreta Square in a 16th century building, it is typically packed wall-to-wall with both locals and tourists and serves some of the best dark beer in Prague as well as pub classics like fried cheese, pickled cheese, and beer cheese. Bring cash and an adventurous spirit and be forewarned: once you set down an empty pint glass, another one will arrive promptly.
Loretánské náměstí 107/1, 118 00 Praha-Hradčany, Czech Republic
+420 220 513 481
ucernehovola.cz
2. Lo Veg
Twisty Nerudova Street in the heart of the Prague Castle district (named for Czech writer Jan Neruda and famed for its ancient burgher houses) is also home to this newly opened rustic vegan bistro restaurant—recently visited by none other than Woody Harrelson! Try tasty vegan takes on Czech favorites like goulash, as well as more contemporary fare (veggie burgers, pastas, and salads). Call in advance to reserve a spot on the rooftop terrace overlooking the tiled splendor of Malá Strana.
Nerudova 36, Prague 1
+420 702 901 060
loveg.cz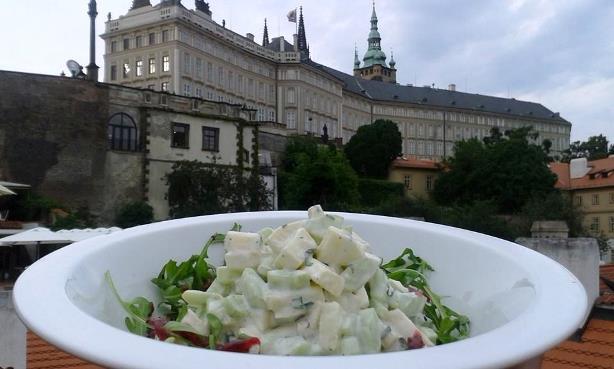 3. Kavárna Nový Svět
Nový Svět(New World) is a fiercely guarded secret among locals. Oh-so-close to Prague Castle but more often than not completely deserted and pin-drop silent, it's the perfect place to enjoy that enchanting Old World Prague vibe well away from the crowds. The same can be said of this tiny café nestled on a quiet lane in one of the quarter's historic houses. Stop in for a cup of locally-roasted Double Shot coffee, cheesecake, or panini.
(Note that getting to Nový Svět is tricky: take tram #22 past Prague Castle to Brusnice.)
Nový Svět 2/87
+420  242 430 700
kavarna.novysvet.net
4. Villa Richter
For something a bit more upscale, Villa Richter is an elegant find along the southern slope of Prague Castle. The terrace overlooking the St. Wenceslas Vineyards, said to be one of the oldest in Bohemia, has a light menu of antipasti, pasta, grill meats, and desserts, while the more upscale offerings inside at the Piano Nobile restaurant focus on succulent game dishes. Both dining areas naturally offer a lengthy wine list with choice bottles from the vineyards. Reservations are recommended.
Staré zámecké schody 6/251
+420 702 205 108
villarichter.cz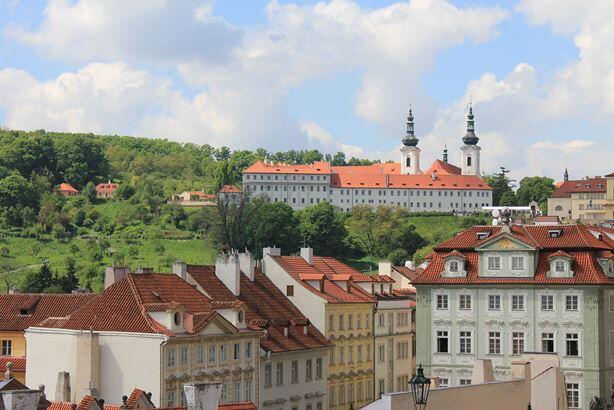 5. Cafe Pointa
If you are traveling with children, you will want to check out Cafe Pointa. It's a short, pleasant walk from the castle (or simply hop tram #22 from Prague Castle and take it one stop to Královský letohrádek) to this light-and-airy cafe housed in an Art Nouveau building and owned by Irish expats. No doubt this explains the full Irish breakfast, chicken-mushroom pie, and Guinness bread on the menu! You will also find generous salads, excellent desserts, and a cute play corner with a full mini-kitchen. A very relaxed place to begin or end your explorations of Prague Castle.
Na Valech 2
+420 233 321 289
www.cafepointa.cz