8086 Views
It's etched in travel books, scribbled in journals, shared on blogs and websites: Prague is "one of the most beautiful cities in the world"…"a city that takes your breath away"…"a place you should see before you die". Living here, we get it. Prague is a magical place. It never ceases to surprise, amaze, romance us. The windy cobbled streets and stunning monuments like the Prague Castle and the Charles Bridge endlessly take our breath away.
Two of our favorite things to do in Prague are (1) lose ourselves in the streets of Prague and (2) take in the Golden City views over a meal. We'll give you a few of our best recommendations for the latter (as for better or for worse, we think you'll have the former covered without too much effort!). Reservations are recommended at all locations.
4 Best Prague Restaurants With a View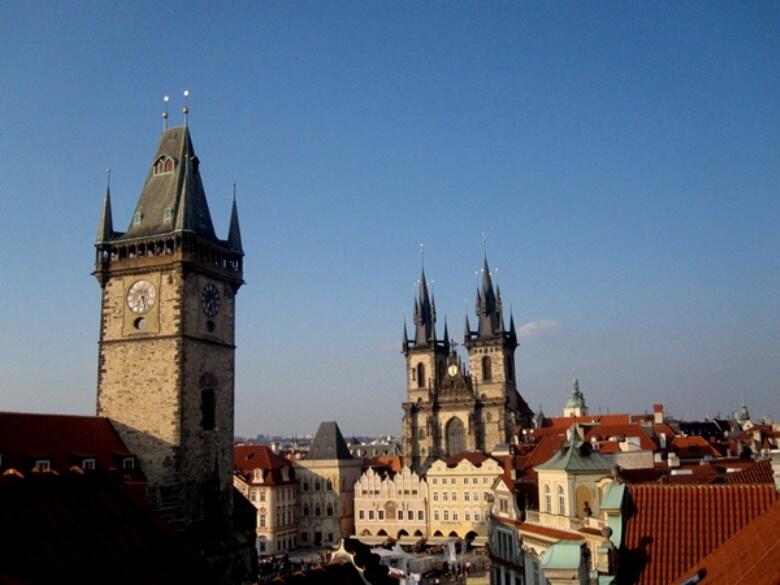 U Prince
Located right in the heart of Old Town Square is Hotel U Prince (or as most foreigners call it "You Prince"…feel free to ask a Czech how it's rightfully pronounced!). On the fifth story of the hotel is the terrace with the best panoramic views of the historical Old Town (the Town Hall comes in a close second but they don't have food or cocktails so our choice was obvious!).
Looking for a little romance? Settle under the stars of the night sky. Visiting in wintertime? The terrace is open year-round. On a budget? Savor a cocktail or dessert with the view. In all cases, it will feel quite like a fairytale!
Old Town Square 29, Prague 1
+420 737 261 842
hoteluprince.com
Kampa Group Restaurants, Hergetova Cihelna and Kampa Park
Take in incredible (as in knock your heels off) views of the Charles Bridge while enjoying gourmet 5 course meals. We've also got a thing for their desserts. The Strawberry cappuccino at Kampa Park and the Apple Tarte Tatin at Hergetova Cihelna (both served with ice cream) are D.I.V.I.N.E! They also offer lunch specials (particularly great if you're on a budget). Note Hergetova Cihelna only offers lunch specials during the week.
If you can make it happen, catching the sun setting over the river and the Charles Bridge is pretty priceless.
Cihelná 2b, Prague 1 and Na Kampě 8b, Prague 1
+420 296 826 102 and +420 296 826 103
kampagroup.com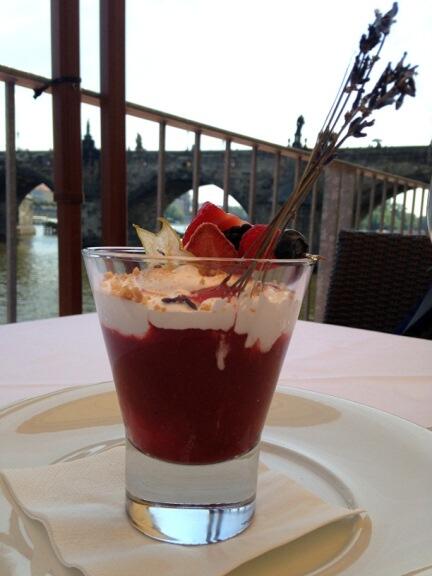 Pizzeria Grosseto Marina
One of the best views in the city…from the Vltava River (literally!). On a boat a stone's throw from the Prague Castle, enjoy stunning views of the Charles Bridge, Petřín hill and even catch a bit of the golden National Theatre. Offering delicious Italian fare including fish, meat, pastas and homemade pizza plus a nice selection of wines.
Perfect for all seasons – on hot summer nights, catch the river breeze and in winter, cozy up in the enclosed restaurant below.
Alšovo nábřeží, Prague 1
+420 222 316 744
grosseto.cz/marina
Oblaca
As the title suggests (for those of you who speak a little Czech), here you'll find yourself "in the clouds" (oblaka). Oblaca is not only great for dinner but for breakfast too – there's no better way to experience the morning hustle and bustle of Prague than to watch it quietly from 66 meters above! Not up for breakfast or dinner, they've got all the in-betweens: lunch and evening cocktails too!
Oblaca is part of the Žižkov Observation Tower in the Žižkov district of Prague. It's hard to miss this structure with the babies towering above the city!
Mahlerovy sady 1, Prague 3
+420 210 320 086
towerpark.cz
A few more of our favorite local places with views worth writing write home about…
Sluneční terasa T-Anker
You won't go thirsty on this rooftop overlooking the Old Town of Prague! They've got an impressive selection of local beers and wines (imports too).
Náměstí republiky 8, Prague 1
+420 722 445 474
t-anker.cz
LoVeg
An awesome view of the castle, delicious vegan food with an international twist plus organic draught beer. It's safe to say we love this place. Bookings are necessary as there are only 2 tables on the rooftop!
Nerudova 36, Prague 1
+420 702 901 060
loveg.cz
Podolka
Head outside the center for incredible views and outdoor seating along the Vltava River. Vegetarian dishes, meats, and fish too.
Podolské nábřeží – Přístav 1
+420 774 115 166
podoli.restauracepodolka.cz