29086 Views
With the chill of winter in the air, what better way to see the Czech capital city (and stay warm) than aboard Prague's iconic red trams? With 322 miles of track and almost 1,000 trams connecting all corners of the city day and night, there's many an opportunity for a tram trip!
So with all the trams, which one to choose? Tram #22, we say! Winding through Prague's famous places and local neighborhoods, Tram22's route is one of the most scenic of all. And with its frequent schedule, hopping on and off between the city's sights is a breeze.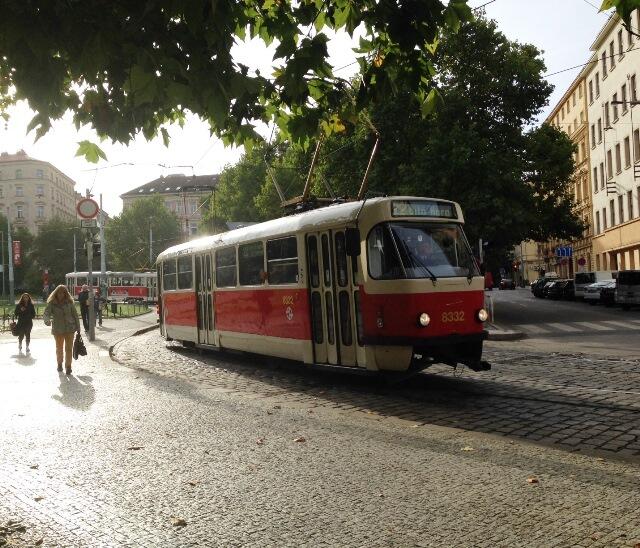 Prague Trams – Travel Tips
Buying Tickets
Before riding, make sure you've got a ticket! If staying at a hotel, find out if they sell tickets at the reception (this will probably be your most convenient option). Otherwise, you can buy tickets at the newspaper/tobacco stores/stands (look for Tabák or Trafika) or from the yellow boxes located outside most tram stops or inside the metros (note, you'll need coins). There are 4 ticket options: 24kc for 30 minutes, 32kc for 90 minutes, 110kc for 24 hours and 310kc for 72 hours. If you're planning to get on and off the tram to see sights along the way, we'd recommend the 24 hours (or 72 hours) ticket. For more tips and details on how to use public transportation in Prague, read on.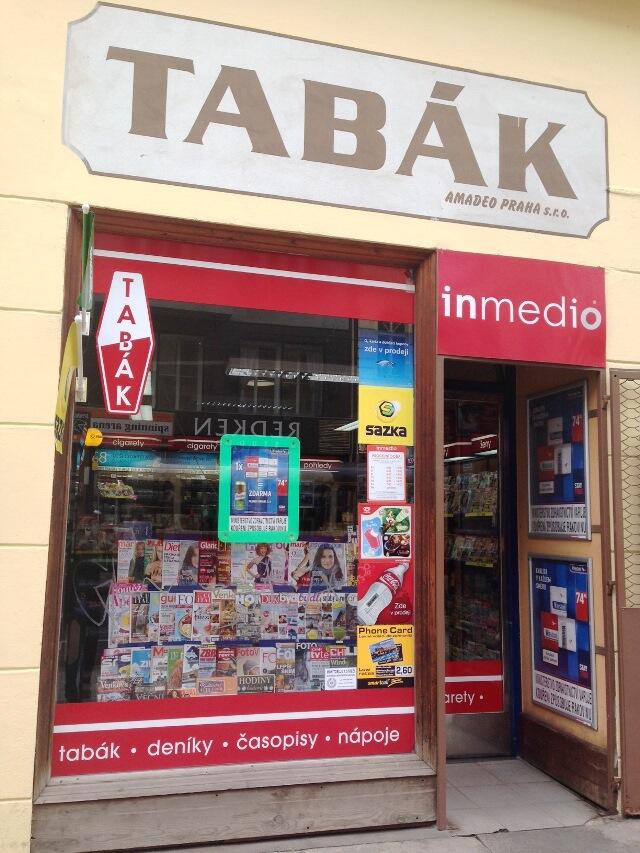 Where to start your journey?
Check out the route map to see where's most convenient for you (input "22" in the Line field).
Getting on the tram
Once on the tram, stamp your ticket in one of the several yellow boxes onboard. Take a seat if there's one free. Otherwise, hold on! The trams can be jerky. If at any point you are flashed a badge by an inspector (normally wearing plain clothes), show them your valid ticket. Without a valid ticket, you will be fined and must pay cash on the spot (the fee is now up to 950kc) – plus, speaking from experience, it's a bit embarrassing and all round best avoided!
**********************
While you're in Prague why not check out one of our fantastic food tours? You can choose from: Prague Food Tour, Brews and Views – beer and snacks tour and the Supper Stroll from Prague castle.
**********************
Tram 22 Highlights
Náměstí Míru "Peace Square"
Located in the local Vinohrady neighborhood, "Peace Square" has a beautiful church (St. Ludmila) at its center and is surrounded by historical buildings like the theater and the National House. Craving a snack? Grab a traditional hot dog from the local favorite hot dog stand. And if you're lucky enough to be in Prague around Easter or Christmas time, enjoy the outdoor markets (they are some of the best in the city!).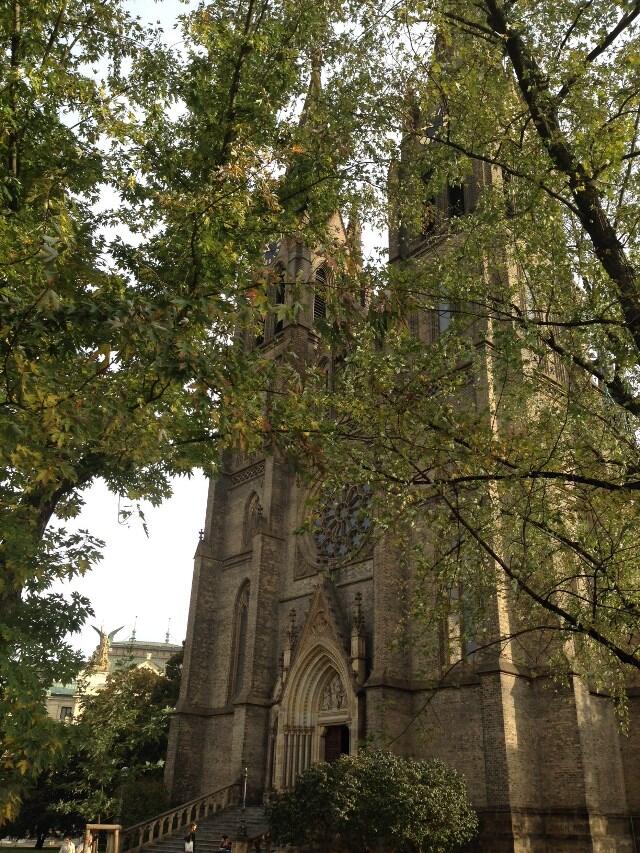 IP Pavlova
Just one stop from Náměstí Míru is one of Prague's busiest metro stations: IP Pavlova. A transportation hub with a host of cafes, fast food, shops and a pleasant outdoor farmers' market, IP Pavlova is abuzz at all hours of the day (and night). Watch local life unfold from the tram or get out and experience it.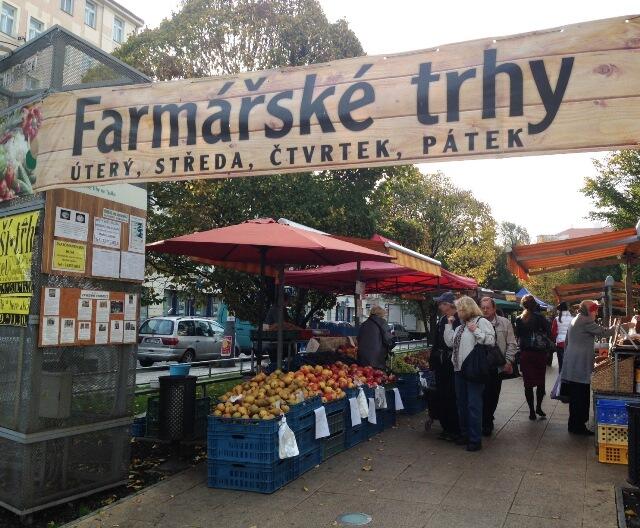 Karlovo náměstí "Charles Square"
Tram 22 stops at the historic Charles Square, founded as the main square of the New Town (Nové Město) in 1348 by the famous Bohemian King, Charles IV. Now a park, it's surrounded by notable buildings such as the New Town Hall and an abundance of cafes. So if you're in the mood for a coffee break, this is a good stop for it. Hop off and head northeast through the park to Mama Coffee or in the opposite direction to Costa Coffee or I Need Coffee.
Mama Coffee – Kavárna Vodičkova
Vodičkova 6, Prague 1
+420 773 337 309
mamacoffee.cz
Open: Mon – Fri 8 am – 10 pm; Sat – Sun 10 am – 10 pm 
Costa Coffee
Karlovo náměstí 8, Prague 2
+420222 515 044
costa-coffee.cz
Open: Mon – Fri 7 am – 9 pm; Sat – Sun 8 am – 8 pm
I Need Coffee
Na Moráni 7, Prague 2
+420777 446 022
ineedcoffee.cz
Open: Mon – Fri 8 am – 8 pm; Sat 10 am – 5 pm
**********************
Like this? Check out Eating Europe on social media!
With Czech travel ideas, foodie pics and much more, we're on…
Facebook | Twitter | Pinterest | Instagram
**********************
Národní třída "National Avenue"
There's much to explore along this avenue, the boundary of New Town and Old Town. Head east by foot and you'll reach Wenceslas Square (with shopping and cafes along the way), north to Old Town Square or follow Tram 22's tracks west towards the river to reach the National Theater (which you'll recognize by its golden rooftop). If you're hungry, Café Louvre and Kavárna Slavia are both good places to grab brunch or lunch (though we'll confess: we're partial to the former).
Café Louvre
Národní 22, Prague 1
+420224 930 949
cafelouvre.cz
Open: Mon – Fri 8 am – 11.30 pm; Sat – Sun 9 am – 11.30 pm
Kavárna Slavia
Smetanovo nábřeží 2, Prague 1
+420224 218 493
cafeslavia.cz
Open: Mon – Fri 8 am – 12 midnight; Sat – Sun 9 am – 12 midnight
Újezd
As you head towards the Újezd neighborhood/tram stop, you'll cross over the Vltava River – be sure to capture the views of the Prague Castle! If history and parks interest you, Újezd is a good place to get off. Just across the street from the tram stop, at the base of Petřín Park, find the Memorial to the Victims of Communism. Unveiled in 2002, the memorial honors Czechs who were imprisoned, forced into work camps, exiled or killed trying to cross the borders during the communist era.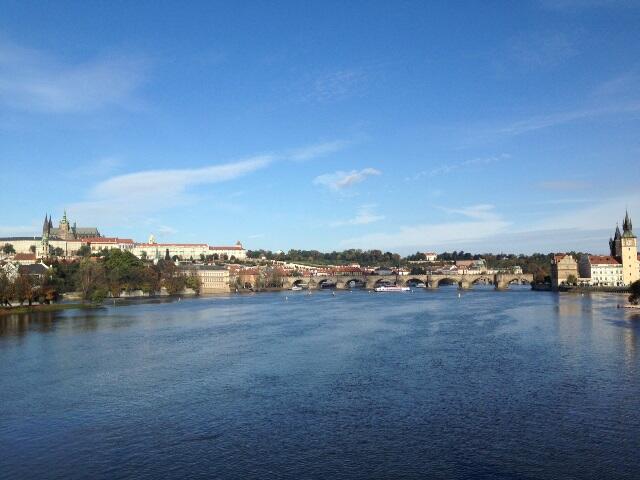 If you've got time to spare and want to see one of Prague's most beautiful parks, continue into Petřín and follow its ever-winding paths (which eventually lead to Prague's "Eiffel Tower"). Be prepared – it's a walk up hill (but we promise the views will be well worth the effort).
Malostranské náměstí
Malostranské náměstí is the main square of Malá Strana (Lesser Town). To visit St. Nicholas Church or the Charles Bridge (and dare we say, to get your Starbucks' fix), disembark here! Likewise if you're in the mood for some of the best ice cream in town, an American-style bagel sandwich or a warm Czech traditional pastry (trdelník), hop off.
Angelato
Újezd 24, Prague 1
+420777 787 344
angelato.cz
Open: Mon – Sun 11 am – 10 pm
Bohemia Bagel Lázeňská
Lázeňská 19, Praha 1
+420 257 218 192
bohemiabagel.cz
Open: Mon – Sun 7.30 am – 6 pm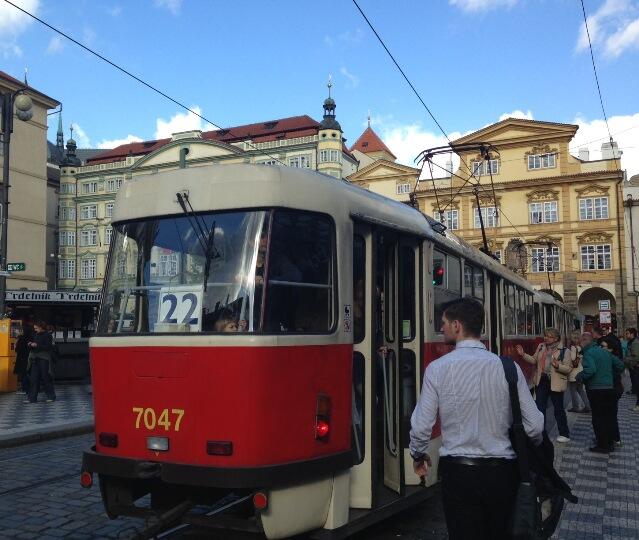 Malostranská
To stroll up to the Prague Castle and to St. Vitus Cathedral, Malostranská is where to start the upward journey. From April through October, it's also possible to visit the lovely Baroque Wallenstein Garden on your way up. Not feeling the hike? Stay on the tram a couple more stops and get off at the top of the hill at Pražský hrad.
Ready to see the largest ancient castle in the world, the seat of Czech monarchs and official residence of the head of state? Hop off here (or wait a couple more stops to walk down the hill to the castle). From Pražský hrad, you'll enter the back side of the castle and will need to cross the tramlines and street to get there. Once inside the castle walls, wander the grounds for free or pay for a ticket to include various entrances such as St. Vitus Cathedral, Basilica of St. George, Golden Lane, Powder Tower and more. Before you leave, be sure to snap a photo with the stoic Czech castle guards!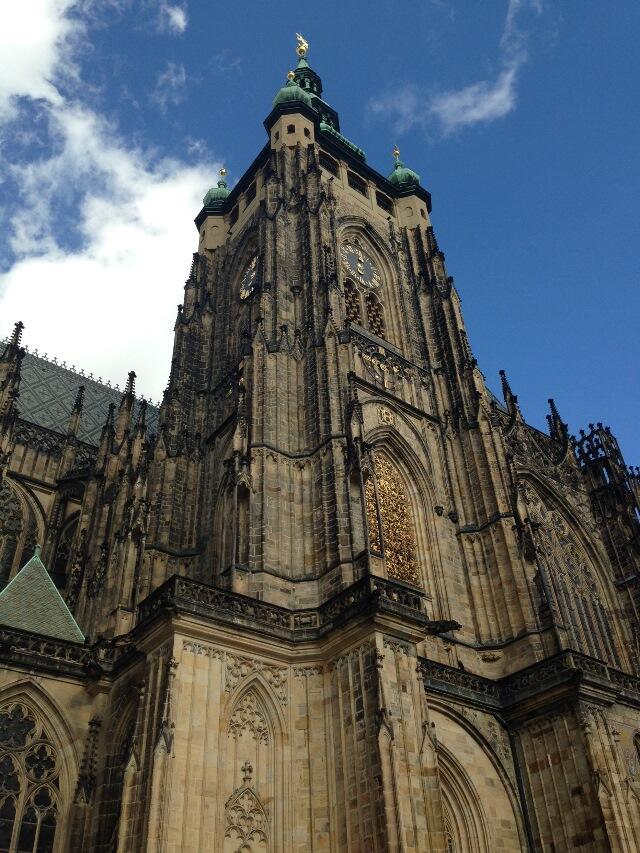 Pohořelec
From the Pohořelec stop, you can take an easy way down to the castle with some interesting sites along the way such as the Loreta, a beautiful church and pilgrimage site (listen for the hourly bell song). If you're looking for unique Czech souvenirs (particularly for kids), The Rocking Horse Toy Shop is one of our favorites. It's a charming shop full of quality Czech-made gifts such as wooden toys and local Koh-i-noor art supplies.
Loreta
Loretanske namesti 7, Prague 1
+420220 516 740
loreta.cz
Rocking Horse Toy Shop
Loretánské náměstí 3, Prague 1
+420220 512 234
Open: Mon – Sun 10 am – 6.30 pm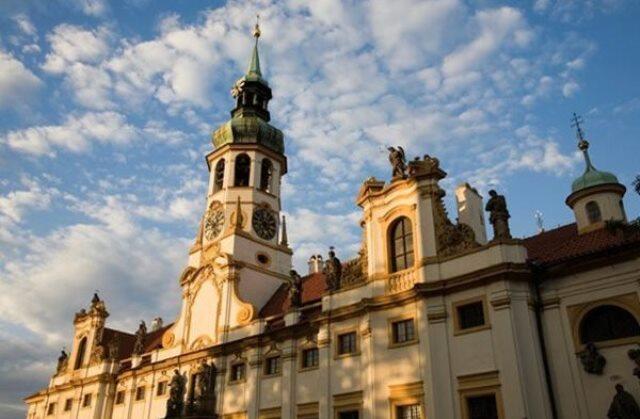 What's Next?
So alas, this is where our journey ends… but of course, the tram continues! One of our other favorite tours in Prague (which revolves solely around beer) ventures back along Tram 22's line to the Old Town. If beer, food and an all-inclusive, non-touristy tour pique your interest, check out our Brews and Views Beer Tour.
Finally, now that you've mastered the 22 tram, why not try another route? Find Prague's complete tram schedule at dpp.cz.
Tram Tips
Tram 22 runs 5am to 1am at approximately 5-minute increments (at night a bit less frequently – about 10-minute increments). Tram 57 is the night tram which follows the same route as 22 (but only twice per hour).
Czechs, young and old, are very well versed in tram etiquette. It is courteous (and let's just say expected) to offer up your seat to elderly people, pregnant women and children. Also, it's looked on favorably to use your "inside voices" on the tram.