3417 Views
After living in Rome for three years, there are a few things that I've learned to live without: reliable public transportation, air conditioning and the absence of bagels. That being said, Thanksgiving is one American mainstay that I'll always miss while living in Italy. Growing up, Thanksgiving was an exciting holiday, a vacation from school where I'd bake, watch the Macy's Thanksgiving Day parade on TV and go to my Nonno's for a huge meal with my extended family.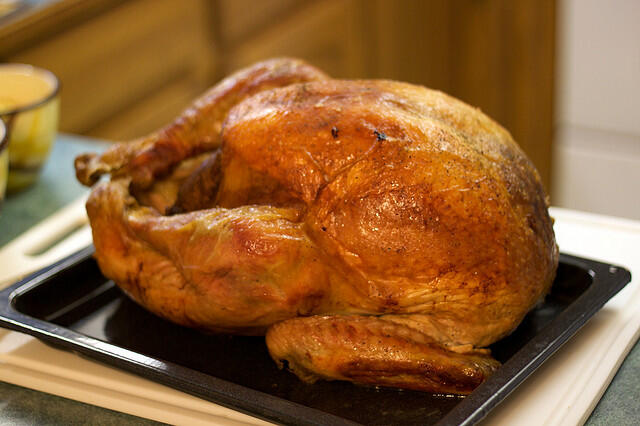 It's no surprise that I'm a little sad to miss Thanksgiving in the States, and so I have tried to keep the Thanksgiving tradition alive even when in Italy. My Thanksgivings in Rome are a bit different compared to the ones in Rhode Island – here I celebrate with Italian friends, whose curiosity about the traditional Thanksgiving dishes (sweet potatoes, cranberry sauce paired with turkey) always make the holiday more interesting. It also means that the foods that I make for the Thanksgiving meal have changed slightly — in place of an entire roast turkey, which wouldn't fit in my tiny electric oven, I make turkey cutlets with gravy; I prepare apple instead of pecan pie, as pecans aren't easy to find; and a pasta dish will sometimes find its way on to the table, an option for any Italian who might not take to American cuisine (this has thankfully yet to happen, but you never know!)
If Italians celebrated Thanksgiving, I think that this pumpkin risotto would be on their menus. This dish is Italian food meets Thanksgiving — a typical primo, infused with the classic American ingredient of pumpkin (or squash, if that's more readily available). It is comfort food at its finest: creamy rice with pumpkin, which roasts and caramelizes in the oven and adds tons of flavor to the dish. The sage was added to the recipe as a nod to the pumpkin ravioli with butter and sage that I've had in Northern Italy, and it complements the pumpkin perfectly. Give this recipe a try if you want to try something new for Thanksgiving this year, or just make it when you want something cozy for dinner. Buon appetito!
A pleasing bowl of pumpkin risotto
Italian Thanksgiving Recipe: Pumpkin Risotto
Ingredients
2 lbs (896 grams) of pumpkin or butternut squash, seeds removed and cut into cubes
1 bunch sage leaves, roughly chopped
Olive oil
6-7 cups (about 1 ½ liters) chicken broth
4 ounces (112 grams) pancetta, diced
1 onion, chopped
1 1/2 cups (330 grams) Arborio rice
1/2 cup (125 mL) white wine
1 cup (112 grams) freshly grated Parmesan cheese
Salt and pepper
Directions
Preheat the oven to 400 degrees Fahrenheit or 200 Celsius. Place the cubed squash or pumpkin on a baking sheet and toss it with 2-3 tablespoons of olive oil, 1 teaspoon salt and 1/2 teaspoon pepper. Roast for 25-30 minutes, tossing once, until very tender. Set aside.
Next, heat the chicken broth in a small saucepan and leave it on low heat to simmer.
In a large pot, sauté the pancetta and onions in about two tablespoons of olive oil on medium-low heat for 10 minutes, or until the onion is translucent but not browned. Add the rice and stir it together with the onions and pancetta. Next, add the wine and let it cook for 3-4 minutes. Once the wine has cooked down a bit, you can start adding the stock to the rice, two ladles at a time. Stir, and simmer until each batch of stock is absorbed, about 5 to 10 minutes. Continue to add the stock, two ladles at a time, stirring every few minutes. Each time, cook until the mixture seems a little dry then add more stock. Continue until the rice is cooked through, but still al dente, about 30 minutes total. Take the pot off the heat and add the roasted squash or pumpkin and Parmesan cheese. If you want you can mix everything together very well to puree the pumpkin/squash a bit and give the risotto an orange color (like I did in my photo) or you can stir lightly to leave the squash and pumpkin intact.
Serves 6-8.
If you are looking for ways of spending Thanksgiving in Rome, see our post from last year: Celebrate Thanksgiving in Rome!