4573 Views
At its core, Amsterdam is a place for romance. Nothing highlights this more than the famous Amsterdam canal ring, which enthralls by day and sparkles by night. Sprinkled in and around the canals are many cozy restaurants, so whether a romantic weekend in Amsterdam was your reason for coming here or you just fell a little further head-over-heels once you arrived, there are plenty of romantic restaurants to be found in the city for you and your special someone.
Just in time for those who may be penciling in a visit from cupid on their calendar, here are our picks for some of the most romantic restaurants in Amsterdam.
Top Romantic Restaurants in Amsterdam
Incanto
Perched high in a historic building in Amsterdam's center and home to spectacular scenes of the Flower Market, Singel Canal, and other glimmering surrounds, Incanto serves sumptuous and authentic Italian cuisine with a view. The menu at Incanto may have been created by its Venetian chef, but it provides an unforgettable and truly Amsterdam-style experience due to its setting. Watching the sky fill up with a pallet of colors at sunset while sipping one of Incanto's fine Italian wines will tick the romance box for all who dine here.
Amstel 2
+31 (0)20 423 3681
restaurant-incanto.nl
Open: Mon – Sun 12 noon – 11 pm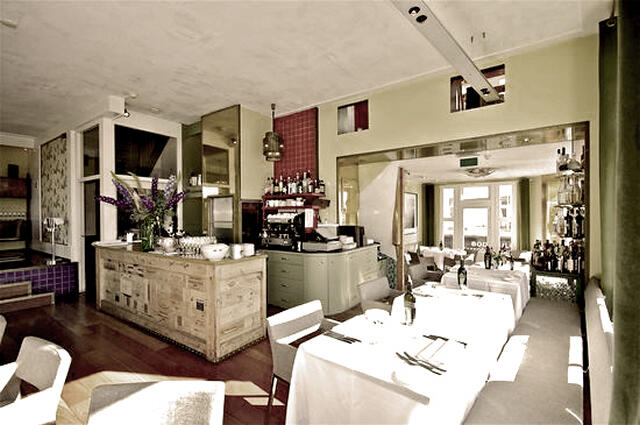 De Belhamel
Located on what is arguably the most romantic of all Amsterdam's canals, the Brouwersgracht, De Belhamel treats you with a trip to France without ever having to leave Holland. The ambiance here feels like midnight in Paris in the Jazz Age, but the menu is a blend of classic and modern. If you are lucky enough to be seated near the window when the street lamps outside come on and start to reflect in the canal, you will be in heaven.
Brouwersgracht 60
+31 (0)20 622 1095
belhamel.nl
Open: Sun – Thu 12 noon – 4 pm and 6 pm – 10 pm; Fri and Sat 12 noon – 4 pm and 6 pm – 10.30 pm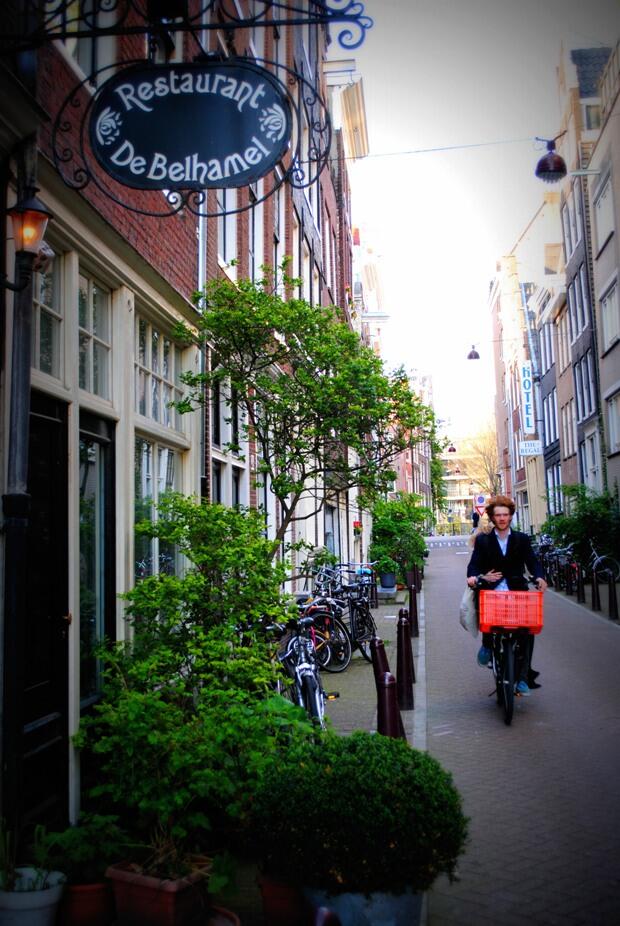 Van Speyk
Take a pinch of historic Amsterdam architectural flair and add in a dash of romantic ambiance and you have Van Speyk. Located in a well-worn warehouse that dates back to the middle of the 17th Century, Van Speyk creates a special atmosphere juxtaposing exposed brick walls and dimly lit chandeliers. Van Speyk's menu takes some inspiration from France, but makes sure it is blended with home flavors from Holland. All the romantic staples like lobster, oysters and escargot are presented with polish and the creative daily menu is sure to present a fun surprise for you and your special someone.
Spuistraat 3a
+31 (0)20 420 0117
vanspeyk.com
Open: Daily 5 pm – 12 midnight (kitchen open until 10.30 pm)
Restaurant De Kas
Set in a series of greenhouses in Amsterdam's Frankendael Park, Restaurant De Kas grows the majority of the fresh food it serves directly onsite. When you aren't being amazed by the menu, the ambiance that the shiny glass walls and artsy light fixtures create in the evening will make you feel like you've walked directly on to a film set. In fact, some even say that Restaurant De Kas was one of the inspirations for the unforgettable dining scene in last year's hit movie The Fault In Our Stars, which was filmed on location in Amsterdam.
Kamerlingh Onneslaan 3
+31 (0)20 462 4562
restaurantdekas.nl
Open: Mon – Fri 12 noon – 2 pm and 6.30 pm – 10 pm; Sat 6.30 pm – 10 pm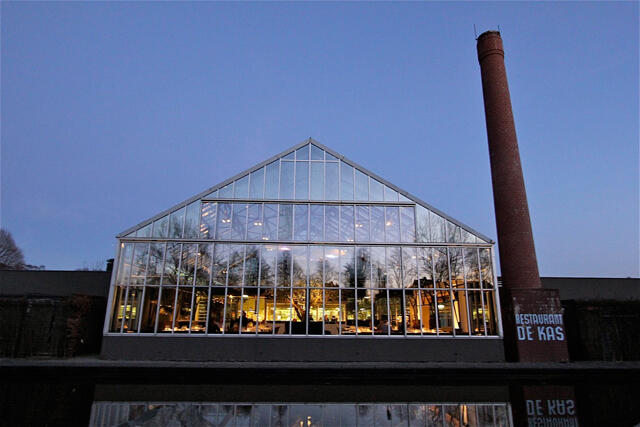 Bridges
Taking its name from one of Amsterdam's most romantic features, Bridges' menu is inspired by legendary Dutch Chef Ron Blaauw and impresses by focusing on fresh and local seafood. Seafood is a quintessentially Dutch specialty, but Bridges blows it out of the water with its creativity and wine pairings. The restaurant may be modern in decor, but its elegant menu and location on the city's oldest canal is as romantic as it gets.
Oudezijds Voorburgwal 197
+31 (0)20 555 3560
bridgesrestaurant.nl
Open: Mon – Fri 12 noon – 2.30 pm and 6.30 pm – 10.30 pm; Sat and Sun 6.30 pm – 10.30 pm
Photo credits: