3972 Views
Are you taking your significant other on a city trip to the Eternal City? Lucky you! Rome is a very romantic city, but of course, you don't want to resort to tourist traps and cliché activities. That's why we put together the top five of the most romantic things to do in Rome – you just have to grab your suitcase and your partner's hand and go!
The ancient architecture, the layers and layers of history, the cobblestone streets with tiny restaurants and bars: Rome is a great city for a romantic city trip. However, seeing as it's also one of Europe's most popular tourist destinations, there are many mediocre ways to spend your romantic get-away.
If you want to know how to avoid tourist traps and have an authentic experience, read our advice in this article, but in short, we can tell you that an authentic Roman experience doesn't have to cost a lot of money. If you know where to go, you don't need expensive skip the line tickets or a 'romantic river cruise' for two. Instead, get local and take your loved one on a food tour through one of the city's more authentic neighborhoods. Or just follow up on our advice for romantic things to do in Rome and do it yourself!
A day in the park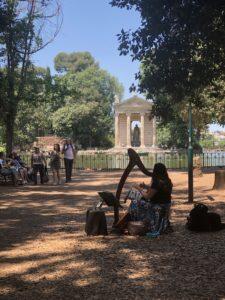 Rome's parks are among the most beautiful parts of the city. Not only do they house many ancient monuments, the most beautiful museums, and cute bars, but they're also a great way to break away from the city center's madness and have a romantic walk.
A great way to start your discovery of Villa Borghese, Rome's most famous park, is to ascend the stairs from Piazza del Popolo, marvel at the view at Il Pincio and then continue your walk towards the laghetto ('small lake'), where you can rent boats.
Do as the locals do on a sunny weekend day, and bring a blanket and some snacks to have a romantic picnic in the grass. Feel like something a bit more active? You can rent bikes and roller skates and take them around the park. Art enthusiasts will enjoy Galleria Borghese and animal lovers can spend an afternoon at the zoological garden.
Eat all the gelato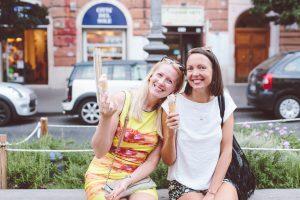 Of course, a trip to Rome isn't complete if you haven't tried the best ice cream of the city. And what's better than to share a gelato with your significant other while walking through the picturesque streets of the Eternal City? Be sure to visit a good gelateria: a good rule of thumb is that artisanal, good quality Italian ice cream does not come in bright colors or with lots of toppings.
Try La Romana or Grom, two quality chains that have several shops all over the city. Other great ice cream shops are Pico, Neve di Latte, Otaleg, Fatamorgana, Fioridiluna, Don Nino, Verde Pistacchio and Gelateria del Teatro. For special dietary needs, check out Grezzo in Monti: they make delicious ice cream (and chocolate, and other sweets) without milk products or added sugar and all their products are raw and vegan.
Want a real special ice cream experience? At Ristorante di Gelato, the chef experiments with complete menus, including savory dishes, based on ice cream. Bonus for real sweet tooths: if you love tiramisu, be sure to try Pompi's version.
Stroll through ages of history by night
The best way to see the highlights of Rome's ancient city center is by night. The Colosseum, Fori Imperiali, Saint Peter's Basilica and Castel Sant'Angelo are all beautifully lit by night, which creates a beautiful and very romantic atmosphere.
Also Campo de Fiori and Piazza Navona are magical when the sun goes down – although you will pay for the location if you decide to have dinner or a drink at any of the restaurants surrounding these squares.
Love locks on Ponte Milvio
Ponte Milvio is without a doubt the most romantic bridge of the city. At night, you'll find many young couples hanging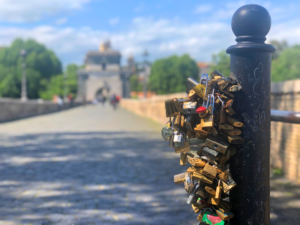 out on this century-old structure in northern Rome. It became famous when the two main characters in the Italian romantic movie Ho voglia di te attached a lock to the bridge and threw the key into the Tiber. Lots of Roman couples followed their example.
Local police had to remove the tokens of love and fine anyone who would try to attach new ones – which of course did not stop young lovers, because you can still find many locks on the bridge.
Take a stroll over the Milvian Bridge with your loved one and use the opportunity to discover the surrounding nightlife area where you'll find very few tourists. This is where Rome's rich youngsters come to spend their money.
Start the night with an aperitivo on one of the terraces or have dinner at one of the many international restaurants. Try Panificio Nazzareno for pizza or Mamma Nanà for fish, and then have a cocktail at hidden speakeasy Int. 2 (just ring the bell at Piazzale di Ponte Milvio 43 and head up to the first floor).
Rooftop drinks or dinner
Rome is full of rooftop bars and restaurants, especially during summer. They're a great opportunity to watch the sunset with your significant other while you look out over one of the most beautiful cities in the world. Restaurant and cocktail bar Zuma, on top of the Fendi store in Via del Corso, is a great option: they offer an amazing view and fair prices.
If you want to splurge on a fancy dinner, try the romantic restaurant of Hotel Raphael: they have an amazing vegetarian menu and their location on the roof of an old palazzo is just amazing. Martini lovers will go crazy for Minerva Roof Garden, right next to the majestic Pantheon: they have more than 16 different kinds of martini on the menu.
The most romantic restaurant in Rome according to many is the elegant terrace of Aroma at Palazzo Manfredi: here, you can enjoy a Michelin star dinner while you look out over the Colosseum. For those on a more modest budget, department store La Rinascente also has a great food court with a rooftop terrace on its top floor.