9772 Views

The Keys to Unlock the Best Things to Do in Rome
In this 10 part weekly guide we share the local secrets to discover the best things to do in Rome—from insider restaurant recommendations to the best places to eat in Rome and special sightseeing tips.
Having a carbonara in Rome should be on your list of things to do, just as the Colosseum, Vatican and Trevi Fountain is. It is simply a Roman rite of passage. Needless to say, you can get this simple carbonara dish so wrong. No more! Roma Confidential give you the inside scoop on this classic Piatto Romano.
This week we sat down with Loredana Santarelli, chef at the famed Testaccio restaurant Flavio al Velavevodetto who spoke to us about her passion for cooking and secrets to making the perfect carbonara in Rome. Here's what she shared with Eating Italy Food Tours: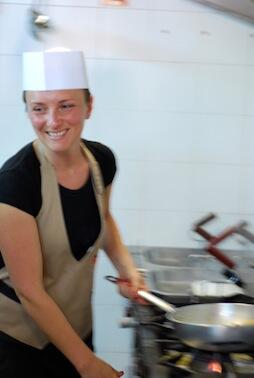 Before you tell us your secrets, how about some history. Who invented the carbonara?
Well the truth is that nobody really knows. The dish is quite new to Roman cuisine – say about 100-200 years. Many say that US troops here in Italy in the post world war era played a role in that eggs and bacon formed a staple part of their diet. The other school of thought is that it was invented by i carbonari (coal / carbon workers) as a simple dish and the pepper in a carbonara resembles the coal – hence the reason for the name.
I believe however that carbonara has evolved from the classic Roman dish called la gricia – pasta served with guanciale (cured pork cheek) and pecorino cheese. La gricia is also referred to as an amatriciana bianca (white amatriciana) because to create the equally famous Roman pasta dish, l'amatriciana you simply add tomatoes. And if you weren't in the mood for a red sauce, but wanted to spice up your gricia recipe, you would add eggs. And so the carbonara was born. Who first came up with the idea to add the eggs? – That I'm afraid nobody knows.
Can you tell us how we make a perfect Carbonara in Rome?
Making the perfect carbonara is all about the right ingredients but most importantly about timing. Like Flavio says, "La carbonara is an awful lot like life. If you're not paying attention you'll screw it up."
The only ingredients you need to make a Rome carbonara are pasta of course, eggs, pecorino Romano (sheep's milk cheese), guanciale (cured pork cheek), black pepper and white wine.
To make this dish you start by cooking the guanciale in a pan with only a drop of extra virgin olive oil and then add a drop of white wine at the end. Set aside to cool. Beat the eggs with the grated pecorino and some black pepper and add this cheese and egg mixture to the pan with the cooled guanciale. Once the pasta is cooked turn the burner for the pan back on and add the pasta to it with with the other ingredients. Begin mixing it, but not with a spoon, place both hands on the handle and shake the pan making small, fast circles. My secret is 100 giri – a 100 quick turns and then it's done. This last step should take no more than 5-7 seconds. The perfect carbonara can quickly turn into a frittata (omelette) if you're not paying attention.
At home – and particularly when I used to eat it at nonna's (grandmom's) – it was just a matter of throwing the beaten eggs and cheese plus guanciale over the cooked pasta and the heat of the pasta would cook and bind the egg. This version is still wonderful, but at the restaurant we have refined it a bit. Also, traditionally carbonara was served with spaghetti, but now rigatoni is most common. Like me, many people love when a big piece of juicy guanciale winds up inside the pasta, you only get that when using rigatoni.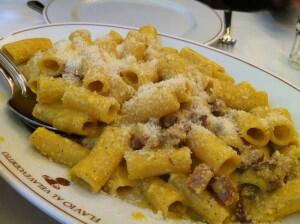 What are the biggest mistakes when making Carbonara?
Using the wrong ingredients! The most common misconception is that to give a carbonara its creaminess, you need milk or cream. This is an absolute no-no! Also, no onion or garlic is to be used.
Overcooking! Like I said, it's a matter of seconds to ensure that you have non undercooked or overcooked the egg but that it's the perfect creamy consistency. It will take many times to get this right – but practice makes perfect!
Pancetta or Guanciale? Is there really a difference?
Yes of course! An authentic carbonara is made with guanciale only. Pancetta is from the pig's belly whereas the guanciale is the pig's cheek. Guanciale has a different texture and taste – it is just more flavoursome than pancetta and is the only option for a real Roman carbonara.
I'll bet you didn't know that….
Our secret to render the egg mixture creamy and aerated, is… to add a touch of aqua gassata (carbonated mineral water). Just beat it through the egg mixture and you'll notice the difference!
__
And here is a treat for you! Loredana has been kind enough to share the Velavevodetto carbonara recipe.  Give it a go and let us know how it turns out for you!
Flavio al Velavevodetto's 'Rigatoni alla Carbonara'
400 gm (14 ounces) guanciale- Italian-style bacon made fromthe pig's jowl
500 gm (17 ounces) rigatoni pasta
4 eggs
200 gm (7 ounces)  pecorino cheese
Pinch of freshly ground black pepper
½ cup of sparkling water
A splash of white wine
1. Cut guanciale intosmall pieces and fry in pan with vino bianco. Once cooked (approx. 10 min)remove pan from flame and allow guanciale to cool.
2. Cook pasta in saltedwater- refer to package for cooking time.
3. Add the eggs, pepperand water to the cool pan off the heat.
4. When pasta is done drainadd to the pan with other ingrediens, then turn on flame to medium heat.
5. Mix ingredients inpan by rapidly moving the pan in circles above flame with both hands on handle.Pay close attention to the consistency of the egg along the outer edges as youturn it. When egg begins to streak along the edges then remove pan from heat(max time is 10 seconds).
6. With pan removed from flame add ¾ of the cheese and mix in with the pasta.
7. Serve pasta on plates and sprinkle remaining cheese on top.
* * *
Contact [email protected] with Rome Confidential in the subject title for any feedback or requests for a local Rome topic you want us to cover.
Voted one of the best things to do in Rome, Eating Italy Food Tours offer a Rome walking food tour through one of Rome's oldest and characteristic neighbourhoods.