3593 Views
There are so many restaurants in Rome that I have trouble keeping them straight. When I'm out the door and searching for one, I always forget what new (to me) restaurant I made note of the day before. I forget that there are more restaurants out there than my Roman usuals and more tasty variations on the pasta and pizza theme that I should try. The problem is that stand-out meals make me return to the places where I ate them again and again. And while it definitely is helpful to create a rapport with Roman waiters (if anyone you want on your side in Rome, it's them!), it's also great to step out of bounds and try something new.
If you're like me and need to step out of your Roman usuals, or if you're visiting Rome for the first time, I think you'll enjoy the five restaurants listed below, restaurants you probably haven't heard about.
Aromaticus (Monti)
The rioni (or quarter) of Monti has been enjoying something of a hip Renaissance over the last several years. Another delicious restaurant, cute boutique shop, tasty gelateria, or hip bar pops up every time I take a look. Just last week when I was walking down Via Urbana, I dropped into Aromaticus. This small shop bursts with green and mainly totes itself as an urban gardening center. But don't think that thyme and trowels are all this place has on offer. Go on to the back and you'll see a few tables and chairs set up. Read the daily menu and you'll want to hustle back for lunch as soon as you can. Aromaticus also offers a brunch on the weekends that is the perfect break from sweet cornetti and cappuccini.
aromaticus.it
Via Urbana, 134
Porto Fluviale (Ostiense)
The only reason you haven't heard of Porto Fluviale (and maybe you have already) is because it has only opened this winter. Hardly suspecting from the outside, Porto Fluviale happens inside an old, bland industrial building. With its clean and chic interior, this new restaurant (or is it a bar, grill, or pizzeria?) is sure to please anyone with a fussy aesthetic palette. But don't spend too much time looking around as the menu should take first place. Amazing appetizers, pastas, and pizzas are on offer to please, and one of the best things about the place is that the portions can also be adjusted to order.
portofluviale.com
Via del Porto Fluviale, 22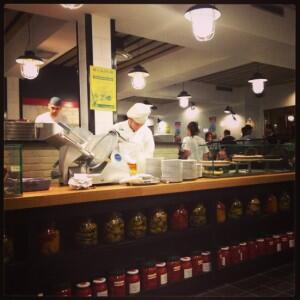 Trattoria Da Domenico (Celio)
This popular restaurant is nestled on Via San Giovanni in Laterano, just a few block away from the Colosseum and the swarming, average, and popular Trattoria Luzzi. Walk inside Da Domencio and you'll see neigh a tourist in sight. That's probably because Da Domenico doesn't need to advertise. The food does all the talking and once you eat here, you'll want to come back too. The handwritten menu changes daily and to the season. And while it's a slightly higher price range than Luzzi down the street, the freshness of the meal ensures that every delicious bite is worth the price.
Via San Giovanni in Laterano, 134
Gatta Mangiona (Monteverde Nuovo)
High above Rome's center in Monteverde, the pizzeria Gatta Mangiona draws crowds of hungry Italians. There are pastas too, but most people come for the famous pizzas that will wow you with their array and combination of toppings. Of course you can get a regular margarita (the crust in itself is worth it), but if you've come all the way to Gatta Mangiona from the center, then you'll want to try something like a pizza calabrese with spicy 'nduja on top. Also delicious are the many fried appetizers. Call for a reservation, especially on the weekends and if you want to secure a table outside on the sidewalk (highly recommended!).
lagattamangiona.com
Via F. Ozanam, 30-32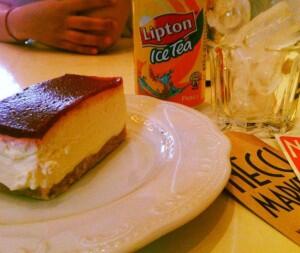 Necci dal 1924 (Pigneto)
Okay, so maybe you've heard of Necci dal 1924, but how many of you have actually headed out to Pigneto to eat there? If you haven't, the trip is definitely worth it. Not only does the menu change daily, but it also features dishes that stray away from the usual carbonara and amatriciana. Necci's insides are decorated in vintage hip and make another pleasant escape away from the gingham checked tablecloths of the Roman trattorias. And Necci dal 1924 isn't only good for dinner. There are baked goods, lunch, and the outside patio (with free wifi) is the place to be on one of Rome's deliciously sunny days.
necci1924.com
Via Fanfulla da Lodi, 68
* * *
Which Rome restaurants are your favorite? If you have any restaurant tips for first-time Rome visitors, share them below! Check out our other Rome restaurant guides here: