3635 Views
Step into 00100 Pizza's small shop off Piazza Santa Maria Liberatrice in Testaccio and you'll quickly find that it's impossible to leave without trying a little of everything. Case in point: when I went to talk to Roberto, 00100's kitchen manager, I left with two supplì, and then later in the evening I somehow managed to return to eat yet another! Their supplì, risotto bursting out of its breaded, fried shells, are impossible to resist. And then there's the variety of flavours that can keep anyone coming back for more.
Right next door to where customers line up for trapizzini (which I'll soon explain), pizza-by-the-slice and supplì is the small kitchen where all the magic happens. Along the far wall Roberto stood in front of a counter littered with cooking utensils, rolling risotto into balls, passing these into bread crumbs while we talked. Roberto has worked for 00100 for three out of the five years that the place has been open. He explained that the four partners who opened this small pizzeria also are the masterminds behind a larger pizzeria called Sforno, often touted as where to eat some of Rome's best pizza.
What is the Trapizzino?
But here at 00100 Pizza, Roberto said it's the trapizzini that most of the customers come for. An invention of Stefano Callegari—one of the founders—a trapizzino is a corner of pizza bianca sliced open, heated, then stuffed with ladlefuls of Roman cuisine such as polpette al sugo (meatballs in sauce) or pollo ai pepperoni (chicken with peppers). The word "trapizzino" itself comes from the combination of "tramezzino" (a half sandwich without crust served at almost every bar in Rome) and "pizza".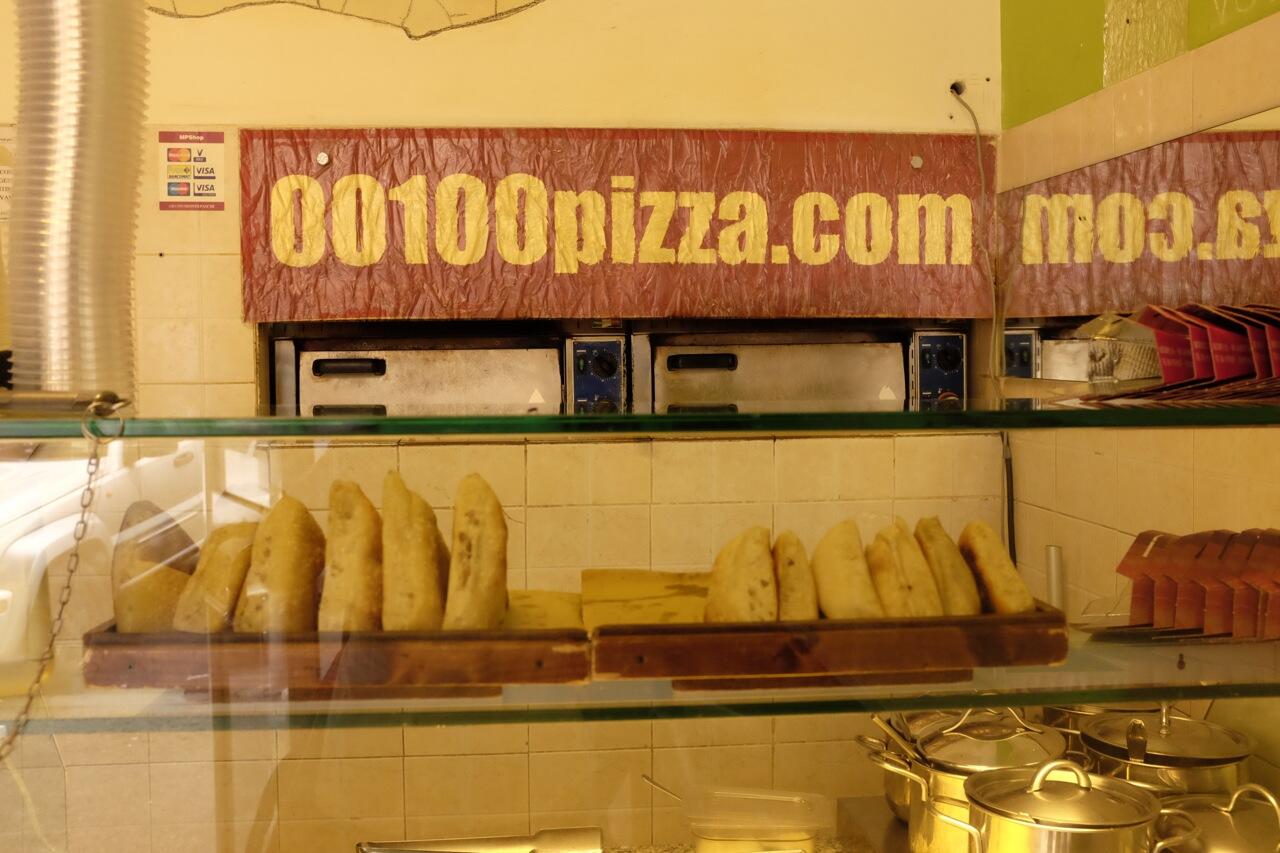 What is Supplì?
And though supplì can be found all around Rome, it's rare to find a restaurant or a pizza taglio place that does them as well as those at 00100 Pizza. For starters, each supplì at 00100 is made by hand—Roberto's hands. It's all too common in Rome when confronted with an attack of hunger and the subsequent craving for a supplì, to only find supplì at the pizza taglio shop or snack bar that were not handmade but frozen. The sad fact is that most of the supplì served throughout Rome were frozen, and that's probably because making supplì is a lot of work, as Roberto aptly demonstrated.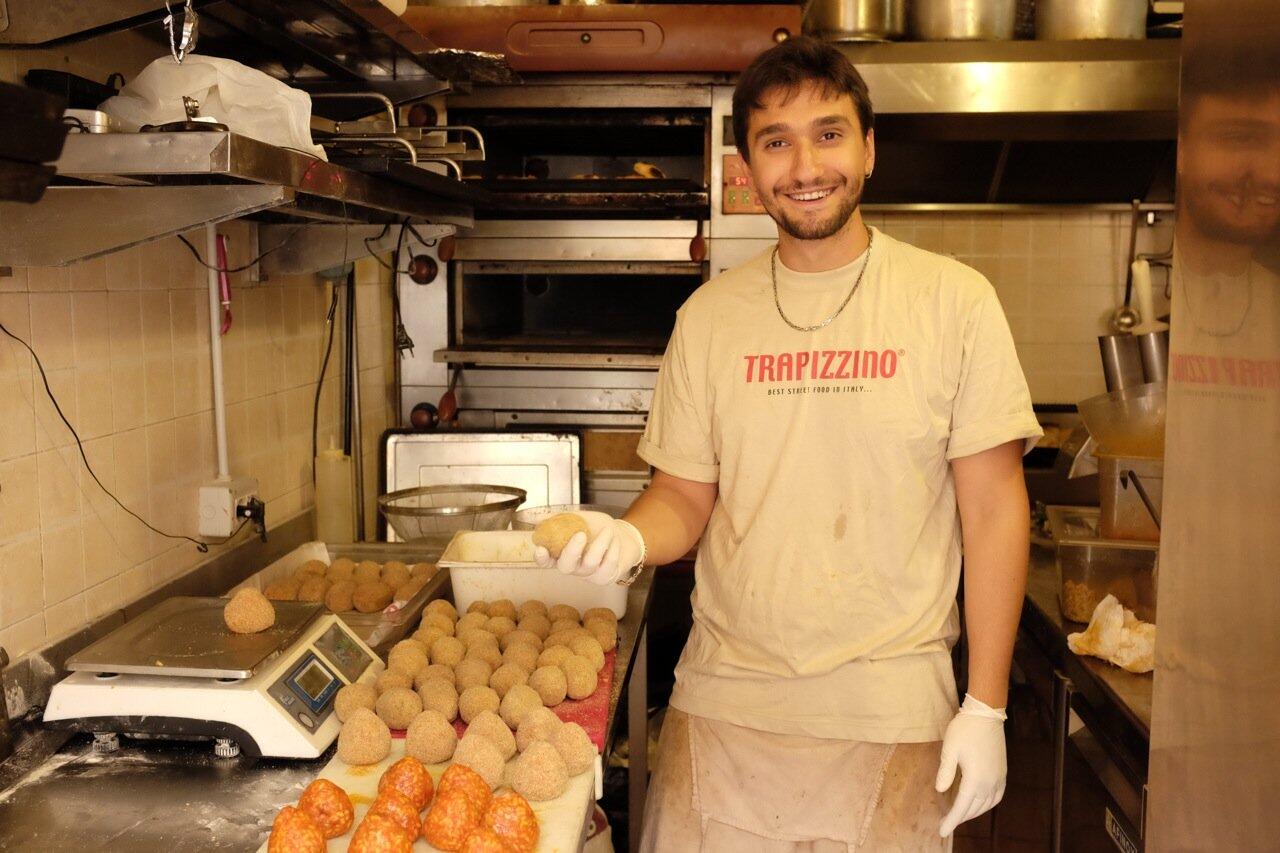 First the sauce must be made. For example, the classic supplì starts with a tomato-based ragu. The ortolano has a base of tomato sauce, eggplant and zucchini. And Roberto's favourite, the amatriciana, begins with the classic Roman pasta sauce it was named for, which is made with guanciale (pork cheek), onions and tomatoes. Once the sauce has cooked, Roberto adds the short grain rice, such as cannaroli, to make a thick risotto. Then it's time for Roberto to dig in. He shapes each supplì in his hands, different shapes for different varieties. Surprisingly there isn't much difference in size—they weigh in at about 100 grams each. Though when you look closer at all the classic supplì, for example, it's easy to see there isn't a mechanical conformity. (And this is a good way to tell if you're getting fresh or frozen supplì: if they all look exactly the same, most likely they were produced in a factory).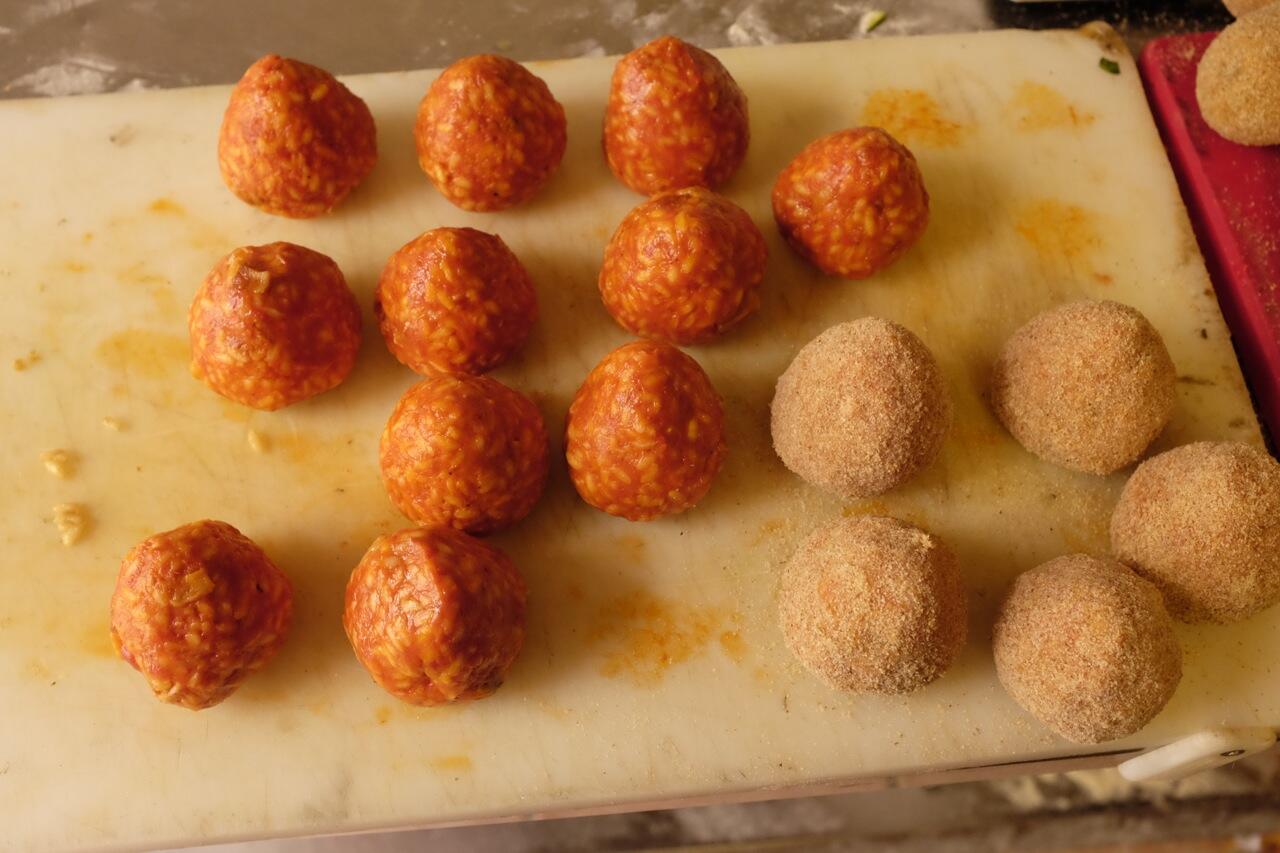 Some supplì are formed around a piece of cheese. The amatriciana has a healthy chunk of pecorino romano at its centre, and the classic supplì is filled with mozzarella. When all the balls are lined up each is dipped in egg and then breaded with bread crumbs. And finally, right before they are presented at the front counter, they are dropped into the frier, cooked to a delicate, delicious crispness. So if you find yourself in Testaccio, head over to 00100 Pizza to complete the life-cycle of Roberto's masterful supplì.
* * *