53601 Views
Sirloin beef in cream sauce is considered the queen of Czech sauce-based dishes, the Czech name for which is svíčková (pronounced sveech-covah). For Czech families, this is a classic Sunday family lunch dish, since it is best when the meat is prepared and marinated a day in advance.
If you claim you can cook, the most common question you'll get from a Czech person would be: "You can even cook svíčková?" It is not the most complicated dish in the world, but serves as a touchstone to prove you can cook Czech cuisine.
If you want to compare your svíčková with the best you can get in Prague, we recommend getting one in Café Louvre, Café Imperial or Čestr restaurant. You can also try this dish first-hand on our Prague food tour!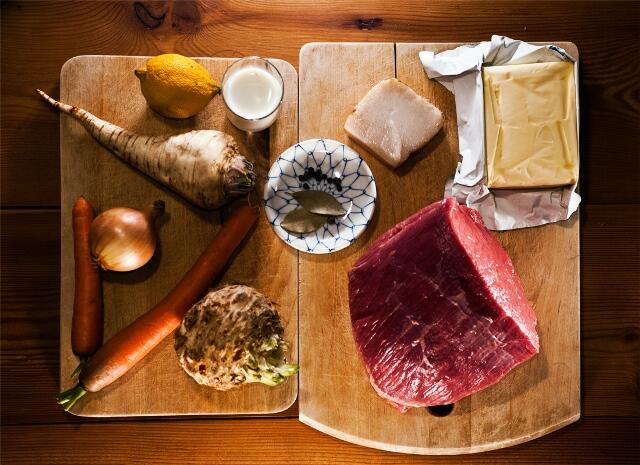 Larded braised beef with root vegetable sauce first appears in the 1805 Prague Cookbook. The sauce was influenced by Bavarian cuisine, and after the Napoleonic wars left an influence of French cooking techniques all over Europe, Czech cooks started straining the vegetables and adding cream or butter to the sauce (the 1826 cookbook by M.D. Rettigova still uses butter instead of cream).
Traditionally, this delicacy is served with bread dumplings and, to complete the dish and create a perfect harmony of tastes, it has to be garnished with a slice of lemon, cranberries and scoop of whipped cream. Originally, the Czech word knedlík (dumpling) was used for round or elongated mixtures of meat and reconstituted bread-rolls. Flour began to be added only in the 17th century. At this point, the dumplings were closer to buns: kneaded out of flour, eggs, yeast and salt, and baked. As to when they began to be boiled in water, or when bits of hardened pastry began to be added, these questions are unresolved even today…
If you're looking for the one food to eat in Prague, this is it!
**********************
Don't feel like cooking? Well, try one of our fantastic food tours? You can choose from: Prague Food Tour, Brews and Views – beer and snacks tour and the Supper Stroll from Prague castle.
**********************
Recipe for Svíčková: Braised Beef
1.5 lb (680 g) beef sirloin (or round rump)
2 oz (55 g) bacon fat
1 cup (235 ml) beef or vegetable stock
salt
pepper
1 tbsp vinegar
1 large carrot, diced
7 oz (200 g) root celeriac (1 medium root), diced
1 medium parsley root, diced
1 large onion, chopped
3.5 oz (100 g) butter, melted 
10 black peppercorns
4 allspice berries
2 bay leafs 
juice from 1 lemon or 1 tbsp vinegar
1 cup (235 ml) heavy cream (plus some milk)
all-purpose flour if needed 
sugar if needed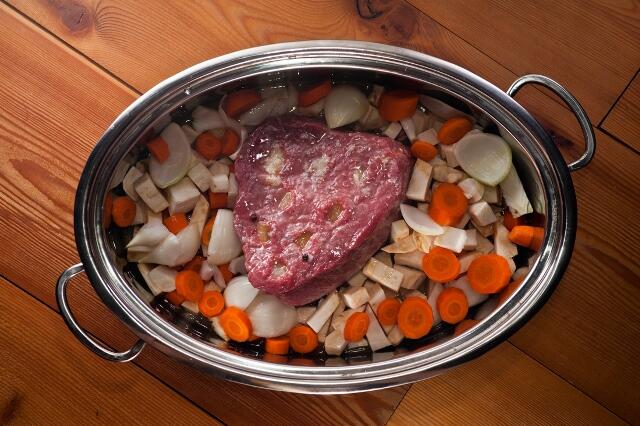 Lard the meat (prick it with a knife or a big kitchen needle and stuff strips of the bacon fat through the sirloin. If you are using big piece of meat, freeze the fat beforehand; it is easier to get through the whole length), season with salt and pepper, add the spices, diced root vegetables, lemon juice, vinegar and pour melted butter over the meat to seal it. Let it marinate in a fridge overnight.
Add the stock, cover with a lid and braise in the oven at 320 °F (160 °C) until the meat is very soft – you should be able to cut it with a fork. This usually takes 2-4 hours.
Remove the meat and press the vegetables through a fine sieve (you can even use cloth for an extra fine texture). Use a hand blender if the texture is still not very fine and creamy.
Add the cream and bring to boil; add salt, lemon, vinegar or sugar to taste (I don't use sugar, carrots are usually sweet enough). If the sauce is not thick enough, you can thicken it with a little flour, but hopefully you'll manage without it.
Cut the sirloin into half-inch thick circles; put these back into sauce to heat them through. Serve with cranberry preserve. Putting a little dollop of whipped cream in the sauce is also quite a traditional way of serving your svíčková.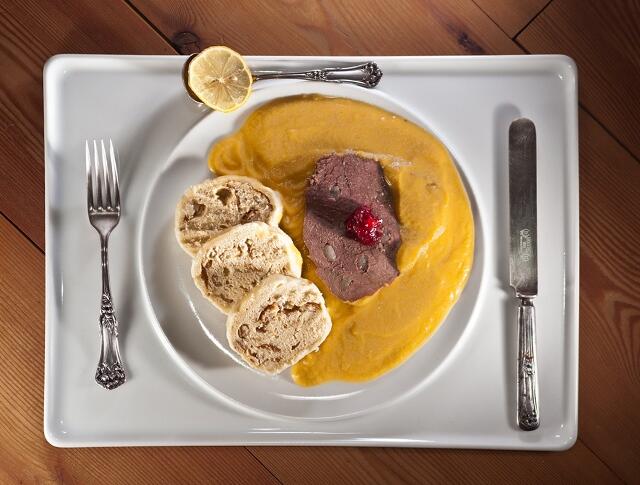 Recipe for bread dumplings
2 pinches of salt
½ tsp ground mace (and a bit of turmeric if you want to have a tasty-looking yellow tint to the dumplings; the flavor is good too)
2 cups (475 ml) coarse flour (hruba mouka) – See this website for some useful tips. At worst you can mix all purpose flour with semolina at a 1:1 ratio
2 cups (475 ml) semi-coarse flour (polohruba mouka)
Approx. 1 cup (235 ml) lukewarm  milk  (more if the dough is dry)
2 tsp sugar
2-3 rolls or buns (the traditional sized ones, they're about 70g each)
1 egg
1 cube fresh yeast (or the dried yeast equivalent)
First, mix the flours with the salt and spices.
Dissolve the sugar in half the milk, add crumbled yeast and let it grow there a bit, until "islands" of new yeast start to from on the surface. Pour the egg into the flour, then pour in the milk (bit by bit) and yeast, and knead with your hands. Keep adding milk until you have a nice dough that's not too dry and not be too sticky (though it can be slightly wetter and stickier than your instinct would suggest – you'll still add the buns that soak up a bit of the milk).
Cut the rolls or buns into a small dice (a little smaller than half an inch cubed). Gently mix the bread into the dough. Then form the dumpling mixture into a roll(s) – a 2-3 inch diameter will give you sufficiently big dumplings after you've left the dough to rise for about 45 minutes.
Gently lower the roll into salted boiling water and cook for 16-19 minutes. You want to take it out before the crust gets slimy. Prick with a fork (this prevents it from collapsing after it cools down a bit)
When you're ready to serve, cut the dumpling into circles 2/3 inches thick – preferably using a floss or cheese wire.