2681 Views
This post was written by our marketing intern, Mark Portz.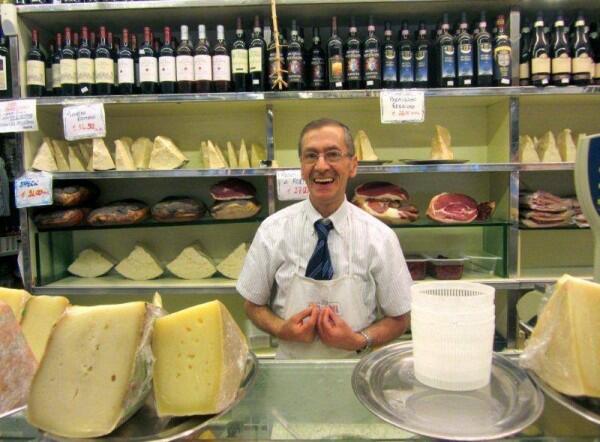 Food, culture, history and laughs were all present during my experience on the Twilight Trastevere Tour. When I wasn't busy tasting delicious authentic foods, my jaw was dropping at interesting facts about the city or its history. To try and sum it up, here is a list of 10 things I learned on the tour:
For every authentic Italian food product purchased in Italy, there are four fake products. While living in Italy, I have heard people say many places don't serve "real" Italian food, but I was still surprised by this fact. This tour helped me learn the differences and feel more comfortable choosing places to purchase authentic food in the future.
Modern Rome is a city built on top of medieval Rome built on top of Ancient Rome. One of the stops on this tour is a wine cellar built in the first century B.C. It was incredible to see the walls of the cellar and learn about the history of the city and how it has been built up over thousands of years.
Don't judge a book by its cover. Or more appropriately, don't judge a restaurant by just walking past it. The Eating Italy Food Tour brings you to some of the best, authentic family owned places in the area. Some of the places were very small inside and, at times, seemed almost hidden within the small backstreets of Trastevere. The smallness might make it seem questionable or even intimidating to stop in and try something new, but these hidden treasures are well worth checking out and I am glad I did.
The high walls along the river were built only about 100 years ago. Until relatively recently, the city was on the bank of the river. The embankment walls were built in order to make Rome a more modern city and prevent problems when the Tiber floods.
If it's not broken, don't fix it. One of the stops on the tour is a pizzeria with an old brick-oven. The oven that once cooked pizza, but now cooks bread, was built in 1860, even before Italy became a country.
Italian pizza can mean any of several different styles. Just like Chicago, New York or other regions boast their own style of pizza, different regions of Italy serve totally different types of authentic pizza.
There is a reason for the Madonna paintings seen on many buildings throughout the city. Strolling along the small streets of Rome, I have seen many paintings of the Madonna on the walls and corners of buildings, but until the tour no one had been able to explain to me that this trend started in the 1500s as an attempt to reduce crime in the city. The eyes of the Madonna are watching!
Among all the things I learned about history and culture, perhaps one of the most useful things I learned is simply how to eat pasta properly. Now I no longer have to worry about embarrassing myself by cutting spaghetti or twirling the entire plate of food onto my fork.  The correct strategy is to simply pick up a moderate portion of spaghetti with your fork and then put it back down on the side of the plate. If you are right handed, spin your fork clockwise, or counterclockwise if left handed.
Even if you feel as though you can't eat anymore, it is worth it to take one more bite of Italian food. Among my friends, I am known for being able to eat the most, so I am confident in saying you will not leave the tour hungry. You will not want to stop eating until after the last stop though because the food is just too delicious to miss a single bite.
Taking a food tour is not only a good way to spend time with friends or family, but a fun way to meet new people from around the world. Four hours of walking and eating around Trastevere creates a great environment for striking up conversations and meeting new people.