4965 Views
For all their beauty, a Parisian pâtisserie can be a daunting place. With so many sparkling confections laid before you, how do you know where to start? While a classic croissant is always a good order, there are many delights to discover if you're willing to branch out and butcher a few words.
We've listed the essential French pastries here so you know what to order and how to pronounce it. Now go forth and eat pastries!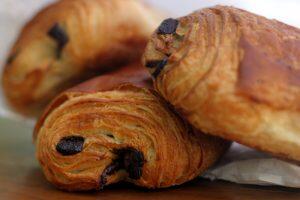 Pain au Chocolat
A true classic, the pain au chocolat is one of the most popular viennoiseries for breakfast. These pocket-sized pastries are made with buttery croissant dough wrapped around a piece of dark chocolate.
Pronunciation: "pan oh shock-o-lah"
Paris-Brest
This doughnut-shaped delight was inspired by a bicycle race between Paris and the western city of Brest. The ring of pastry – or bicycle wheel, if you will – is sliced horizontally and stuffed with swirls of praline-flavoured cream.
Pronunciation: "pa-ree breast"
Macaron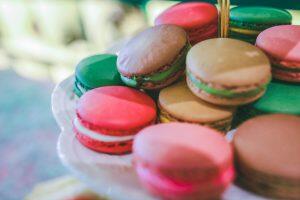 If you see a line down the block, odds are good that the shop is selling macarons. These colourful confections (which feature on our list of delicious dishes to try in Paris) are a sandwich of crunchy-yet-airy cookies filled with a cream or ganache. They come in all sorts of flavours, from raspberry to rose.
Pronunciation: "mack-ah-ron"
Fraisier
This light and colourful cake is made of sponge, cream and fresh strawberries. Rather than an artificial fruity flavour, a good fraisier is fresh, moist and bursting with real fruit. A fraisier can be found as an individual slice or as a larger cake. There's a raspberry version called a framboisier, too.
Pronunciation: "frehz-ee-ay"
Mille-feuille
This delicate pastry, often called a "Napoleon" in English, is known as a mille-feuille in France. This means "thousand leaves," which perfectly describes the delicate flaky layers. In between the layers of puff pastry is a rich pastry cream. The dessert is often topped with powdered sugar or a layer of marbled icing.
Pronunciation: "meel-fway"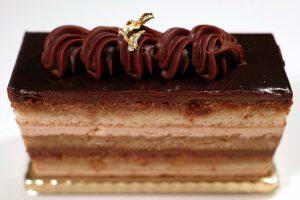 Opéra
These delicious gâteaux are made with thin layers of almond sponge soaked in coffee. The sponge is then layered with ganache and coffee buttercream and topped with a shiny layer of chocolate glaze. These can be found as a large cake or in individual slices.
Pronunciation: "oh-pay-rah"
Cannelé
This little cup-shaped treat comes in a compelling golden-brown shade. A Parisian favourite by way of Bordeaux, the pastry is so delightful for its blend of textures. The outside is caramelised and crunchy, while the custardy centre is rich and creamy.
Pronunciation: "can-uh-lay"
Tarte Tatin
Often found as a dessert on restaurant menus, this delicious tart is made with apple, butter, sugar and pastry dough. A tarte tatin is baked with the pastry side up and then flipped, so the caramelised sauce slides down to coat the apples.
Pronunciation: "tart tah-tuh"
Kouign Amann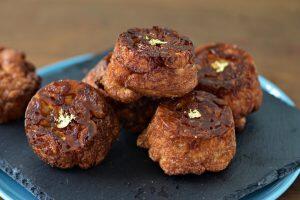 These decadent pastries come to Paris by way of Brittany. Recently revived by celebrity baker Dominique Ansel, a kouign amann is made with croissant dough that is layered with sugar. As it bakes, the entire pastry becomes crunchy and caramelised. They're often topped with a dusting of sugar.
Pronunciation: "queen ah-mon"
Are you plotting your Parisian culinary adventure? Paris is one of the foodiest cities in Europe, after all. Skip the tourist traps and join our Hip Eats & Backstreets tour of Paris. This tour takes you into authentic local neighbourhoods to discover true culinary gems. You'll never see Paris the same way.