6493 Views
Finding food when traveling can be challenging. So many tourist places huddle around the big sites, just interested in money for subpar food. The good places don't have to advertise, so they easily slip under the bewildered traveler's radar. My husband, Andy, and I spent 3 days in Prague this summer. That isn't a lot of time to try restaurants. With the help of food tours, a local friend, and some online research we found this group of places to eat that felt special – places that you probably wouldn't stumble upon without a little nudge…
U Sumavy
This place has the feel of a traditional rural Czech pub, but in the middle of modern Prague. Head through the front to the wide open back room for a quiet place to eat. The menu has a lot of traditional Czech choices, but for us the best was the Camembert cheese with onions and chili peppers marinated in oil. The beer selection here is awesome.
Štěpánská 3
+420 775 555 297
usumavy.cz
Open: Daily 11 am – 12 midnight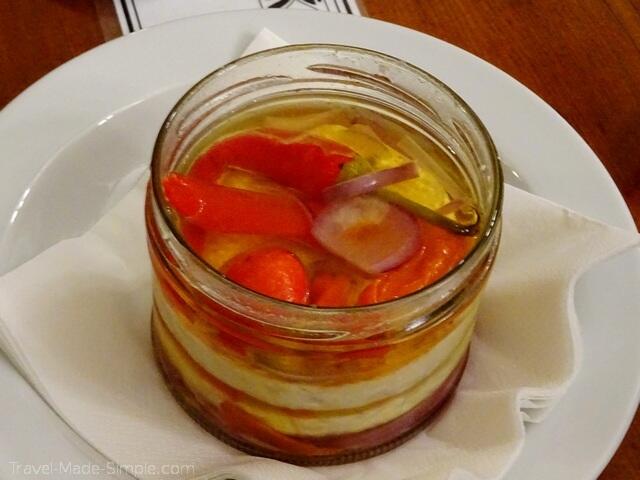 Grand Cafe Orient
The center of Prague can be very touristy. Near the Powder Tower, Grand Cafe Orient attracts its share of foreign visitors. Even still, the second story cafe feels a little out of the tourist stream and not too pricey. The food options are on the light end, but we had a tasty salad and a nice plate of Prague ham with bread. We went twice, once for a light meal after the Eating Prague food tour and a second time for lunch before catching our train home.
Ovocný trh 19
+420 224 224 240
grandcafeorient.cz
Open: Mon – Fri 9 am – 10 pm; Sat and Sun 10 am – 10 pm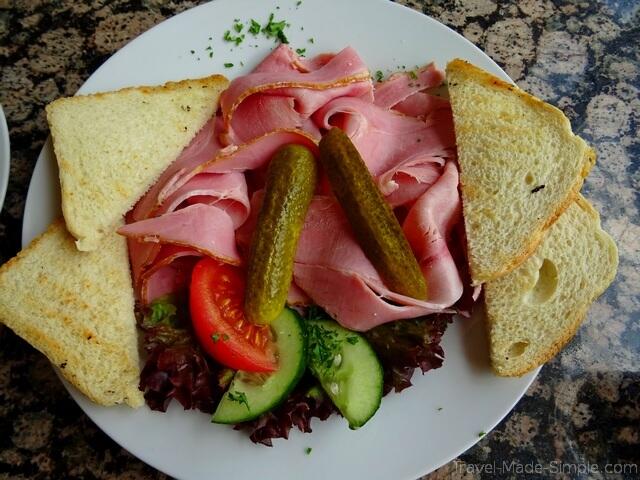 Chocoffee
An unassuming little place on a busy street, this cafe has a tap of eternally running rich chocolate in the front window. This chocolate forms the basis of their menu and can be poured over any number of interesting sides. It doesn't feel particularly Czech, but hey, it's good chocolate – enjoy it! I had a white hot chocolate; my husband had a chocolate-covered waffle; and we split the medium dipping chocolate with pretzels. It made for a tasty afternoon snack.
Spálená 8/80
+420 775 583 450
chocoffee.cz
Open: Mon – Fri 10 am – 7 pm; Sat 12 noon – 6 pm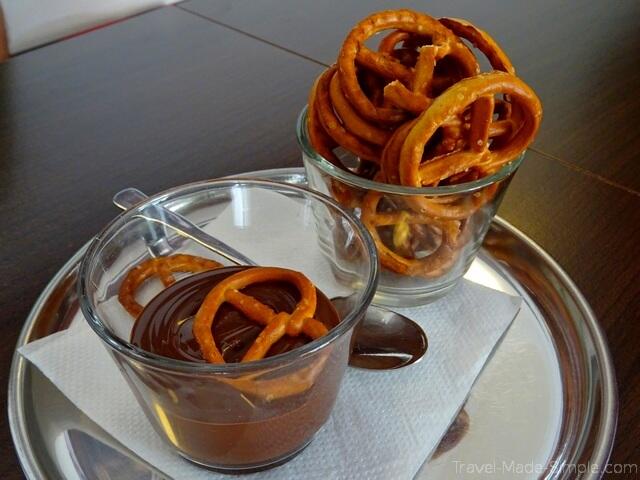 U Kroku
A short tram ride south of center and a short hike up Vyserhad hill is the converted inn of U Kroku, now a family-run restaurant featuring a lot of interesting Czech dishes. We tried it based on a recommendation from a friend who lives in Prague. We heard plenty of English spoken, so it isn't unknown by foreigners, but there were definitely locals among the clientele as well. The menu has a lot of options, but we settled on a handful of appetizers to try some different things. The garlic soup was excellent, as was the traditional chocolate Misa cake.
Vratislavova 12/28
+420 775 90 50 22
ukroka.cz
Open: Daily 11 am – 11 pm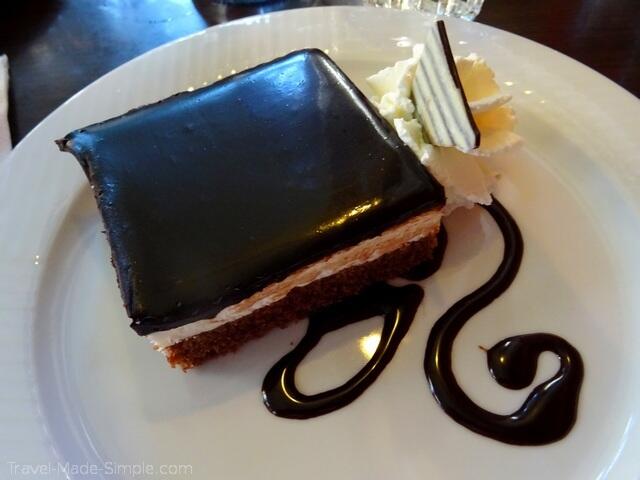 Bohemia Bagel
Not particularly "Czech food", but Bohemia Bagel is definitely a Prague thing. They used to have a branch right in the old town, where Andy conceived plans for his blog which eventually led us to meet. Now they have two locations: one small cafe on the road up to Castle Hill, and a grill with a full menu north of town across the river. The menu at the grill location, where we went, leans toward breakfast food featuring, of course, bagels, but also features plenty of burgers and salads for more a traditional lunch or dinner. I had a chicken and guacamole sandwich on a bagel. Andy had the egg bagel sandwich which he chose to pair with a pancake – that's not weird at all for lunch.
Dukelských hrdinů 48 (grill location)
+420 220 806 541
bohemiabagel.cz
Open: Daily 10 am – 11 pm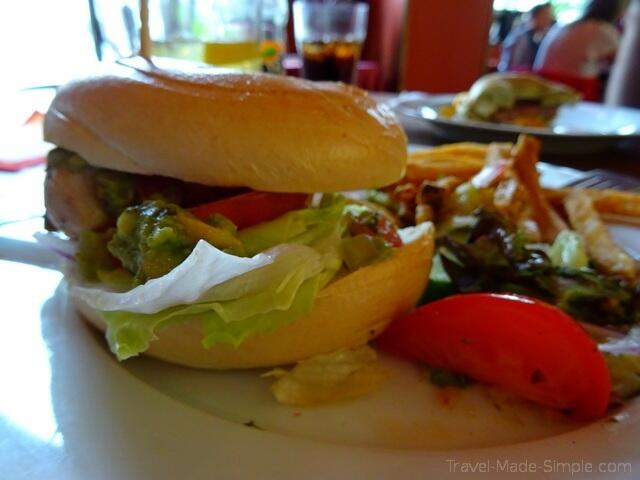 Angelato
Ice cream might not be what you call "typically Czech," but who turns down ice cream on vacation? Especially seriously good ice cream during a hot summer day. You know you've stumbled on an interesting place when there is a line out the door. We went to the branch at the base of the funicular near the Ujezd stop, but there is another one in Old Town. The ice cream is silky and sweet and the flavor selection is great. My favorite flavor in the world is salted caramel, so I tried theirs. It lived up to the name, which is a tough thing to do. We also tried chocolate and mint chocolate chip, both excellent.
Újezd 24
+420 777 787 344
angelato.eu
Open: Daily May – Aug 11 am – 10 pm; Mar – Apr and Sep – Oct 11 am – 9 pm; Nov – Dec 11 am – 8 pm; closed Jan – Feb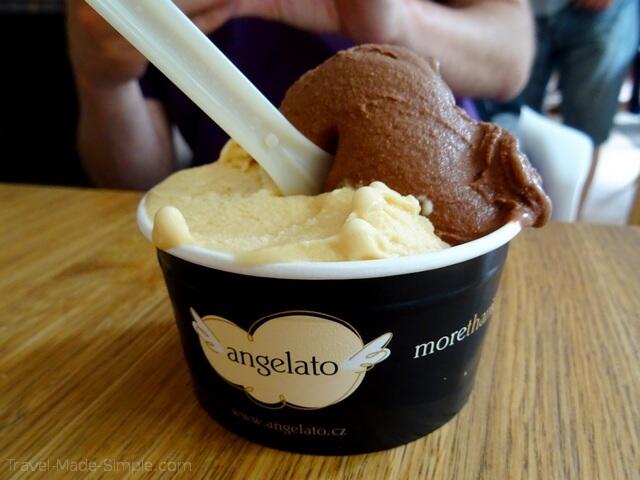 For your next trip to Prague, take a stroll off the main square and eat where the locals do. We were happy to try a few less touristy restaurants, and we'll be sure to seek out more the next time we visit this great city.
About the Author
Ali Garland runs the site Travel Made Simple with her husband, Andy Couch, where they show people how to plan trips and how to travel light. They believe day tours can enhance a vacation and especially love food and beer tours.