4006 Views
Four years after their magical run to the finals in South Africa, the Dutch World Cup team and their army of loyal orange-clad fans are back for more. Starting with an incredible 5-1  rematch against Spain last Friday, the Oranje are certain to give their fans in Amsterdam lots to cheer about over the next few weeks. Right now, their upcoming games in the group stage are scheduled for June 18 and 23, and here at Eating Amsterdam, we fully recommend getting in on the fun. Even if orange isn't your color, there are always plenty of expats and tourists around town to root for your home team with. As far as where to watch the World Cup in Amsterdam, here are some of our favorites…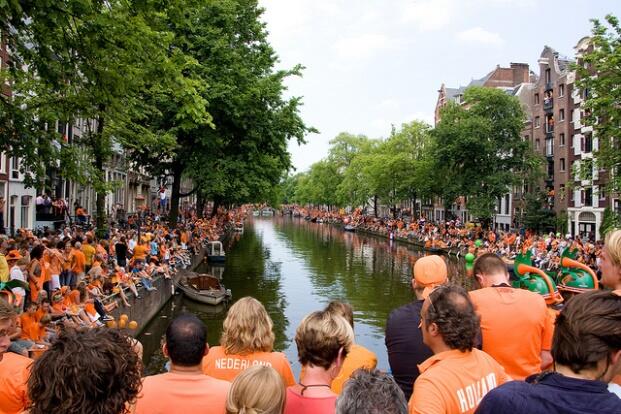 Best Places to Watch the World Cup 2014 in Amsterdam
Coco's Outback
Frequented by a large international crowd that craves non-stop sports, Coco's Outback will be showing all World Cup games with the commentary in English. The atmosphere here is sure to be fun as fans from all over the world will come together to tip back a drink or two.
Thorbeckeplein 8-12
cocosoutback.com
Open: Mon – Thu 11 am – 1 am, Fri and Sat 10 am – 3 am, Sun 10 am – 1 am (times may vary for early or late matches)
Hannekes Boom
A sunny outdoor spot right on the water near Centraal Station, the game viewing here will be passionate, but perhaps in a slightly more artsy and quirky way. Hannekes Boom will be showing all games served with a side of beer, burgers and crispy croquettes.
Dijksgracht 4
hannekesboom.nl
Open: Sun – Thu 11 am – 1 am, Fri and Sat 11 am – 3 am
Edel
With a huge terrace perched on a canal in a pretty local neighborhood in West Amsterdam, Edel is one of the coolest bars and restaurants in the city. During the World Cup, they will be showing all Dutch games on big screen televisions and serving up their usual fare of tasty food and drinks. This is the perfect place to pretend to be a local and get your game face on.
Postjesweg 1
edelamsterdam.nl
Open: Sun – Wed 10 am – 12 am, Thu 10 am – 1 am, Fri and Sat 10 am – 3 am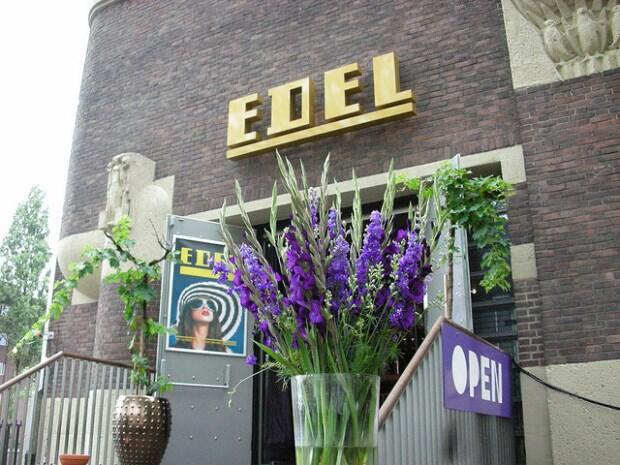 Museumplein
During the group stage games (the first 3 matches) for the Dutch team, the Museumplein in front of the Rijksmuseum will be taken over by a local radio station and turned into a sea of orange. It's free to attend, but show up early because crowds are expected to be large. Fans of all ages are welcome, and the suggested dress code of orange is recommended if you really want to feel like part of the fun.
Museumplein
www.538.nl/radio/acties/158/kom-naar-het-538-oranjeplein
Open: June 18 at 6 pm and June 23 at 6 pm
Satellite Sports Cafe
Another good international spot with a prime location on the Leidseplein, Satellite Sports Cafe is perfect for all games, especially if the weather isn't so great outside. The big televisions and the steep stairs help create a stadium-like viewing experience.
Leidseplein 11
www.satellitesportscafe.nl
Open: Sun – Thu 9 am – 3 am, Fri and Sat 9 am – 4 am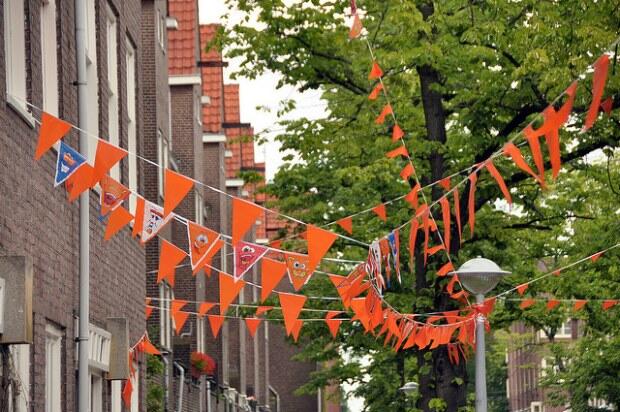 Photos: Bunting, Edel, Canal Fans