3774 Views
Planning a weekend trip to Prague can seem overwhelming at first because there's so much to see and do! But don't fret, you'll be able to visit many of the key sights if you plan ahead. Whether you want to explore some museums, wander through the medieval streets, or simply kick back with a pint of pivo, you can find out how to make the most of your time in the City of a Hundred Spires with this weekend in Prague itinerary.
Friday
Explore the historic Jewish Quarter
Hit the ground running by exploring Prague's Jewish Quarter. Visit the statue of Franz Kafka and walk in his footsteps as you make your way through this historic area. Stop by Kafka Snob Food for a quick bite to eat or King Solomon Restaurant, the oldest kosher restaurant in the country, if you're looking for a traditional Jewish meal.
The Old Jewish Cemetary and Jewish Museum are not to be missed during your weekend in Prague. If time allows (or if the weather's not great) the Museum of Decorative Arts is also worth a visit.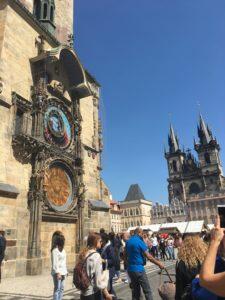 Wander through Old Town
Make your way through the winding streets of Prague's Old Town to the city's breathtaking Old Town Square. Admire the Gothic beauty of the Church of Our Lady before Týn and check out Prague's famous astronomical clock, the oldest of its kind still in operation. While in the area, you'll surely see plenty of vendors selling sugar-covered spit cakes called Trdelník. While not traditionally Czech, it's impossible to deny how tasty this unique dessert is, so go ahead and treat yourself.
If you're looking for a more traditional spot to enjoy dinner near in Old Town without paying outrageous prices, check out Krčma. Just a two-minute walk from Old Town Square, the location couldn't be more perfect and they serve reasonably priced Czech favorites like svíčková and goulash. Be sure to make a reservation in advance, though, as it's usually full in the evenings.
Enjoy Prague's famous nightlife
It's no secret that Prague is known for its wild nightlife. You don't have to go crazy to enjoy it, though. Sip some authentic absinthe or hand-crafted cocktails at the Absintherie or sample the 30 Czech craft beers on tap at the Prague Beer Museum.
Saturday
Stroll along the river at the Náplavka Farmer's Market
Hosted every Saturday morning from February through December, don't miss the Náplavka Farmer's Market. Walk along the banks of the Vltava River while perusing the large selection of seasonal, fresh food and specialty items. Grab a coffee or snack from one of the vendors and enjoy it at the river's edge, dangling your feet over the water while taking in this local weekend tradition.
Visit Prague's "other" castle – Vyšehrad
Not far from Náplavka, you'll find Prague's "other" castle, Vyšehrad. The complex dates back to the 10th-century and is an idyllic location for a late morning or morning stroll. Within the walls of the castle complex, you'll find the Hospůdka Na Hradbách. Break up your day with a drink and a bite to eat in this relaxing beer garden.
Join an evening food tour
Our Prague Evening Food Tour will lead you through the medieval streets to the best places to eat and drink in the city. It combines popular tourist sights such as the John Lennon Wall and David Černý sculptures with hidden wine cellars and bistros. This is a great way to see and experience more with your limited time.
Sunday
Walk across the famous Charles Bridge
One of the most famous landmarks, Charles Bridge, is a must visit on your first weekend in Prague. However, it can get insanely packed. If you want to avoid being held up by big tour groups, it's best to get an early start. Start on the Old Town (Staroměstská) side of the bridge and make your way across to the Lesser Town (Malá Strana). While you're strolling across this 14th-century masterpiece, be sure to take a moment to admire the 30 statues and the breathtaking views of Prague Castle.
If you're feeling peckish, Bohemia Bagel Cafe is a convenient spot to grab a quick breakfast before heading up to the castle. Just three minutes walk from Charles Bridge, its location on a quiet side street keeps it off the radar of most tourists so it's usually not too busy but you won't have to go out of your way for a delicious meal to start your day.
Head up to Prague Castle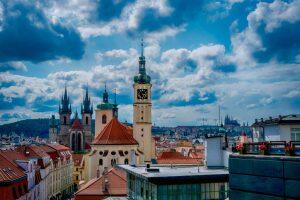 Walk up through the streets of Malá Strana to the impressive Prague Castle. The city's most popular tourist attraction draws crowds of 1.8 million visitors annually. The largest ancient castle in the world according to the Guinness Book of World Records, it's so big that you can spend all day exploring the impressive 70,000 square meter complex and still not see all of it.
You'll likely work up an appetite while taking in the many sights located in this complex. Luckily, good food and beer aren't far away. Nearby Strahov Monastic Brewery is an excellent spot to enjoy homemade craft beer and a number of traditional dishes.
Relax in a beer garden with spectacular views
Is there any better way to wrap up an amazing trip than with amazing views and a beer in hand? The Letná beer garden offers one of the best panoramas of the city. In fact, this is the starting location for our Prague Craft Beer & Food Tasting Tour. Join the tour to dive into the Czech Republic's beer culture or simply relax at a table with a view an take in the enchanting city below.
While it's impossible to see and do everything in the city in just three days, this Prague itinerary will give you a good feel for the magic of the Czech Republic's biggest city. You'll surely return home satisfied with all you experienced but hungry for more. It's never too soon to start planning your next trip!