25641 Views
Christmas in the Czech Republic is celebrated on Christmas Eve, December 24. Literally translating to "Generous Day", it's a day for festive traditions – tree decorating, carols, presents, fairytales for the kids, and our favorite part: preparing and eating the traditional Czech Christmas food!
To discover what a Czech Christmas feast entails and the interesting traditions which pair (for instance, did you know Christmas dinner swims in the bathtub?), read on! We've also translated a Christmas recipe in case you'd like to add a little Czech flavor to your holiday menu this year.
Rybí polévka / Fish Soup
At sundown, all gather around the table for Christmas dinner. Soup, being the important Czech staple that it is, is the first course on the menu. Typically served is fish (with a hearty dose of vegetables and spices) or cabbage (zelňačka) soup.
And we wouldn't dare talk of Czech Christmas food traditions without mentioning the golden piglet! According to tradition, those who fast throughout the day on Christmas Eve (eating only soup) until dinner see the golden piglet. Seeing the piglet is said to bring good luck – a Christmas miracle, we'd agree!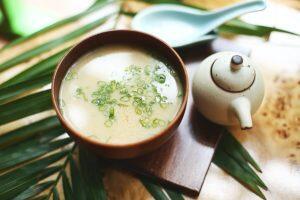 Český kapr / Carp
The star of the Czech Christmas food menu is carp – fried carp at that! Perhaps not the first thing that springs to mind as a local delicacy but it certainly has its charm and comes with its own unique tradition. Remember the bathtub? Some Czechs buy their fish before Christmas (usually from the Christmas markets) and keep it in the tub until it's time to prepare and eat them. As one could imagine, this serves as great entertainment for the children (and adults alike!).
And just like the golden pig, the carp gives Czechs another chance at good luck and good fortune in the New Year. If you want to play along, take a scale from the fish, dry it, and keep it in your wallet until next year!
Bramborový Salát / Potato Salad
Just like sugar and spice, carp and potato salad go hand and hand for the Czech Christmas food. While the recipe varies from family to family, the main ingredients are boiled eggs, potatoes, mayonnaise, pickles, and vegetables. We've translated our family recipe and are sharing it with you below!
Before we get to dessert, it's as good a time as any to mention another Christmas tradition. Sometime after the main course, Ježíšek "Little Jesus" (Czech's version of Santa Claus) comes and brings presents under the tree, ringing a bell before mysteriously leaving. With presents traditionally opened after dinner, it's another Christmas miracle if the children make it patiently through dinner!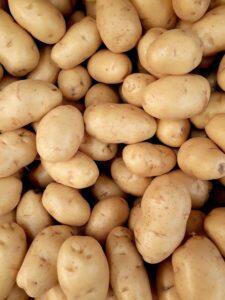 Bramborový Salát / Potato Salad Recipe
Serves 5-6
Ingredients
5 potatoes (around 4 ½ lbs or 2 kg)
4 eggs  
4 carrots
2 celery sticks
7oz (200 grams) salami
1 jar of pickles
1 onion
10oz. (0,3L) mayonnaise (homemade or store-bought)
Salt and pepper (to taste)
Procedure
Boil potatoes with the skins on.
Hard-boil the eggs (about 10 minutes) and place eggs in cool water for 5-10 minutes (so they're easier to peel)
Bring a pot of water to boil, add carrots and celery.
Boil the vegetables until they are still slightly firm (you don't want them to be too soft).
Allow the potatoes, eggs, and vegetables to cool completely.
Peel the potatoes and eggs. Dice the potatoes, eggs, carrots and celery into small pieces.
Finely chop onion and pickles.
Chop the salami into pieces.
Gently mix all ingredients together and gradually add the mayonnaise, salt and pepper.
Refrigerate for a minimum of 3 hours.
We recommend making the potato salad one day in advance to allow the flavors to settle. We also recommend serving with fried carp/fish!
Vánočka / Christmas Bread
This Czech sweet actually got its name from Vánoce ("Christmas" in Czech). A braided cake-bread made with raisins and almonds, it's also breakfast for many on Christmas Eve!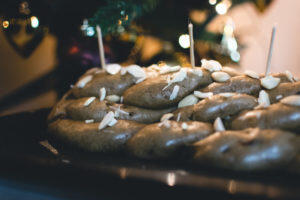 Vánoční cukroví / Christmas Cookies
A beautiful assortment of little cookies in more varieties than you could count on two hands, Czech "candies" are not only enjoyed on Christmas Eve but all throughout the holidays. Exchanged among friends, family, and neighbors, there's always enough to go around (thank goodness as they are delightful!).
In addition to vánočka and Vánoční cukroví, fruitcake, apple strudel, and gingerbread are also sweets common for the Czech Christmas food. You can also learn how to make Czech Vanilla Crescent Christmas cookies on our online cooking class – A Very European Christmas.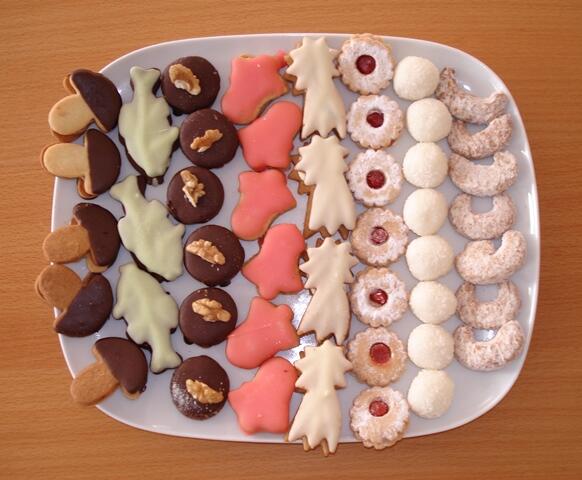 While that's a wrap for Christmas dinner, the festivities and traditions certainly continue! Of course, to experience Czech traditions and cuisine with a local guide, visit us in Prague (our food tours also make great Christmas gifts!).
Hoping you enjoyed learning the traditional Czech Christmas food, there is nothing left to do than wish you "Veselé Vánoce"!  Merry Christmas!