21544 Views
The Dutch and cheese: a love affair for the ages. Anyone who's been to the Netherlands can tell you that Dutch fondness for dairy runs deep – especially for kaas, or cheese. Dutch people consume 25% more dairy products on average than the British or Americans. You might be wondering: what's all the fuss about? In that case, you're clearly underestimating the deliciousness that is Dutch cheese! I'll explain a few of the characteristics and tell you some of the best places to find authentic Dutch cheese in Amsterdam.
What makes Dutch cheese different?
Many European countries have a strong cheese culture, with recipes dating back generations and deeply steeped in local traditions and ingredients. The Netherlands is no different. Thanks to centuries of Dutch ingenuity, draining and reclaiming land from the sea, huge parts of North Holland (the province home to Amsterdam) have silty, extremely rich soil. This provides the perfect fertilizer for nutritious, moist grass that the famous Friesian cows gorge on. This perfect combination of factors is the secret behind Dutch cheese's famous creaminess and strong flavor.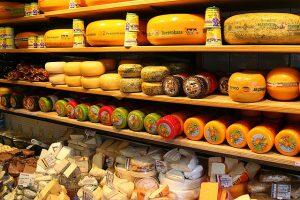 Before we get to the tips, let's go through some different kinds of cheeses here. If you've seen Dutch cheese abroad, it's most likely been called Gouda – but there are actually many different kinds of Dutch cheese, including Edam, Limburger, and Beemster. Unlike France, where you'll find many soft and spreadable cheeses, most Dutch cheese tends to be hard or semi-hard.
Cheese in the Netherlands is classified by age as well, with Jong or young being the creamiest and softest flavor. Belegen is slightly harder and nuttier tasting, but is still quite smooth and easy to slice off with the traditional Dutch "cheese shaver". As cheese ages, it starts developing crystals – oud will have a few, and also quite a strong flavor. My personal favorite, overjarig, is quite pungent, and so old and crystalized that it starts to get crumbly.
There are also a few traditional types of cheeses flavored with herbs. Leidse kaas, originating from Leiden, is flavored with cumin seeds, which lend it a nice and earthy taste. Nagelkaas gets its warm and spicy flavor from cloves.
Dutch cheese often takes its name from the city of origin: Gouda, Limburg, Leiden, etc. You won't find any specific Amsterdam cheese style, however. There is a cheese called "Old Amsterdam," but it's not actually made in the city (go figure). Be that as it may, there's still plenty of cheese in Amsterdam to go around! Ok, enough nerding out on cheese facts – but if you're still hungry for more about how it's made, you'd love this deep dive into Dutch cheese-making traditions.
3 tips for buying cheese in Amsterdam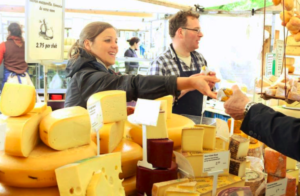 1. Markets in Amsterdam
A trip to the market is a sure-fire way to get acquainted with Amsterdam food culture, and cheese is definitely no exception to this rule. Most markets have multiple stands selling foreign and Dutch cheese. Try to go early, when the market isn't so busy, and you'll have time to ask questions. You might even get to sample the cheese if you're lucky! Topping my list is the Noordermarkt, an organic market open on Saturday in the Jordaan. It's home to a whopping 6 cheese stands. You can double up for the afternoon by stopping by the Lindenmarkt right around the corner, where you're sure to find something at one of the 232 stalls. Not there on a Saturday? No worries: find out more about all the food markets in Amsterdam.
2. Amsterdam cheese shops
To get a true sense of the variety and scope of Dutch cheese, visiting a cheese shop is your best bet. They're likely to have more types in stock than a market stall – but can be a little more expensive. One benefit to buying from a shop is that they can usually vacuum seal your purchase – great for bringing a taste of Amsterdam home with you!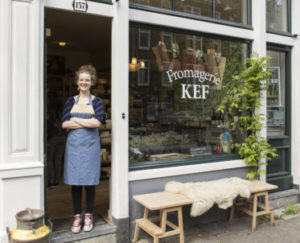 Most Amsterdam cheese shops will have great quality offerings, but two stand out in my mind. De Kaaskamer is one that you'll definitely smell before you see it. Their staff is friendly and knowledgable, and it's clear that they have good relationships with their suppliers. There you can also get handy sampler packs to acquaint you better with different themes. They also have an adorable cat that you might see wandering around!
Fromagerie Kef focuses on French-style cheese, but features excellent offerings from Dutch farmers too. With three locations around the city, they also stock excellent bread and wine to go with your haul. They even have cheese tastings with local beers at their store in Amsterdam Noord.
3. Cheese workshop in Amsterdam's forest
Ready to take your cheese devotion to the next level? Then you'll want to visit the Riddammerhoeve Goat Farm, which hosts the only cheese-making workshop in Amsterdam! This is the most darling little organic farm, tucked away in the forest. On the grounds, there's a cafe and terrace, and you can run around with the goats, sheep and chickens. It's great for kids, especially since there's a playground built right in the middle of all this.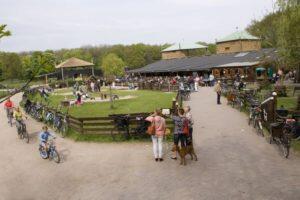 As part of the workshop, participants get to milk goat and sheep, learn how to make their own geitenkaas or goat cheese in the cheese cellar. After all that hard work, newly-christened cheese makers are rewarded with white wine and goat cheese fondue. The whole thing takes about three hours. They also have a shop on sight where they sell their own cheese, as well as other kinds of Dutch cheese.
If you're looking for cheese in Amsterdam, you'll be sure to find some delicious ones. There are probably as many shops as there are varieties of Gouda! When you're back from your trip, make sure to tell us about your favorite cheese in the comments.