2684 Views
If you're a reader of this blog, I can safely assume you're in for some unusual culinary experiences and want to stay away from touristic traps with overpriced, dry burgers. So if you're planning a 48-hour weekend city trip to Amsterdam and you're looking for restaurants and cafes that offer more than the standard steak and pasta menus, read on!
48 Hours in Amsterdam
Friday evening
Just after arriving in Amsterdam, you're probably hungry and a bit tired. Sightseeing can wait until tomorrow, so tonight just take a stroll through the center to feel the vibe of the city and relax. From the Central Station start walking through the Red Light District, which might not be the area that local Amsterdammers like to hang out in, but it is nevertheless a must-see attraction. After getting a taste of the night life, drop by the 40-year-old Café Gollem for a few glasses of beer and some snacks. The Netherlands is a country of beer lovers and Gollem lets you experience it by offering an impressive menu of over 200 Belgian and Dutch beers. Here you'll also have a chance to try Dutch deep fried snacks like bitterballen (meat balls) with mustard, kaassstengels (cheese sticks) with chili sauce and frikandellen (minced meat hot dog).
Café Gollem
Raamsteeg 4
Open Mon-Thu 4 pm-1 am, Fri-Sat 12 noon-3 am, Sun 12 noon-1 am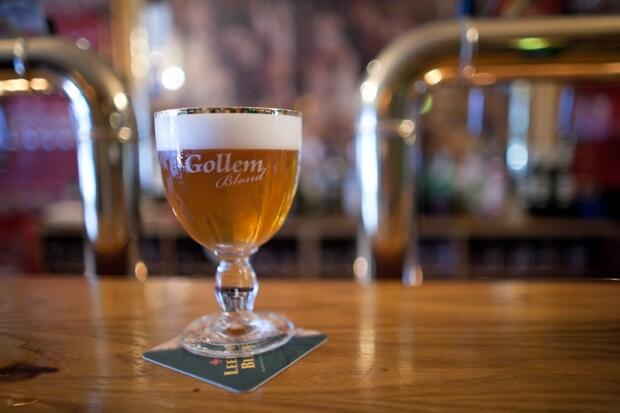 Saturday
Start Saturday morning by walking along the Bloemenmarkt, a colorful market where you can buy all kinds of flowers and plants in little shops floating on the canal. Planting a Dutch tulip bulb at home is a great souvenir that will remind you of the trip every day, instead of collecting dust in one of your drawers.
Bloemenmarkt (Flower Market)
Singel 610-616
Open Mon-Sat 9 am-5:30 pm, Sun 11 am-5:30 pm
If you did your homework on Amsterdam, you probably know that the Anne Frank House is a must-see. A walk from Bloemenmarkt to the Anne Frank House will give you a chance to appreciate some of the most beautiful canals in Amsterdam: Herengracht, Keizersgracht and Prinsengracht. The Museum itself is a house in which a Jewish girl Anne Frank went into hiding from the Nazis and wrote her world-famous diary. It's best to buy your tickets online even a few weeks in advance; you'll be spared hours-long queuing.
Anne Frank House
Prinsengracht 267
Open every day 9 am-9 pm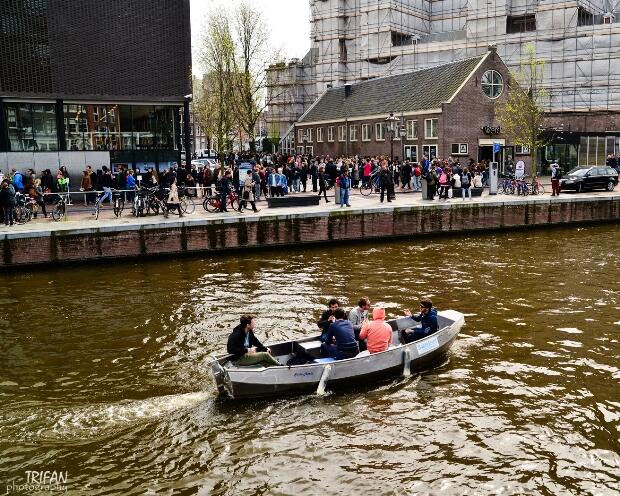 Amsterdam's amazing vibe comes from the diversity of cultures, tastes and smells that you can find depending on the district you're in. So don't stick just to traditional Dutch restaurants; discover what makes Amsterdam the diverse city it is today. One way of doing so is to take a walk through Chinatown during lunch time. Restaurants and shops run by immigrants from many Asian countries are full of exotic dishes and spices, and you can spend hours trying to discover them all. On Saturdays there is also a delicious market on the Nieuwmarkt square, where you can enjoy fresh vegetables, fruit and flowers straight from Dutch farmers.
Nieuwmarkt Market
Nieuwmarkt
Open Sat 9 am-5 pm
Sunday
Sunday morning is a perfect time to have your morning coffee with a slice of very Dutch apple pie. The jury's out on where the best version is to be found: Cafe Winkel 43 is a popular favorite, but we prefer Café Papeneiland (which also happens to be the first stop on our Jordaan Food Tour!). Whichever you choose, both are located in the beautiful, leafy Jordaan neighborhood and are locally loved – so be prepared to wait for a table. But trust us, the heavenly apple pie is worth it!
Winkel 43
Noordermarkt 43
Open Mon 7 am-1 am, Tue-Thurs 8 am-1 am, Fri 8 am-3 am, Sat 7 am-3 am, Sun 10 am-1 am 
Café Papeneiland
Prinsengracht 2
Open Mon-Thurs 10 am-1 am, Fri-Sat 10 am-3 am, Sun 10 am-1 am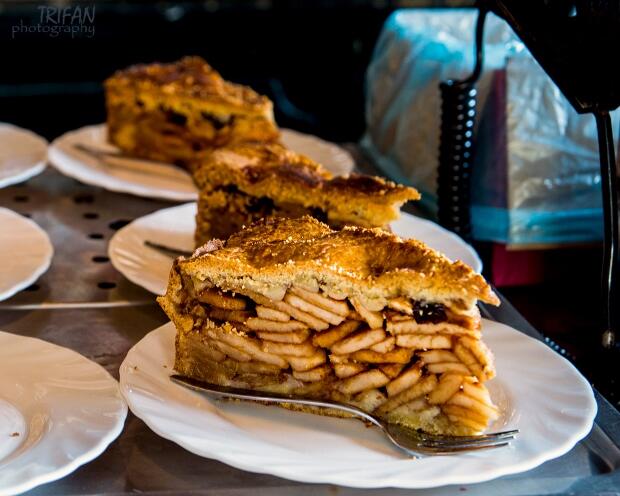 The best way to spend Sunday is to visit one of the museums. Amsterdam's national pride, the Rijksmuseum, displays masterpieces by Rembrandt, Vermeer and Steen, to name just a few. However, if you associate Amsterdam primarily with Van Gogh and his Sunflowers, the Van Gogh Museum is certainly worth a visit.
Rijksmuseum
Museumstraat 1
Open every day 9 am-5 pm
Van Gogh Museum
Paulus Potterstraat 7
Open 9 am-6 pm (Fridays until 10 pm)
After spending the whole day in a museum, it's time for some good food and entertainment. Cafe Kapitein Zeppos is a cute cubbyhole hidden among the flowers in one of the backyards in the city center. Not only can you eat delicious food (I can recommend the seafood soup!) but you can also enjoy live music in a little theater room above the restaurant.
Kapitein Zeppos
Gebed Zonder End 5
Open every day 12 noon-1 am (Friday and Saturday until 3 am)