5690 Views
Spend any amount of time in Naples and you might agree that it is the liveliest city in Italy. Scooters whip by with too many passengers, horns blare into the skies, and the cobbled streets whisk away your bearings. It's a visceral city that demands your attention, and that's just why we love it. Here's what we would do if we had 48 hours in Naples.
Day One
Street seeing
One of the best ways to get a grip on Naples is to spend time on its streets. Street life is essential to Neapolitans—it's not uncommon to see groups of boys of all ages kicking around a soccer ball or clusters of people sitting in chairs on small side streets. Orient yourself by the two main streets: Corso Umberto I runs at an angle from the main train station and Via Toledo goes north to south. Follow Via Toledo down to the sea for views over the bay with the omnipresent Mount Vesuvius in the distance.
Soak in the view
Take the funicular to Vomero Hill where the imposing fortress Castel Sant'Elmo dominates the skyline. If you go after 4pm it's free to go inside. Make your way up to the terrace where there's an incredible 360˚ view of the city and the Bay of Naples. Also, the ticket for the castel includes entrance to the Napoli Novecento Museum where you can find a collection of contemporary art.
Pizza! Pizza!
While you're near Piazza Plebiscito you should get your first taste (but certainly not your last) of Neapolitan pizza at Pizzeria Brandi (Salita Sant'Anna di Palazzo, 1-2). This pizzeria's claim to fame is its margherita pizza, which was invented here by Queen Margherita herself who demanded mozzarella on top.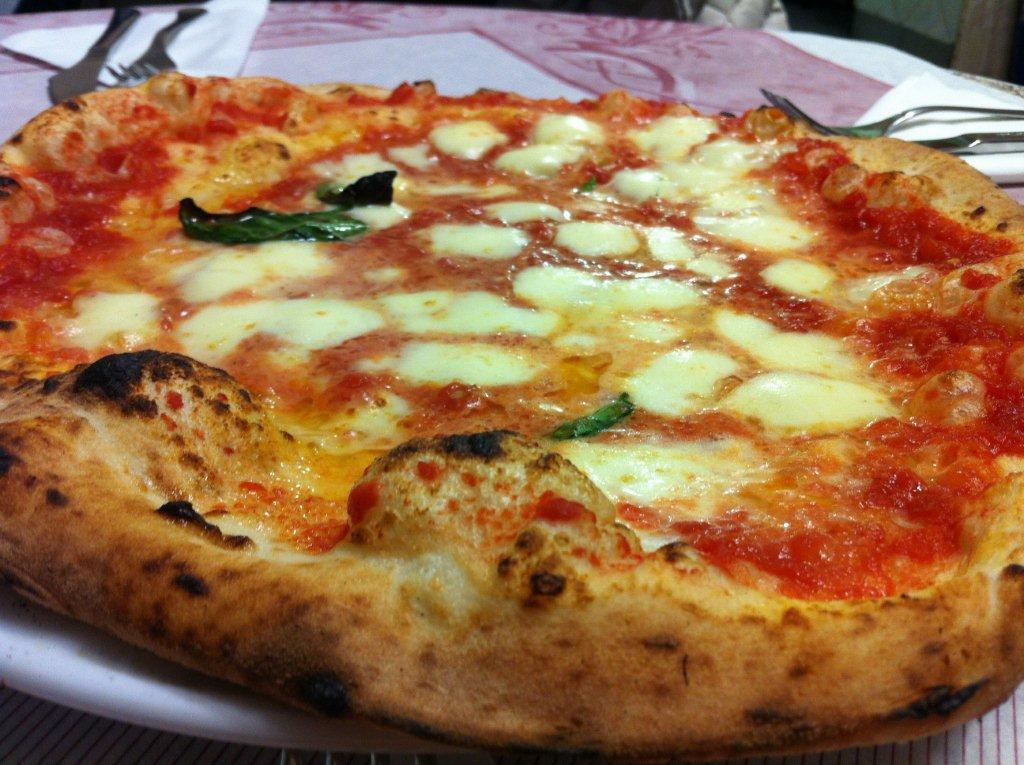 Taste Naples
Get a moutful of Neapolitan pasta and spirit at Trattoria da Nennella in the Spanish Quarter. It's a lively place with friendly waiters who might just end up singing while they're serving. Nennella is extremely popular with locals and tourists so go early (Vico Lungo Teatro Nuovo, 105).
Live the night
If you're looking for chic and modern, head to the Chiaia district—try the Enoteca Belledonne (Vico Belledonne a Chiaia, 18). If you prefer a chill crowd, Piazza Bellini is a fun and lively place for a drink—Intra Moenia is a good choice for cocktails and doubles as a bookstore. Alternatively, two steps outside Trattoria da Nennella is a small wine bar where a (plastic) glass of wine costs all of €1!
Day Two
Sweet start
Breakfast in Naples is synonymous with sweets, such as their sfogliatelle paired with a cappuccino. These heavenly ricotta-filled pastries can also be eaten at any time of the day. A tasty, small bakery is Pintauro on Via Toledo, 275.
Sift some history
If you're going to go to one museum in Naples, it should be the Archeological Museum (Piazza Museo, 19). The Farnese family's collection of ancient Roman statues, such as the Farnese Bull, are housed here. If these pieces aren't enough to tempt you, then the discoveries of Pompeii surely should: ancient paintings and the "secret" stash of statues and paintings so naughty that the church once kept the room under lock and key.
Street side

Neapolitans love their street food, most of which is fried. Join them for lunch on the street at Pizzaiolo del Presidente (Via Tribunali 120) (named as such because of President Clinton's visit over a decade ago), which usually attracts quite a crowd so expect a wait.
More marble
Jump ahead hundreds of years from the Rome Empire to the Baroque at Museo Cappella Sansevero (Via Francesco de Sanctis, 19). The church is rich in marble and sculpture, but its central piece is the statue of the Veiled Christ. Be sure to go to the Underground Chamber for the Anatomical Machines, human skeletons with the artery and vein systems (weirdly!) intact.
The last pizza
Probably the most famous and most historic pizzeria in Naples is Antica Pizzeria da Michele (Via Cesare Sersale, 1-3). At this no-frills place there are only two choices of pizza: margherita and marinara. This pizzeria is no secret so get here early if you don't want to wait.
* * *
Contact [email protected] with Blog Enquiry in the subject title for any feedback or requests for a topic you want us to cover. Voted one of the best things to do in Rome, Eating Italy Food Tours offer a Rome walking food tour through one of Rome's oldest and most characteristic neighborhoods.