3153 Views
East London has to be one of the most exciting and vibrant areas of the capital (and there's no denying that it's our favourite place in the city!) From trendy markets and exciting museums to famously delicious food and beautiful parks, there's plenty of things to do in East London. So if you're stuck for ideas then be sure to follow this handy guide –  you won't know where to begin!
Visit East London's bustling markets
From food and flowers to vintage clothes and antiques, there's a market for everyone in East London. Popular with tourists and locals alike, Spitalfields Market has to be one of the best. Founded in 1197, the market houses over 100 eclectic stalls and is surrounded by independent boutiques, stylish restaurants and hip bars – making it the perfect hangout. But don't forget the Columbia Road Flower Market, along with the Brick Lane and Broadway markets which are also well worth a visit.
Grab a curry in Brick Lane
Named 'Curry Capital 2012', a trip to East London just isn't complete without sampling the delights of Brick Lane's iconic curry houses so take a wander down the famous Curry Mile. The fragrant spices filling the air will be sure to get your taste-buds tingling and with over 50 restaurants offering a delicious selection of authentic Indian flavours; you'll be spoilt for choice. We recommend Aladin – awarded the prestigious title of 'One of The World's Best Curry Houses' and  a favourite of HRH Prince Charles. Aladin's delicious menu and welcoming atmosphere will keep you coming back for more again and again.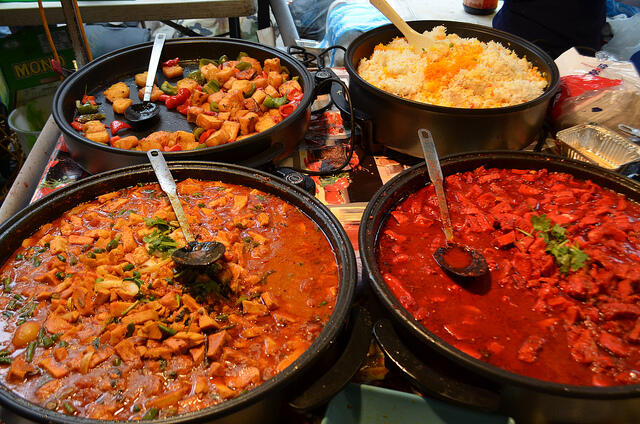 Snuggle up at The Aubin Cinema
Forget the days of cramped seats and annoying whispers at East London's trendiest picture house. Hidden in the heart of Shoreditch, The Aubin Cinema is the perfect place to kick back and watch the latest Hollywood movies and art house films. With velvet sofas, plush cushions and snuggly blankets, you'll never want to leave. Prices start from just £6, leaving you with plenty of spare change for something sweet. You can even take a bottle of wine in to the screen with you! What's not to love?
Appreciate East London's Art
East London is home to a vibrant art scene and over 180 galleries reside in in the East End. With a mix of contemporary art, photography, international architecture and more – there is guaranteed to be an art gallery to suit everyone's taste. We recommend a trip to the Barbican and the Whitechapel Gallery, they certainly won't disappoint. If galleries aren't your thing, then why not embark on an exciting tour of East London's street art? There's a whole host of quirky art just waiting to be discovered.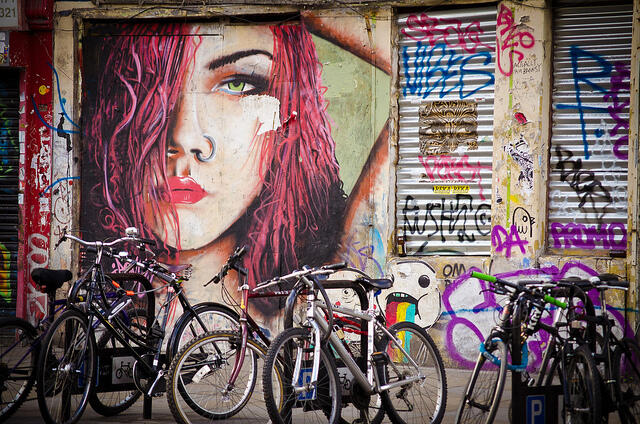 Relax in Victoria Park
When in East London, be sure to visit London's favourite public park. Boasting over 86 hectares of open space, Victoria Park's decorative gardens, scenic lakes and unspoilt greenery promises to be an idyllic retreat from the hustle and bustle of city life. And with a play area, deer park and paddling pool, there's plenty to keep any little ones entertained. Also, keep an eye out over the summer months for Victoria Park's music concerts and events!
East London just doesn't get better than this, so next time you're in the capital make sure that you tick at least one of our activities off of your list and remember to let us know your favourites!
For more fun things to do in London, read our guide on Quirky Bus Tours in London. Our food tour in London is the perfect way to explore East London