3490 Views
If you're looking for some more unique things to do on your next trip to Paris, then skip Le Louvre and the Eiffel Tower and other well-trodden tourist sights. Instead, try some of our suggestions of the best unusual things to do in the city.
Attend a Silent Dinner
After hosting her Silent Dinners in 12 countries and 16 cities across the world, Honi Ryan has finally brought her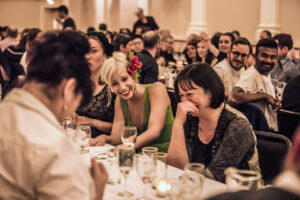 unique dining experience to Paris. She hosts regular silent dinners throughout the year where no talking is allowed, and perhaps even more challenging – no mobile phones! Instead, guests must find other more creative ways to communicate with each other. So don't worry if your French is a bit rusty!
The events are held in private locations which change on a regular basis and the location will only be disclosed once you're signed up for the event. But wherever you go you can always expect a delicious dinner prepared with seasonal, organic produce and inspired by the country you're dining in. RSVP on the website, to be added to the waiting list and receive notifications of the next event. Or contact the organisers directly to find out if a dinner will be held during your next trip.
Visit a vineyard in the centre of Paris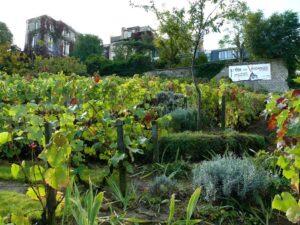 You don't need to go to one of France's famous wine regions to find out more about the country's wine, you can do it in the heart of Paris! A few vineyards still exist in the heart of the city, with perhaps the most well-known being Le Clos de Montmartre. You can only enter by signing up for a tour, which can be done at the Montmartre tourist office, located at Place du Tertre just a couple of minutes from the vineyard. The tour is free although you'll have to pay for wine tasting.
Alternatively, plan your trip to coincide with the annual five-day grape harvest festival, the Fête des Vendanges. It take places in October and gives you the chance to take part in the festivities as well as bid on a bottle of vin, which are now becoming collectors' items.
Visit Galeries Lafayette
A trip to a department store may not sound anything special, but Galeries Lafayette is not just any department store. Founded in 1893, the historic store is worth a visit for the beautiful Art Nouveau design alone. It's especially magical around Christmas when the store shows off its elaborate decorations.
It also hosts a variety of activities to experience different aspects of French culture, from twice-weekly fashion shows to macaron cooking classes and wine-tasting sessions. There's also tours of the building to delve deeper into Galerie Lafayette's story.
Visit beehives on the rooftops of Paris
If you're curious to learn more about the secret world of bees up on Paris' rooftops, then Audric de Campeau, Paris' most famous urban beekeeper, is the man to contact. Audric can take you up onto the rooftops to learn more about beekeeping as well as give you a fantastic view over the city. He has hives on top of the Musée d'Orsay and the Hôtel national des Invalides, among other famous landmarks.
You'll have to email Audric as far in advance as possible to try to catch him. Beekeeping is intensive work and some seasons are busier than others. But even if you don't manage to organise a tour you can still try Audric's honey by picking up a jar of Le Miel de Paris at select Paris stores including Fauchon, Printemps du Goût and La Grand Epicerie.
Sleep on the Seine
If you're looking for a hotel with a difference, then head to OFF Paris Seine, Paris's first floating four-star hotel.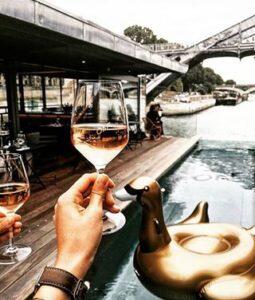 Anchored just by Gare d'Austerlitz train station, rooms come with a view of either the Left Bank or Right bank, or a panorama of the Seine if you book a suite offering a unique look at the city.
The hotel also comes with its own bar and restaurant, a very Instagrammable swimming pool where you can have fun with the blow-up swan and can organise river cruises to take you right up to the Eiffel Tower.
If you're feeling hungry to explore the local life of Paris, then check out our Hip Eats & Backstreets Food Tour.