7089 Views
Traveling with any kind of dietary restriction can be challenging. Luckily, having celiac disease or eating gluten-free in Prague won't keep you from enjoying some of the best food the city has to offer, including traditional Czech dishes.
While you're looking for gluten-free dining options in Prague, be sure to keep an eye out for the words bezlepkové and bez lepku, as these mean 'without gluten'. From clearly marked allergen menus to entirely gluten-free dining establishments, this guide to gluten-free restaurants in Prague will help you find the best spots for gluten-free food in the Czech capital.
Svejk U Karla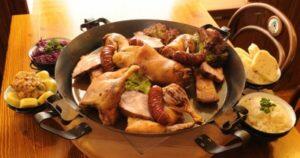 This is the place to go if you want to try traditional Czech favorites such as svíčková and goulash complete with gluten-free dumplings. The gluten-free menu is extensive and likely to be the largest found in the city. From a long list of appetizers to four different dessert options, this restaurant makes eating gluten-free in Prague very easy. You can't have Czech cuisine without Czech beer, though, so they even have gluten-free beer available if you're interested in trying a glass of the Czech Republic's favorite beverage.
Vegan's Restaurant Prague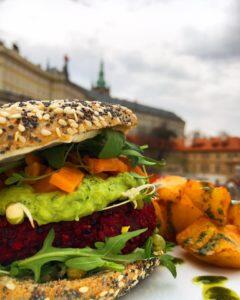 Located just below Prague Castle, Vegan's Restaurant Prague has one of the best views in the city. While vegan cuisine is their primary focus, they serve several gluten-free dishes including traditional potato goulash and a gluten-free burger.
All of their food is prepared using organic ingredients and the gluten-free dishes are clearly marked. The staff is also very knowledgeable so don't hesitate to ask them if you have any questions about potential allergens.  
Arepas De Lyna
Arepas de Lyna is a small place serving delicious, homemade Venezuelan food including tasty arepas, empanadas, and tequeños. While Venezuelan food may not be the first thing that comes to mind when planning a trip to Prague, it's definitely worth a visit, especially if you're gluten-intolerant because the entire menu is gluten-free.
They are only open in the evening but this is a great spot to enjoy a quiet dinner off the tourist path. On a nice evening, enjoy your meal at one of their outdoor tables.
Maitrea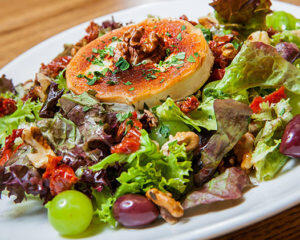 Located in Prague's Old Town, this vegetarian restaurant is ideally located for popping in for a relaxing meal after a long day of sightseeing. The menu clearly marks which dishes are gluten-free and which can be made gluten-free upon request so you'll have no trouble figuring out what your options are. They also serve gluten-free bread and Celia, an organic, gluten-free craft beer produced in the Czech Republic. 
Alriso Risotteria Italiana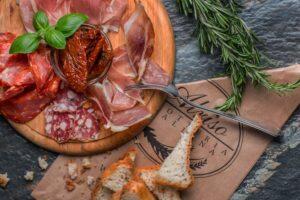 Alriso Risotteria Italiana serves a completely gluten-free Italian food menu with a heavy emphasis on rice-based dishes. They use rice flour to prepare their traditional Italian cuisine, ensuring that it's suitable for celiacs. On top of that, they offer a large wine menu and some gluten-free beer options, providing a full gluten-free experience. They also have one of the largest selections of different types of risotto that you'll find in Prague. 
Babiččina spíž
Babiččina spíž is the perfect place to stop for a quick coffee and pastry before heading out for the day. The cozy atmosphere will make you feel like you've stepped into your grandmother's kitchen, and the best part is that this bakery is entirely gluten-free so there's no need to worry about cross-contamination. It also has some vegan and lactose-free options as well and their gluten-free cookies are too good to pass up!
Podolka Restaurant
Podolka Restaurant has two locations: one in Podolí and the other in Karlín. Both prepare their dishes from natural ingredients and feature many gluten-free options on the menu, which are prepared safely for celiacs.
It's easy to create a three-course meal here as the starters menu is entirely gluten-free and rice bread is available upon request. The avocado creme brulee on the dessert menu is also a must-try. 
Lavande Restaurant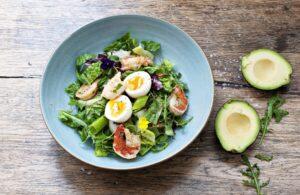 Lavande Restaurant's goal is to provide an exceptional dining experience for everyone, including those with dietary restrictions. Located in Prague's Smíchov neighborhood, they provide a friendly atmosphere and a menu that is full of gourmet, homemade dishes. The majority of their offerings are gluten-free and clearly marked as such on the menu, including several vegetarian dishes. They even have a children's menu with a couple of gluten-free options.
Eating gluten-free in Prague as not as difficult as it may seem at first. These restaurants are a great place to start but if you find yourself out to eat somewhere else in the city, don't hesitate to ask the staff what their gluten-free options are. Even if it's not listed on the menu, many places are happy to accommodate or will tell you very clearly if they aren't able to. However, with so many great options for gluten-free dining, you're sure to find plenty of delicious gluten-free food in Prague!