4915 Views
Come visit some of our favorite places in London!
Aladin Curry House, London, United Kingdom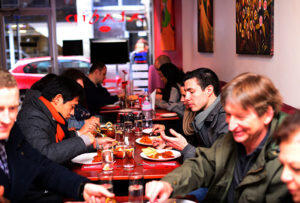 "My favourite curry is the Naga. Very tasty but very hot!!! Too hot for most of my customers. You need to have been eating spicy food for a long time to eat the Naga, otherwise it might make you cry!"
– Sam Kundu
Situated in the heart of the famous curry mile, known as Brick Lane, Aladin is frequently listed amongst the top 10 Indian restaurants in London. Aladin's famous curries are put together by the long-standing chef, who has been cooking up delicacies for the past 25 years. A meal here is bound to transport you to the by-lanes of Bangladesh, India, and Pakistan.
To find the Aladin Curry House:
Phone : 0044(0)20 7247 8210
Address: 132 Brick Lane, London E1 6RU