3497 Views
Amsterdam is home to a bounty of beautiful images that would make any postcard producer proud. Windmills, canals, gorgeous gables, bicycles – all of these spring to mind when one thinks of Amsterdam. The softest and most delicate of these iconic images of Amsterdam (and the Netherlands, for that matter) is the tulip, whose bulbs blossom from the ground every year with the arrival of the ever-so-slightly warmer Amsterdam spring weather.
Tulips are not native to Amsterdam and its surrounds, but when the flowers were introduced to the cool Dutch soil in the 16th century, they became a match made in horticultural heaven. At one point in time, tulips became so wildly popular in the city that they were even traded on a "stock market" of sorts that ended up crashing when overzealous speculating created what is largely regarded as history's first economic bubble.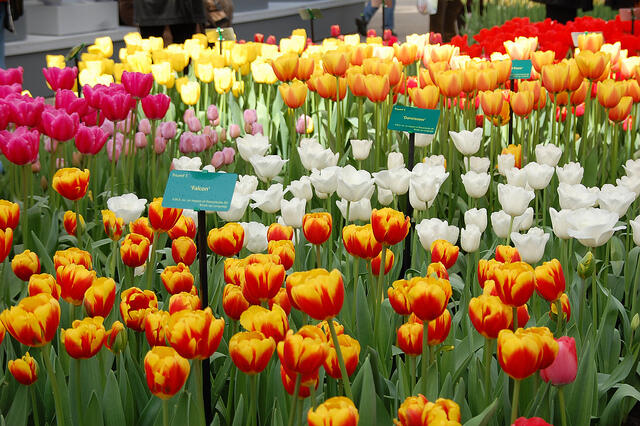 If you are visiting Amsterdam, and in particular during tulip season itself, seeing and learning about these ravishing spring flowers has to be high on your list of things to do. Here is our guide on where to see tulips in Amsterdam in all of their colorful glory.
Keukenhof Gardens
A tulip wonderland only open for two months a year, Keukenhof Gardens is the premier place on the planet to see tulips. It is the largest flower garden in all of Europe, and during tulip season is home to over 800 varieties of tulips and 7 million bloomed bulbs. Despite being only a short trip from the city, once on the grounds of Keukenhof Gardens, the colorful carpet of tulips on display will make you feel like you've arrived in an entirely different world.
Walking the winding pathways that meander through rows upon rows of tulips will leave you in awe of this flower, and the power it has to mesmerize those that gaze upon it. This year, the theme of Keukenhof Gardens is Vincent Van Gogh, and since the Dutch artist was known for his self-portraits, Keukenhof Gardens has even installed a "selfie garden" to brighten up your digital self-portraits.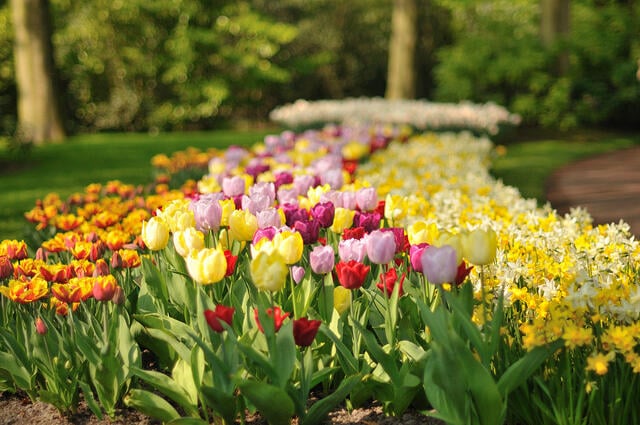 Keukenhof Gardens is also home to a specially designed Romantic Garden, maze, petting zoo, and a lake that can be crossed via stepping stones, making it so much more than just a flower garden. Simply put, this is the best place to see tulips in Amsterdam, and a day spent here will feel like a day spent in a floral fairytale.
Stationsweg 166A, 2161 AM Lisse
+31 (0)252 465 555
keukenhof.nl
Open: March 20 – May 17, 2015
 The Bollenstreek
Translating to "bulb growing region," the Bollenstreek is a huge swathe of the Netherlands that is home to colorful field upon colorful field full of tulips during the spring. Keukenhof Gardens is located right in the middle of The Bollenstreek, so many people combine a visit to the proper organized gardens of Keukenhof with a self-guided stroll or bicycle ride through the Bollenstreek. This is an independent endeavor, as the fields are being tended to by farmers; but from the bicycle lane you can still get an up-close-and-colorful tulip experience of their harvest and see visions of rural Holland that you won't experience otherwise.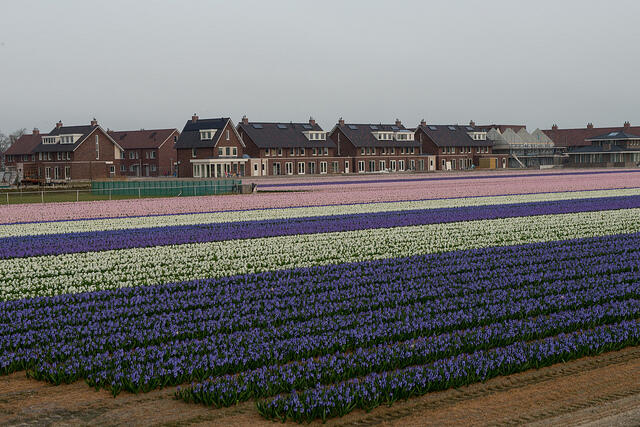 Amsterdam Tulip Festival
While the city of Amsterdam is certifiably mad for tulips, the city's bustling streets are not exactly conducive to long stretches of tulip fields. To the rescue comes the Amsterdam Tulip Festival: a festival on a mission to plant a tulip for every man, woman, and child that lives in Amsterdam. As a result, you will find hundreds of thousands of tulips on display in green spaces, parks, squares, and tourist attractions all over the city; you just need to know precisely where to look in order to take in all the prettiness. Luckily, the Amsterdam Tulip Festival provides free maps and guides at 20 locations throughout the city (see website), thus allowing you to spend a day on a tulip scavenger hunt.
Various locations throughout the city
tulpfestival.com
Runs throughout the month of April
 Amsterdam Tulip Museum
Located directly on the canal belt, the Amsterdam Tulip Museum provides a quick tulip fix regardless of the time of year. This one-stop-shop of history and flowers is home to educational films and displays detailing the tulip's tumultuous history and the remarkable journey the flower took from Himalayan highlands to Dutch fields.
Prinsengracht 116
+31 (0)20 421 00 95
amsterdamtulipmuseum.com
Open: daily 10am – 6pm
Photo credits: