348 Views
If you find yourself fortunate enough to be exploring the charming streets of Paris, merely reading about the mouthwatering baked delights this city is known for won't suffice. It's time to put your tastebuds to the ultimate test and engage in some delightful field research as I recently have. 
From the iconic and buttery croissants to the crusty and heavenly baguettes, not to mention the decadent pain-au-chocolat, prepare your palate for an unforgettable experience. I've gone on the initial hunt for you in search of the best pastry shops in Paris. The shops and bakeries I've discovered are all scattered throughout this enchanting city and each is worth a visit for a different reason. 
Our exclusive round-up of the top pastry shops in Paris this year promises a delicious adventure. Get ready to savor the essence of Parisian pastry delights! Bon appétit!
Boulangerie Murciano
I recently visited Boulangerie Murciano, a charming and elegant counter-serve stop. They offer a delightful array of delicate French and Ashkenazi pastries, along with freshly baked bread. Nestled in the heart of the Jewish quarter within the picturesque Le Marais district of Paris, this boulangerie exudes a warm and welcoming ambiance. 
During my visit to Murciano's, I indulged in their consistently good challah bread, adorned with plenty of poppy seeds. The texture was a perfect balance between a slightly crunchy crust and a soft interior – just how I like it! They also make different poppy seed cakes and pastries worth trying, like strudel. 
Hours: Open everyday except Saturday 
Address: 16 Rue des Rosiers, 75004 Paris, France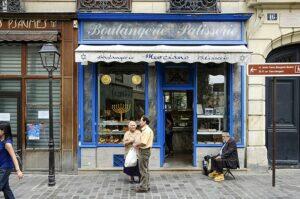 Aki Boulangerie Cafe 
Aki Boulangerie, is a Franco-Japanese pastry shop where the culinary worlds of France and Japan come together in perfect harmony. It is located in the heart of Paris's Japanese district on rue Saint Anne. The space is very lovely and inviting. They have a wide array of treats, from fluffy breads to mouth-watering pastries. 
After a long self-debate I decided to try their signature "pain au Mochi," a light and airy bread infused with the essence of green tea. Another interesting spin on a classic French pastry are the deep-green, Matcha eclairs. They also have Matcha Tiramisu, Yuzu Cheesecake, and of course you have to wash it all down with a Matcha latte. 
Hours: Open every day except Sunday 
Address: 16, rue Sainte-Anne, 75001 Paris.
Website: https://akiparis.fr/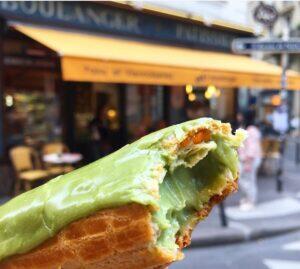 Boulangerie Utopie
This popular neighborhood bakery offers an array of cream eclairs, apple pastries, and classic French bread. Their croissants are crafted with passion and expertise by two young and talented bakers. 
I'd recommend trying their sesame eclairs, famous for their divine taste. This is probably what they are most famous for. It is stuffed with cream and has a very rich flavor. 
I also tried one of their tarte aux citrons, which was delicious. This simple & classic pastry is actually quite difficult to get right! It has to be the perfect mix of acidic and sweet. This one managed to pull off the combo. It had the perfect, authentic, lemony tang to it. 
I also learned that this unassuming bakery was recognized as the best bakery in France in 2016. The accolades were well-deserved, as every bite of their delectable treats left me craving for more.
Address: 20, rue Jean-Pierre Timbaud, 75011 Paris
Website: https://boulangerieutopie.com/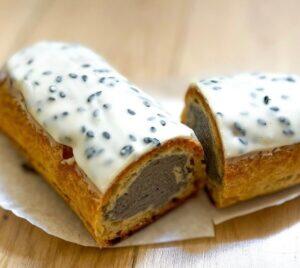 Liberté Paris
When I entered Liberté Patisserie, I was immediately drawn to its rich history dating back to the late 19th century. The charm of exposed beams, antique mirrors, and the grand marble counter filled with an irresistible array of breads, pastries, cakes, and tarts added to its allure. Inside you have the opportunity to witness skilled bakers meticulously crafting their delectable masterpieces. 
I couldn't wait to try their creations. The choices were abundant, and I found myself torn between the mouthwatering "pains gourmands" and the delightful "tarte au citron meringuée", just previews of the many creations displayed at Liberté Patisserie. 
I ended up going with tarte au citron, which I didn't regret at all! The artisanal, fresh and perfectly sweet and sour balance was all I could have hoped for. 
Hours: Open every day
Address: 39 Rue des Vinaigriers, 75010 Paris, France
Website: https://www.liberte-paris.com/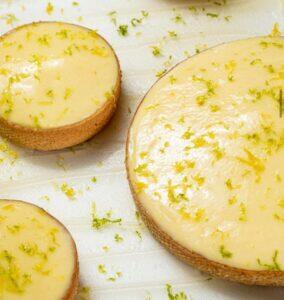 Carton Paris
Located in the heart of the 10th arrondissement, Carton Paris is a charming boulangerie and patisserie, offering a delightful selection of breads, sandwiches, and an extensive variety of delectable pastries since 1956. Whether you choose to sit indoors or enjoy the outdoor seating, the cozy atmosphere sets the perfect backdrop for savoring their mouth-watering creations. 
Conveniently located near the Gare du Nord train station, Carton Paris is a favored stop for travelers seeking a delectable snack or a delicious meal on the go.
It was no question that I had to try one of their flaky and buttery croissants. I went with a plain croissant, but they also have options such as raspberry. The croissant was incredibly light and airy and the rich buttery flavor was amazing. It's no wonder they were awarded the prestigious title of "Best Butter Croissant in Paris 2022." 
Hours: Open everyday except Sunday
Address: 6 Bd de Denain, 75010 Paris, France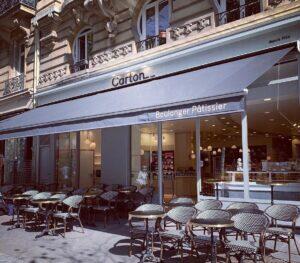 Du Pain et Des Idées 
Du Pain et Des Idées is a historical gem that is located in a space that's been around since 1875. Nestled between Rue de Marseille and Rue Yves Tudoc, this traditional French bakery boasts an ornate black and gold façade that stands as a testament to its rich heritage. 
As you step inside, you'll be transported back in time. I couldn't help but admire the beautifully painted ceilings and soak in the old-world charm. 
The different specialties of Du Pain et Des Idées include a chocolate-pistachio snail (which is a pastry, don't worry), a fresh apple turnover, a baker's flan, and an orange blossom brioche. 
I decided to try the escargot chocolat pistache, which I would highly recommend. It's decadent and sweet, but at the same time perfectly balanced and so satisfying that it actually calls for another. In my opinion, you just can't go wrong mixing chocolate and pistachio. 
Hours: Monday through Friday 
Address: 34 Rue Yves Toudic, 75010 Paris, France
Website: https://dupainetdesidees.com/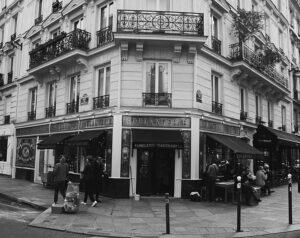 Bo&Mie
Step into the heart of artisan baking at BO&MIE, which first opened its doors in 2017 in Paris. From the iconic traditional baguettes and bread rolls to the irresistible pain au chocolat and mouth-watering sandwiches, they have something to satisfy every craving. 
I personally have a constant sweet tooth, so I went with the pain au chocolat with a buttery and intense chocolate flavour. Everything is made with an innovative twist, while still respecting the traditional recipes. 
BO&MIE is more than just a traditional corner bakery; it exudes the vibrant ambiance of a trendy café. As you step inside, the charming industrial vibe welcomes you, with mostly-unadorned walls and large, bare bulbs suspended from the ceiling, adding to the bakery's unique charm.
Hours: Everyday 
Address: 18 R. de Turbigo, 75002 Paris, France
Website: https://www.boetmie.com/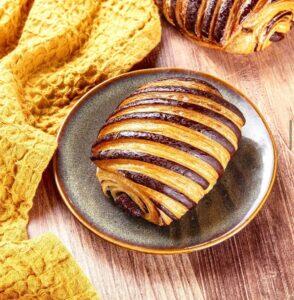 PonPon Café
Have you ever wondered what happens when a donut and a mochi come together in perfect harmony? Your answer is PonPon Café, the first mochi donuts shop in Paris. It's nestled just steps away from the Louvre in the charming first arrondissement. 
This ultra-Instagrammable store introduces a revolutionary concept, a half-Mochi, half-Donut pastry. It's the perfect fusion of the softness of a mochi and the warmth and crispiness of a donut. Interesting right?
I was super intrigued to visit and try these mochi donuts, which were fluffy and basically melt in your mouth. There are so many different flavors to choose from: chocolate, lemon, vanilla, raspberry, peach, etc. They're light, soft and delicious. 
Hours: Everyday 
Address: 3 Rue Molière, 75001 Paris, France
Website: https://ponpon.cafe/
My journey through the wonderland of pastries that is Paris was a delicious experience. The best kind of field research you can do. France's reputation for outstanding pastries and bakeries proved true. Hitting all of the best pastry shops in Paris would be a difficult task on its own. So take my recommendations, as I've done the work for you, and try out one of my favorites on your visit to Paris.