271 Views
From the tiny bistros that fill the backstreets of Saint Germain, offering three-course meals for under €12, to the venues that exude luxury and decadence with a view over the shining lights of the Eiffel Tower, Paris is certainly a foodie haven. 
And nowhere is better for a memorable meal in Paris than Le Marais. Tucked between the northern bank of the Seine River and the iconic Rue Rambuteau, Le Marais is a historic district that covers most of Paris's 3rd arrondissement.
Come along with me as I explore this trendy neighborhood and weave my way along the cobblestone streets, past the boutiques, museums, clubs, and thought-provoking art installations, to uncover the best restaurants in Le Marais.
Café Charlot
Café Charlot, along Rue de Bretagne, is your quintessential, affordable Parisian brasserie. The tiny tables that spill out until they meet the street, the sounds of passersby shopping through the boutiques of Le Marais, there is nothing quite like a meal in Charlot.
Whenever I arrive there I always struggle to order, as everything reminds me of my years in Paris. Foie gras de canard, escargots de Bourgogne, soupe à l'oignon (onion soup), or a classic croque monsieur? Even for dessert I am torn between a crème brûlée or a cheeky salted caramel éclair.
Eating at Charlot is also very convenient for setting up an afternoon in Paris. After finishing my meal, I could browse through the adjacent Marché des Enfants Rouges, a historic covered market, go North to Place de la République, or wander South and visit Notre Dame. 
Hours: Open 7 am to 2 am daily
Price Range: €€
Address:  38 Rue de Bretagne, 75003 
Website: https://www.lecharlot-paris.com/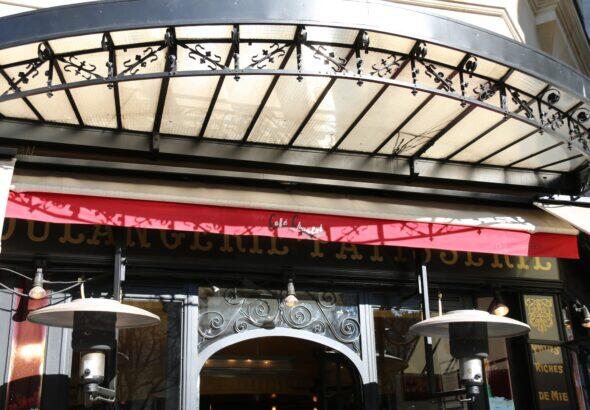 Photo by: Café Charlot
Aux Vins Des Pyrénées
Aux Vins Des Pyrénées featured in one of Eating Europe's Paris food tours, and it's easy to see why. The rustic, old-fashioned bistro interior is as elegant as the French food on offer here. On the tour we tried cheese and wine, however, I was looking for more this time around.
Starting with oysters, which were served over fresh ice with some citron and cracked red pepper, I quickly followed up with a steak tartare, a rich raw-beef dish topped with an egg yolk and a dusting of grated comté. The strong flavors of the tartare paired beautifully with the subtle plum tones in my dark Bordeaux red. 
After such a rich meal, I went for a smooth vanilla ice cream for dessert. I can also suggest the fromage platter, complete with France's best regional soft, hard, and blue cheeses, for anyone looking to push their palette. 
You can also skip the pricey meal and head upstairs to the charming cocktail lounge, or go the other way and rent out a whole room at Aux Vins Des Pyrénées for a private event.
Hours: Open 9 am to 2 am Thursday to Tuesday; 8 am to 2 am on Wednesday
Price Range: €€
Address: 25 Rue Beautreillis, 75004  
Website: https://www.vinsdespyrenees.com/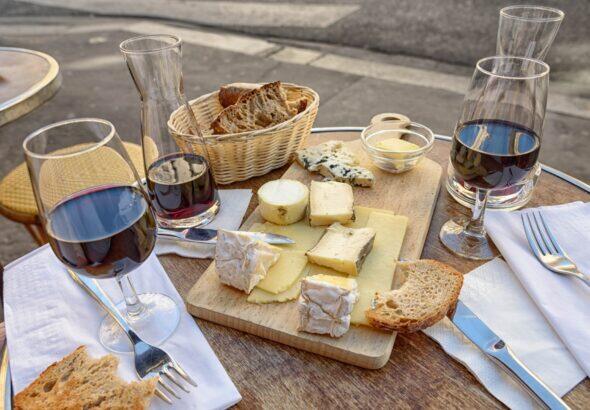 Photo by: Jean Beaufort
Breizh Café
If I ever need a light bite in Le Marais, my favorite stop is Breizh Café on Rue Vieille-du-Temple. This traditional Breton crêperie doubles as a bustling wood-paneled deli, offering produce and ingredients from across Northern France. After arriving, I went past the deli counter and was seated at one of their casual high-top tables. 
Breizh specializes in affordable Sarassin or buckwheat flour galette, however, I didn't settle for their simple butter dish. Instead, I opted for the Complète Oignons, which came with artisanal egg, ham, cheese, and onions.
The caramelization of the onions mellowed the salty ham and cheese, and the meal's only fault is that I always eat a galette far too quickly, so I made sure to order two!
And it wouldn't truly be complete without the sucre-citron crêpe for dessert. Although, if you prefer a heartier meal, you can travel two streets down and find Robert et Louise. This lodge-like restaurant serves unmissable steak frites. 
Hours: Open daily from 10 am to 11 pm
Price Range: €
Address: 9 Place des Vosges, 75004  
Website: https://www.breizhcafe.com/le-marais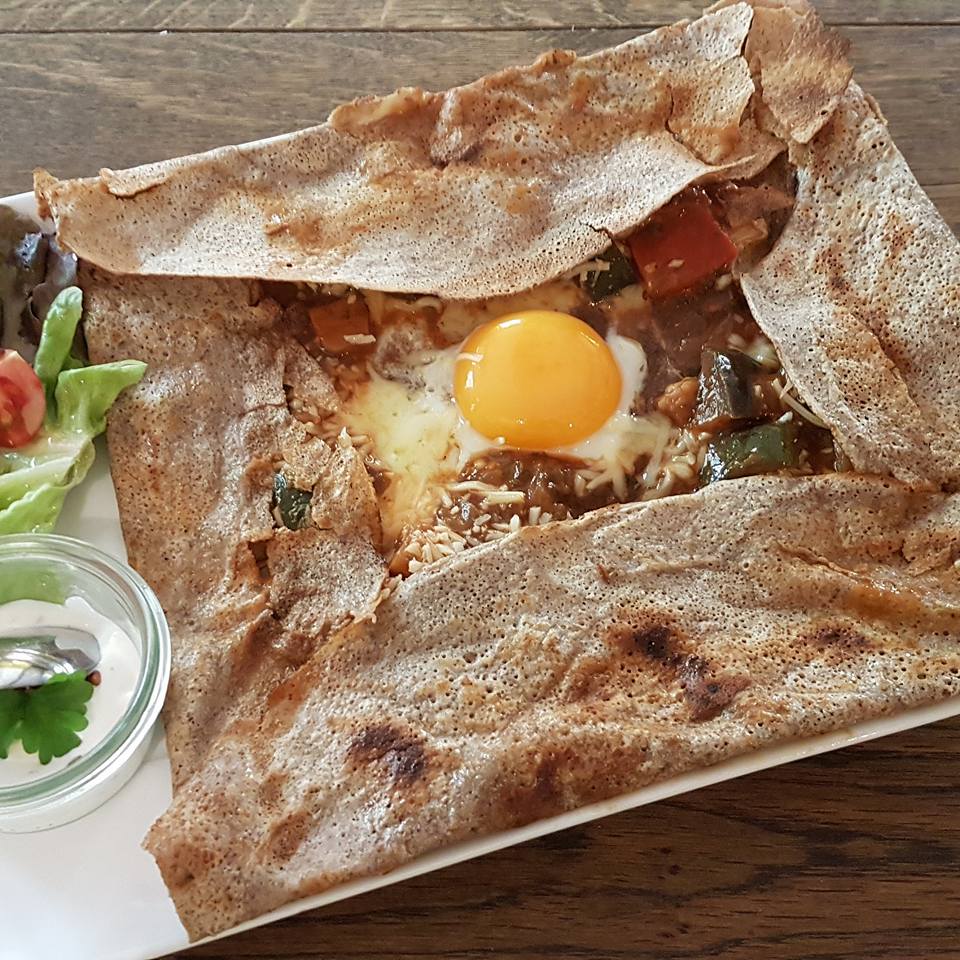 Photo by: Ble Noir Marburg
L'Ambroisie
L'Ambroisie is the place to be for high-quality French cuisine. Tucked away in a grand building on the corner of the prestigious Place des Vosges, L'Ambroisie's subtle entry hides a decadent three Michelin Star-restaurant.
Tapestries adorn the pale honey walls as simple gold-rimmed plates lay atop pristine white tablecloths. Chandeliers, of course, hang from the ceiling, somehow not appearing cramped in the intimate setting. Upon entering, I was immediately led to my seat and offered the menu and wine list. 
I chose the Cominée de Pigeon and at €110 it was one of the cheaper items. The dish arrived promptly, with the pigeon's expertly crisped skin enclosing soft, tender meat in a rich jus. I couldn't resist closing my meal with a tarte au chocolate, despite that setting me back another €38.
L'Ambroisie is ideal for a special occasion when I have the money to splash out in one of the world's best French restaurants, but I probably couldn't eat there every night of the week!
Hours: Open 12 noon to 1:45 pm and 8 pm to 9:45 pm Tuesday to Saturday; closed Sunday and Monday
Price Range: €€€€
Address: 9 Place des Vosges, 75004  
Website: https://www.ambroisie-paris.com/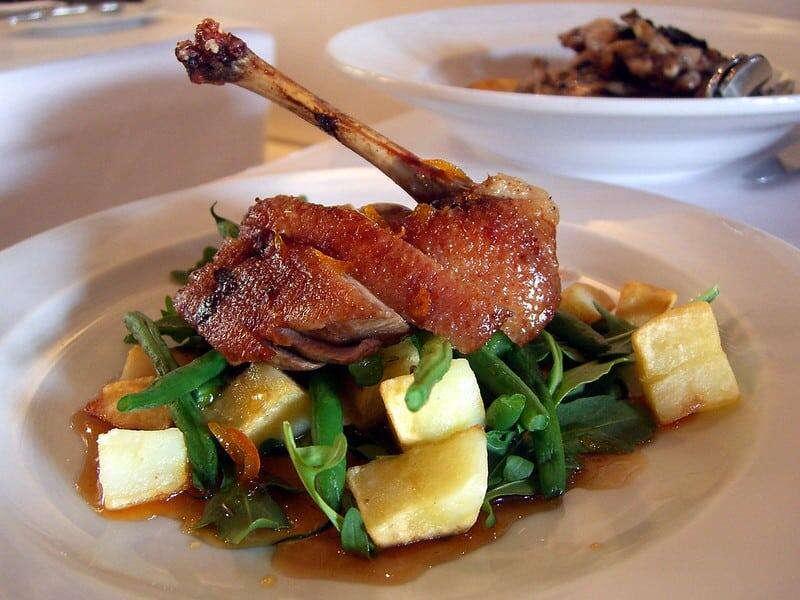 Photo by: Annie Smithers
Miznon
I was introduced to Miznon while on Eating Europe's Le Marais Food & Wine Tour, where we tried the Boeuf Bourguignon Pita and learned the history of this interesting Israeli eatery that combines traditional Jewish street food with comforting French recipes.
Miznon's specialty is its 'in a pita' selection, where you can find anything from zesty ratatouille and champignons to a spice-infused falafel and lamb kebab, delicately wrapped inside a soft, hot pita bread.
The setting only enhances the food, an open-space venue based around a countryside kitchen, complete with tiled walls and wooden beams with hanging garlic.
If the line at Miznon is too large, try the neighboring L'As du Fallafel on Rue des Rosiers for a similar Eastern Mediterranean snack. 
Hours: Open 12 noon to 11 pm Sunday to Thursday; 12 to 4 pm Friday; closed Saturday
Price Range: €
Address:  22 Rue des Ecouffes, 75004 
Website: https://www.miznonparis.com/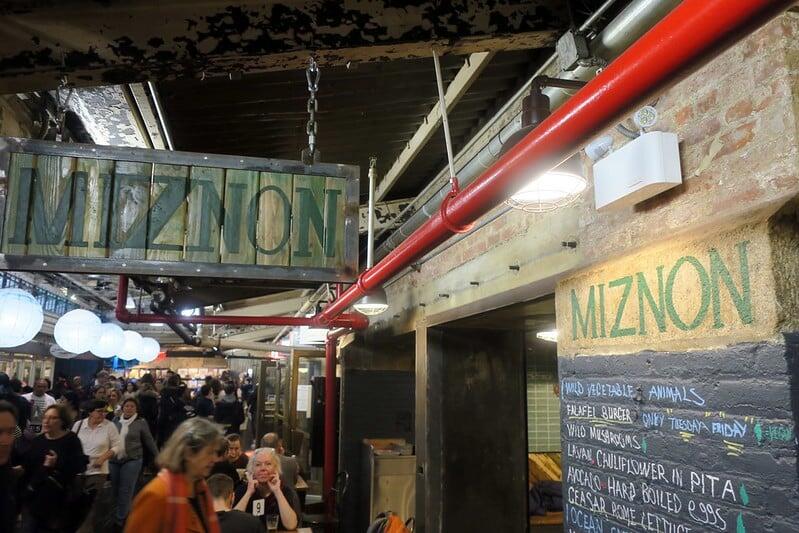 Photo by: Wally Gobetz
Khao Thai Sévigné
Although this area is home to many of Paris's best French dishes, occasionally I'll be in the mood for something further afield. Enter Khao Thai Sévigné, the Marais district's best Asian restaurant that serves up Thai-fusion dishes packed with explosive flavor. 
I sit down inside the narrow, contemporary venue and begin with a small €15 Tom Yang Gung; I can never say no to this spicy prawn-laden soup when it appears on a menu.
Khao's fruits de mer coconut curry is my usual choice, but this time I opted for their cheaper €22 tamarin magret de canard, a Thai twist on the Aquitaine delicacy. The magret's tender meat and salty, gamey taste are complemented by the tart sweetness slipping out from the tamarin. 
My meal was accompanied by a kir royale (champagne with a dash of fruit liqueur) while my dessert, ginger and nougat, was washed down with a fragrant jasmine tea. I highly recommend trying Khao Thai Sévigné and seeing which interesting aromatic dishes pique your interest. 
Hours: Open daily from 12 am to 2:30 pm and 6 pm to 10:30 pm 
Price Range: €€
Address: Rue de Sévigné 10, 75004  
Website: https://khaothaiparis.com/en/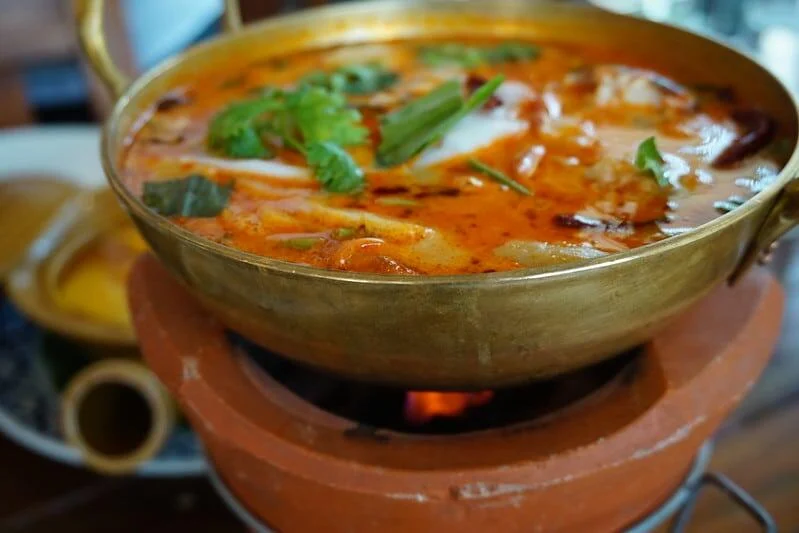 Photo by: Talay Thip
Café Hugo
This classy brunch bar offers a casual dining experience that's perfect for either a friendly meetup or a mid-morning business meeting. Skillfully prepared coffees and breakfast cocktails go along with a range of dishes, including brunch classics and usual Fench fare like pavé de boeuf. 
I chose the poached eggs benedict topped with a creamy hollandaise sauce and a satisfying crunch of freshly chopped chives. With an iced latte on the side, of course. 
On cooler days, I enjoy sitting inside near the wall-length mirrors covered in the chef's specialties. On a nice summer's day, the outdoor wicker seats, which are sheltered by the 17th-century stone-and-brick arches that encircle the Place des Vosges, provide a shady spot to enjoy your meal. 
Café Hugo is another of the venues I visited on my Eating Europe tour, where I sampled escargots a l'ail paired with a refreshing white wine. 
Hours: Open 7 am to 1 am Sunday to Thursday; 7 am to 2 am Friday and Saturday
Price Range: €
Address: 22 Place des Vosges, 75004  
Instagram: https://www.instagram.com/cafehugoparis/?hl=en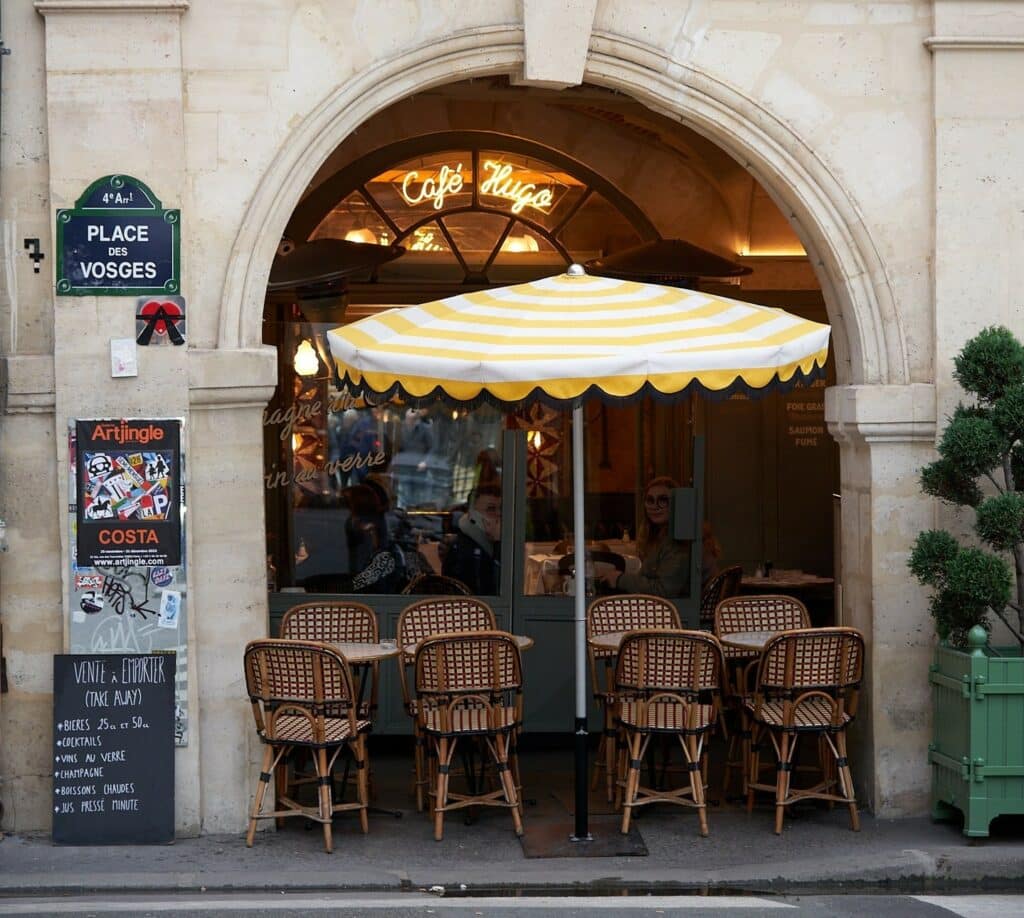 Photo by: Café Hugo
Les Philosophes
From 9 am to 2 am, the tiny tables and weaved chairs that surround and fill Les Philosophes are a constant thrum of activity. This traditional Parisian bistrot serves conventional, yet exquisite, French cuisine, alongside wine from across the nation.
Only a couple of blocks away from the Paris Town Hall and the Rue de Rivoli shopping street, Les Philosophes is easy to reach. I always take advantage of their typical Menu du Jour and get a predesigned entree – plat – dessert combo off their chalkboards for under €30. 
But I'm here today for a childhood favorite of mine: confit de canard. If you've never tried this dish before, you've been missing out. 
A whole duck thigh is coated in duck or goose fat and slowly cooked in an oven or casserole until the meat is so soft it can fall off the bone. It's then seasoned with a healthy dose of garlic and served with crispy rosemary and garlic roast potatoes.  You'll definitely never look at ducks the same way after eating this.  
For more mouthwatering dining experiences in Paris, try the dessert and pastries of Murciano, a historic Jewish bakery, explore the meat-free options of Bioburger Le Marais, or dive into the Italian deli and dinner extravaganza of Eataly. 
Hours: Open daily from 9 am to 2 am; closed all of August
Price Range: €€
Address: 28 Rue Vieille-du-Temple, 75004 
Website: https://rphunter.com/cafeine-reservations-3/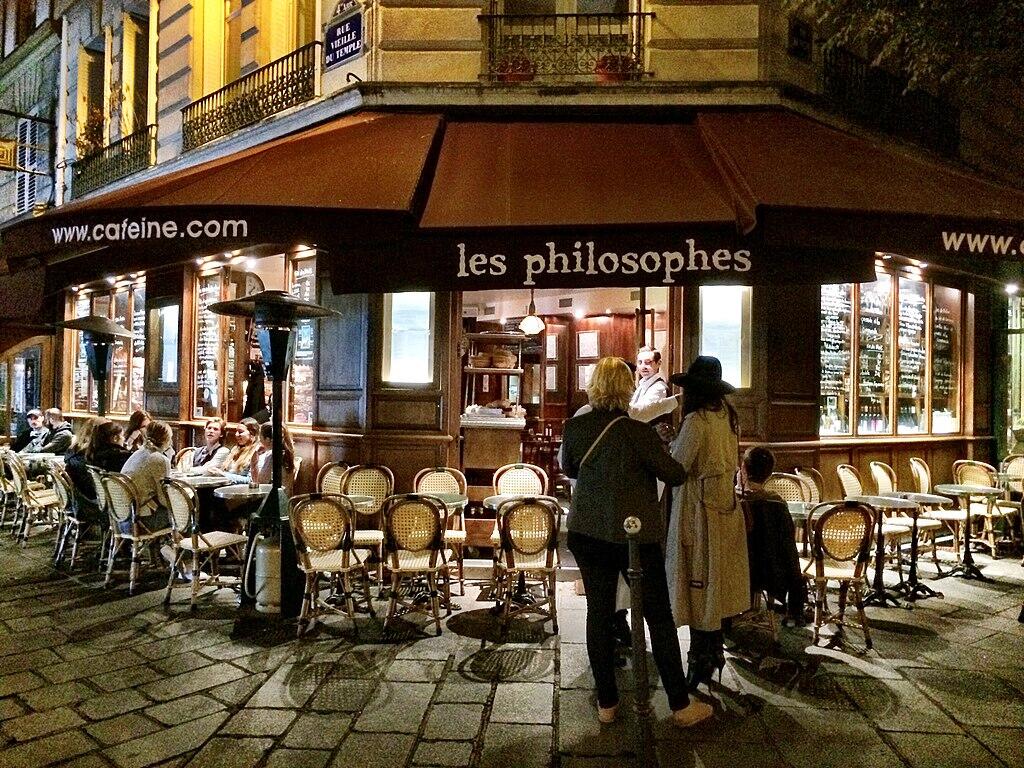 Photo by: Guy Courtois
Cover Photo by: Henrik Berger Jørgensen