3637 Views
British food, eh? Two words that go together like "Norwegian wine" or "Russian cars," you say? Think again!
France and Italy are celebrated for their sophisticated kitchens, while Poland and the Balkans are stirring taste buds as word of their culinary specialities get around. Meanwhile, UK food has been forever branded as bland or uninventive. A day wandering through London will soon set you straight on that!
The UK has long been a hotspot for migration, and British cuisine has evolved with its international culture. London is a hub of diversity and experimentation, so a trip around the city gives a delicious taste of what's really cooking in kitchens from Land's End to John O'Groats.
Fresh ideas from around the world
British people love to eat more than they love to cook. They've happily tried, enjoyed, and adopted recipes from all over the world. Often these inventions are transformed into anglicised fusion dishes, while you can still taste the real thing in one of the many authentic foreign-food restaurants run by ex-pats from Turkey, India, Cameroon, the Caribbean…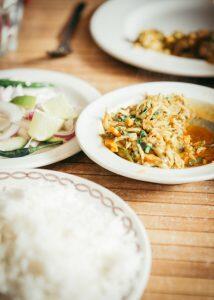 Just look at the traditional Asian curry – it's become an adopted national dish! Yes, despite their reputation for preferring mild-tasting meals, many British people like their food spicy, and handling a spicier curry than the next person is a point of pride. In Manchester there's even a 'Curry Mile' – a high street made up of restaurants, shisha
bars, and food markets, which evolved with the arrival of textile mill and factory workers from the Asian subcontinent in the 1950s and '60s.
By the 1990s, curry had become so mainstream that the England football team's song was named "Vindaloo." That's because chicken tikka masala was the most popular dish in the UK, but 'tikka masala' doesn't rhyme with much.
Funnily enough, although vindaloo is a Goan dish, it actually originated in Portugal. And the Portuguese have introduced plenty of new flavours to the British pallet. For a start, the Vauxhall area just south of London's River Thames has one of the largest Portuguese populations north of Porto. And Londoners love their custard, so you can be sure you're never far from a sweet and delicate pastéis de nata, if rhubarb and custard doesn't float your boat!
The first waves of Portuguese migration to the UK long predate their membership of the European Union, but EU
rights have ensured Britain's culture has become even richer in recent years. Polish pierogi takeaway shops and Romanian family-run grocers are among those who've livened up UK high streets.
It's a great mix. And if you're ready to take it to the next level, you can even experience how a Polish-Indian dumpling, the Canton-Portuguese pork chop bun, or a Japanese-style full-English breakfast tastes!
Traditional British food comes of age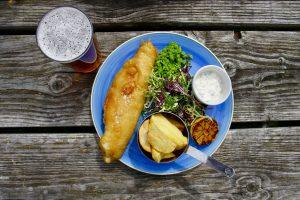 But in case you think that the British import all their good ideas, let's not forget who makes the best craft beer, the most satisfying fish and chips, and the most comforting roast beef and veggies in the world.
Food and drink like these British classics aren't always subtle, but they complement the culture and climate perfectly – and it's come of age in the 21st century. Depending which pub or chippie you choose, you'll find these dishes are now available in 'hearty and authentic' (cheap and cheerful) or 'modern gourmet' (posh) versions!
Can it be true that in the UK, there's almost too much good food to choose from? Yes! So why not begin with Eating Europe's four hour East End Food Tour in London? You'll sample eight delicious tastings in markets, grocers, bakeries, pubs, and restaurants as you discover the history and vibrant present of a country – and its kitchen – in transition.