2475 Views
Living in Rome, I am often asked the seemingly simple question of "What's it like?" The adjectives that come to mind when describing the Eternal City are almost always positive, something along the lines of gorgeous, historical, and breathtaking. But the days I find myself trapped on an overcrowded, thirty minute late, air conditioning-less bus I might just answer unbearably hot, crowded, smoggy, and loud. Like all relationships, mine with Rome certainly has its ups and downs. Luckily though, Italy's capital is located close to a number of small quiet towns that offer a temporary escape from the chaos of the city.
My favorite weekend getaway? Hands down, the Amalfi coast. Consisting of thirteen small municipalities that are found on the coast of the Sorrentine peninsula, it takes only a quick Google image search to get why la costiera amalfitana is considered a UNESCO World Heritage site: the architecture quite literally follows the topography of coastline, its homes and restaurants built into the mountains. Besides its obvious beauty, the Amalfi coast also has a rich Medieval history, mild weather, and an exquisite cuisine (lemons, plentiful in this region, are commonly used.) Getting to Amalfi from Rome is also foolproof. Take a train to Salerno and directly outside the station board the bus that winds around the coastline and stops in every village.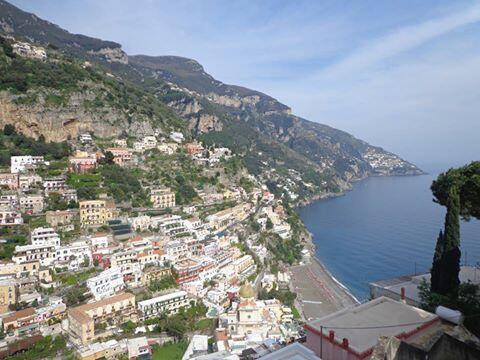 To make your trip to Amalfi even less stressful (remember: this is supposed to be a vacation), we've compiled a list of the loveliest, yet most affordable accommodations on the coastline. After all, your biggest conflict of the trip should be whether to order risotto or rigatoni, not whether the photos on the website were entirely accurate. Relax. We've got you covered.
Cheap Stays on the Amalfi Coast
Town: Tramonti
Directly translated as "among the mountains," Tramonti is home to the baroque St. Peter the Apostle church and Castle of La Santa Maria Nova.
Accommodations: Puesta del Sol
Simple and impeccably clean, Puesta del Sol's friendly staff provides you with a continental breakfast served on your room's veranda. The location of this bed and breakfast is also a far cry from the hustle and bustle of the city: the beach is easy to reach and hiking trails are located nearby, guaranteeing a peaceful immersion in nature. Make sure to bring your Italian dictionary, however, as the owners don't speak English. Around 55 euro per night.
Piazza Ponte 1, 84010 Tramonti
Tel 089 856163
Town: Maiori
I had the privilege of vacationing here in May. Night time strolls along Maiori's beaches and a visit to Santa Maria a Mare Church are highly recommended.
Accommodations: Meuble Casa Mannini
The inside of this bed and breakfast is decorated with the colorful ceramic tiles Amalfi is known for, which put the author in an instantly cheerful mood. The rooms also offer a terrace that overlooks the city's charming central street as well as a view of the ocean. Dine at the nearby Ristorante Maisanello for sumptuous seafood. Around 60 euro per night.
Via Casa Mannini 2, Maiori
Tel 331 62 61 044
Town: Positano
This town went relatively unnoticed by tourists until the 1950's when it was the subject of John Steinbeck's essay "Positano bites deep," published in Harpers Bazaar.
Accommodations: Casa Cuccaro B&B
Owners Dena and Pepe will provide you with tips and advice about what to see and where to eat. There are 1700 steps leading up to this bed and breakfast (don't worry, a bus is available to take you to the top) providing a spectacular balcony view of the Mediterranean and mountains. Around $ 75 per night.
Via Nocelle 28, Positano
Tel 089 875458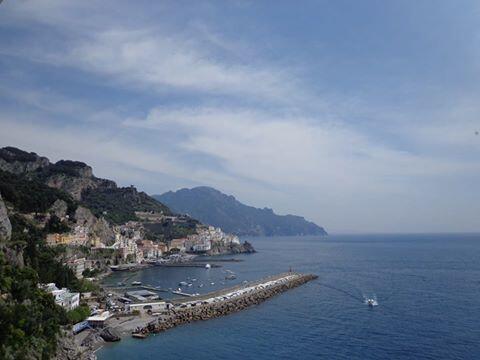 Town: Vietri sul Mare
Known for it's vibrant ceramic art, Vietri sul Mare is the first or last town (depending on what direction you're driving) on the Amalfi Coast.
Accomodations: B&B Dimora Carlo II
This b&b offers a breathtaking view of the gulf of Salerno as well as a small kitchen if you prefer to cook your meals at home. Free wifi is included. Around 70 euro per night.
Via Emanuele Gianturco 1, Vietri sul Mare
Tel 089 211841
Town: Furore
Worth visiting is Saint Giacomo church, which features a collection of religion iconography of female saints as well as the open air museum of murals that adorn the walls of the houses in Furore.
Accommodations: La Vela B&B
This family run bed and breakfast gets five stars in hospitality. The dining room offers a spectacular ocean view that provides breakfast in the daytime hours and transforms into a restaurant at night. Around 65 euro per night.
Via Mola 6, Furore
Tel 089 830563
* * *
Contact [email protected] with Blog Enquiry in the subject title for any feedback or requests for a topic you want us to cover. Voted one of the best things to do in Rome, Eating Italy Food Tours offer Rome walking food tours through one of Rome's oldest and most characteristic neighborhoods.