4132 Views
An important part of planning any trip to Amsterdam is finding the right place to stay once you get here. Sometimes people can be surprised at the cost of accommodation in Amsterdam, and since there is so much delicious food around, many find themselves trying to decide on whether to spend their euros on accommodation or cuisine.
Well, you know which one we would pick! The good news is that you don't have to choose.
Many people find that by staying in an Amsterdam budget hotel and saving money on accommodation, they can then put that money towards tasty treats around town. Yes, cheap hotels in Amsterdam can be found, and here are some of our favorites. All prices listed are per double room.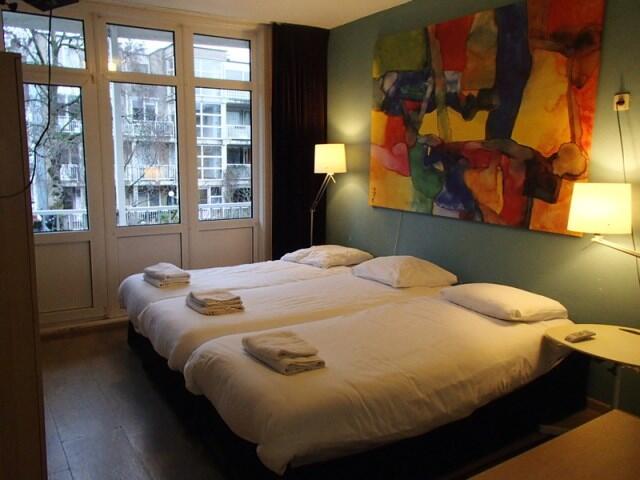 Top 4 budget-friendly hotels in Amsterdam
Bicycle Hotel
From the time you first see the classic Dutch bicycle hanging outside the Bicycle Hotel, you know you have come to stay somewhere delightfully different. Once inside, you discover that its true signature is its environmentally friendly attitude towards guest accommodation and the great neighborhood it resides in. Through solar panels and an impressive recycling program, the hotel manages to strike the perfect balance between profit and planet, and the surrounding De Pijp neighborhood will help make your stay memorable with its blend of hip and multicultural influences. Budget-friendly bike rentals are also available at the hotel, saving you both time and money.
Van Ostadestraat 123
020 679 3452
bicyclehotel.com
Price: €30 to €120 depending on the season and type of room.
Hotel Pax
In a perfect location between our favorite Jordaan neighborhood and Dam Square, Hotel Pax is home to affordable rooms with a stylish twist and basic but modern amenities. In true Amsterdam fashion, Hotel Pax is located at the top of a tall staircase, and once you reach the top, you will find a budget-friendly hotel that continually draws back visitors year after year. Right around the corner from the Anne Frank House and the Nine Streets, the atmosphere is perfect to compliment your stay in Amsterdam without weighing too heavily on the wallet.
Grachtengordel-West
020 624 9735
hotelpax.nl
Price: €35 to €140 per night depending on the season and the type of room
Amstel Botel
While the prices at Amstel Botel may straddle the border of budget-friendly territory in some people's opinion, The Amstel Botel's location and overall guest experience still make it a steal in ours. Located on a large vintage boat near the NDSM Wharf in the Amsterdam Noord area, you really do get the best of both worlds at the Amstel Botel: stay in an up-and-coming neighborhood of Amsterdam while being located right by Central Station. Free ferries shuttle you from the dock near the Botel to Central Station in minutes, and from there it's an easy walk to anywhere in Amsterdam. Back at the Botel, the surrounding NDSM Wharf is home to a burgeoning cultural scene, and the Botel offers a large deck for those who want to take in the sun and views of the city.
NDSM Plein 3
020 626 4247
amstelbotel.nl
Price: €93 per night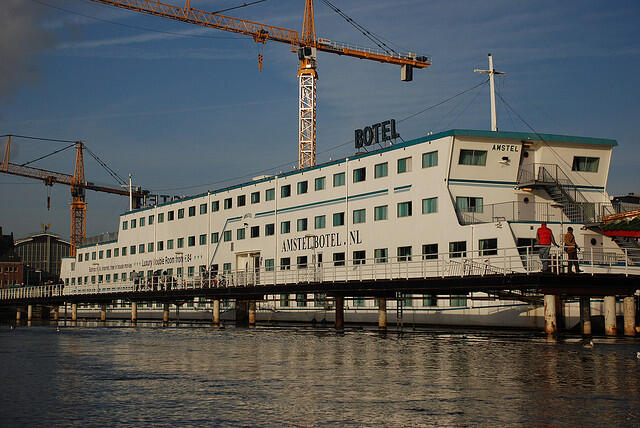 Photo credit: https://www.flickr.com/photos/manfrys/2135430384
Frederic Hotel
Home to three rooms on what is widely considered the prettiest canal in Amsterdam, Frederic feels more like a home than a hotel. Once inside Frederic's cozy interior, you are treated to an eclectic mix of vintage decorations and wall furnishings, and when you walk out of the door and spot the Brouwersgracht, you are treated to images of Amsterdam you thought only possible on postcards. Simply put, staying here feels like being in on a secret, and even if they are full, they do have some other houseboats and apartments in their repertoire they may be able to accommodate you in.
Brouwersgracht 78
020 624 5509
frederic.nl
Price: €65 to €100 per night, depending on season and type of room