2069 Views
Please sir, can I have some more? … Hang on a minute, that's not from Charlie and the Chocolate Factory. That's Oliver!
Ah well, it's still very apt. I mean who wouldn't want more chocolate (diabetics and the lactose intolerant aside, sorry guys!) if it was on offer?
Oct 14th saw the start of Chocolate Week. Yes that's right – a whole week – 7 days dedicated to sweet stuff. Chocaohlics of the world rejoice.
So what's it to be? Dark, milk, or white chocolate? Cadbury, Galaxy, Milka, Hershey, or Lindor? A Mars bar or Twix? Cream Egg or Malteaser Bunny? With ice cream, over waffles, or within cookies?…can you tell I have a sweet tooth yet? This week is going to be fun!
How To Make Chocolate
So what is chocolate? Is that a stupid question? Maybe a better one is: "How is it made?" At the start of last year I was lucky enough to visit the tiny Caribbean island of Grenada and learn the answer for myself at the Belmont Estate Cocoa Plantation. Upon visiting the estate and taking the tour, even I, a chocolate fiend and enthusiast, did not expect to be greeted with this…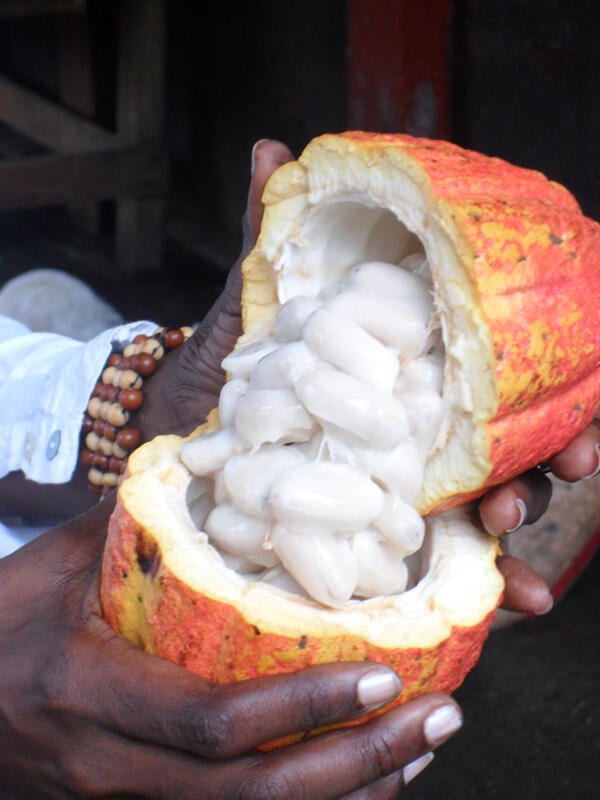 Yep, that is where chocolate comes from, but how?  Well the process goes a little something like this…
Step 1- Harvesting
In order to harvest the cocoa, plantation staff set about clipping the colourful oval shaped pods from the row upon row of trees in the orchards. The pods are then cracked /cut open by a cutlass- or machete-wielding worker, and, once open, the white, slightly slimy white beans are cut out.
Step 2- Sorting and fermentation
The next step is to place those white beans into a sifter. Within the sifter excess water is drained out, and any debris such as leaves and stones are also removed. The beans are then weighed and placed in large wooden bins (fermenting boxes) before being covered with huge banana leaves. The beans will remain in those boxes for around 7-8 days during which time fermentation takes place. In order to ensure an even distribution of heat and airflow throughout the fermentation process, it is imperative that the beans are moved between different bins every other day.
Over the course of those 7-8 days the sticky/slimy white substance previously covering the beans disappears from sight. As a result, the beans emerge a rich shade of brown. This is also the point at which the flavour develops.
Step 3 – Airing
Now that the beans are nice and brown, and are on their way to tasting amazing, its time to dry them out. Removed from the fermentation bins, the beans are now placed outside on wooden trays for a spot of sun-bathing. Their tanning session is intense and lasts for around 6-7 days, during which time plantation workers will shuffle their feet through the beans in order to ensure an even air flow.
Step 4 – Polish
It's not all about tasting great – the beans have to look good, too! Once dried, the beans then go through a cosmetic process called polishing. It's just as it sounds: polishing removes any dried pulp residue on the seed and gives the bean a smooth, polished look.
Steps 5, 6 and 7
Step 5 is the packing, usually by hand. Step 6 is selling the packages of shiny beans. Step 7 is everyone's favourite – eating!
Where Does Chocolate Come From
So that's how chocolate is made, but where did it come from? Who found/created it? Luckily the Official Chocolate Week website has provided a handy chocolate timeline in order to answer those questions. Here is a summary:
Chocolate Timeline
2000BC – 1500AD – Cocoa is drunk by the ancient civilizations of Central America
1519 – Spanish explorer Cortes meets Aztec emperor Montezuma and discovers cocoa
1527 – Cortes takes cocoa home to Spain
1650s – Chocolate comes to England – YAY!
1824 – Mr. John Cadbury opens his first chocolate shop in Birmingham
1875 – Milk chocolate is created in Switzerland
1905 – Cadbury Dairy Milk is launched
2013 – I travel to NYC and bring home these (below) for other people, but pretty much scoff the lot myself…

Events taking place during Chocolate Week
So that's your learning done for the day! Now to the good bit, the bit that tells you when and where you can get your hands on some chocolate this week. It's easy really. Simply check out the events page of the Official Chocolate Week website and you'll be soon be running out of space in your diary. Here's a few of our favourites based in London town:
Salon du Chocolat, London, 18-20 Oct
The world's largest chocolate show comes to the capital for the first time. Featuring the world's best chocolate, demonstrations and more importantly a bath filled with chocolate alongside a full size chocolate cocoa tree. It sounds amazing.
Chocolat film experiences, Shrewsbury and London, various dates during Chocolate Week
Eat along with Johnny Depp and Juliet Binoche at a few rather special screenings of the movie Chocolat at Bea's of Bloomsbury in London.
Chocolate tastings at John Lewis, all stores, throughout Chocolate Week
Pop into JL's throughout the week and sample their chosen 'Chocolate of the Day', it'd be rude not to really. The selection is set to include House of Dorchester, Prestat, and Charbonnel et Walker.
If you're not from London and reading this in envy, fear not for events are taking place all over the UK. As per the above, simply search the events page of the Official Chocolate Week website for the events taking place in a town or city near you.
Benefits of Eating Chocolate
A week of chocolate on the lips, several lifetimes on the hips? Whilst chocolate does contain a lot of sugar and, therefore, its consumption in large quantities might lead to a little bit of weight gain, let's ignore that for this week and focus on the positives of eating chocolate. Indeed, I tell you no lies! Chocolate in some instances can be considered good for you. That's music to your ears, right?
Dark chocolate may positively affect your circulation.
Several studies have suggested that eating chocolate can reduce blood pressure in both overweight and normal adults.

Chocolate may boost cognitive abilities.

Dark chocolate may lower cholesterol levels in adults.

Its consumption is said to release endorphin's and therefore make you happier.
That's your lot from us. We have told you all you need to know. Anything we may have missed (unlikely 🙂 ) can be found by using the link below. Now go forth and eat like your life depended on it – and bring me back some of whatever you find!
Learn more at chocolateweek.co.uk
* * *
Need to mix up your London food scoffing for the week? Join Eating London Tours for a walking tour through the East End. It only gets more delicious!