2695 Views
Having grown up in snow-starved Miami, it's a bit of a novelty for me to experience a Christmas characterized by cold weather and hot beverages instead of sun-soaked beach trips!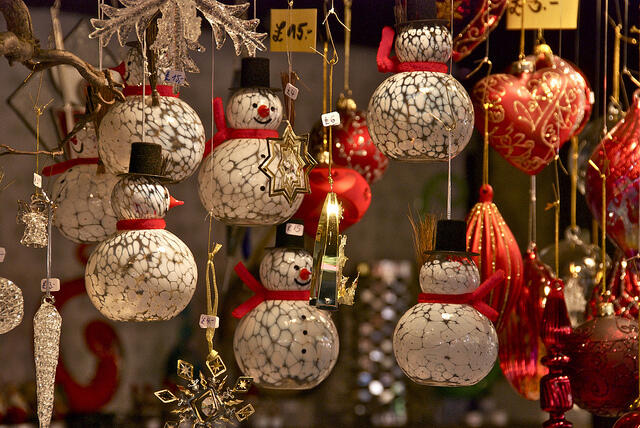 This will be my second Christmas in London, and it's easily ranked as one of my favorite places to spend the holidays. Not only is the mulled wine flowing, but the city comes alive with merry markets, twinkling lights, and almost more Christmas spirit than you can handle! If you're looking for a few special ways to spend the holiday and make some lasting memories, we've come up with a list of great activities to keep you busy over the holidays!
What To Do During Christmas in London
Christmas lights on Oxford Street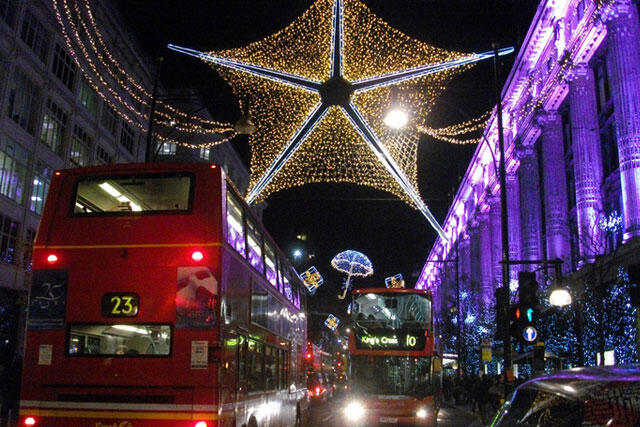 It's one of the few instances that I'll advocate braving Oxford Street for any reason, but the extravagant lighting and decoration lining one of the busiest streets in England makes the crowds well worth the hustle and bustle. 750,000 LED lights will illuminate the high street and bathe shoppers and revelers with Christmas cheer. The spectacle will run through January 6, 2014, so there's plenty of time to venture down and have a look!
Pantomimes
You can take advantage of any number of pantomimes in the greater-London area, but there are a few this year that look especially promising! Cinderella: Boom or Bust offers a fun twist on one of the most popular holiday pantomimes. Running on December 15 – with all proceeds going to The SilverLining, a charity devoted to helping those with brain injuries – the show will be a bit racy and centered around characters like the Ugly Sisters and the Fairly Good Mothers. Tickets are available through the Cinderella: Boom or Bust website.
If you're looking for something that the little ones can enjoy as well, Dick Whittington is a classic on the pantomime circuit! Showing at Queen's Theatre through January 2014, the show is a "rags-to-riches mewsical extravaganza that's purrrfect for the whole family." Tickets begin at £12.50 and can be purchased through the Queen's Theatre website.
Ice Skating in London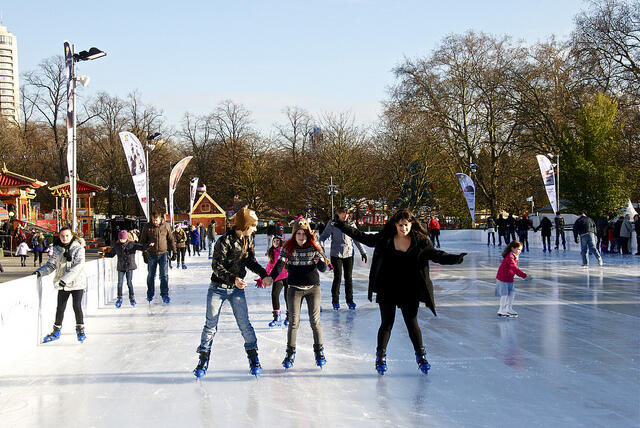 For those with coordination – or a good sense of humor! – and a tolerance for the cold, why not go ice skating at one of the many venues & rinks sprinkled around the city? We have a great guide for where you can ice skate in London! You can skate until your toes turn blue!
Handmade Christmas Market
For a bit of handmade holiday cheer, the Handmade Christmas Market is perfect for finding last-minute gifts and hand-crafted products. The market runs for three days (December 13–15) and takes place in the Live Quarter area of the O2 Arena. If you want to do more than look, there will be a variety of free workshops available on site as well. Tickets start at £6.50 and are available online and at the door.
A night at the fair
One of the most popular holiday attractions in London is the Hyde Park Winter Wonderland. Running until January 5 (but closed on Christmas Day), the fair boasts an ice rink, observation wheel (think The Eye, but a smidge smaller), Santa Land, and an ice sculpture garden. There's truly something for visitors of every age! Adults can fill up on German beer and mulled wine in the Bavarian village in between doses of merriment! While the fair is free to enter, individual attractions may require tickets.
Movie Night
Of course, if you can't fathom the idea of heading out in the icy weather, why not stay in with some hot holiday treats (like this amazing mulled wine recipe) and have a holiday movie marathon? Might we recommend Bad Santa followed by Love, Actually?
We'd love to know some of your favorite things to do in London during the holiday season! What are some activities you're really looking forward to?
***
Before you make it to the sparkling light displays, ice rinks, and mulled wine, why not join us for a walking tour of the East End? We'll introduce you to local delicacies, neighbourhood characters, and the fascinating history of this diverse area. See you soon!