1931 Views
With its famous clubs, trendy bars, upmarket shops, and theaters that people visit from all over the UK and beyond, the ever-eclectic and vibrant area of Soho is London's undisputed capital of cool. With a diverse culture of ethnic cuisines and bars open-late, the Soho neighborhood makes a great place to base yourself for exploring all London has to offer. And for foodie fans, check out the new, exciting Foodie Club London website featuring London's many wonderful foodie places—whether you want to dine out in style, pop in for a snack, drink or shop! And it's a two-way street! Every business listed gives a little something back by way of a promotion (just sign up for a free membership with unlimited access).
And if you're going to be in the capital of cool then you're going to want a list of trendy Soho hotels to choose from! So whether you're after a luxurious London experience, a quirky boutique where you'll feel right at home, or just a simple base to explore from, we've got you covered with our ultimate guide to Soho hotels.
Cool Soho Hotels: Where to Stay in London
The Soho Hotel
It seems appropriate to start our guide with a hotel that takes its name from the area itself. The Soho Hotel, sister to The Covent Garden Hotel (no prizes for guessing where that hotel is), is a place that, having stayed there once, you're probably not going to want to leave. The Soho Hotel is cool, calm, and the perfect place to retreat to after a day of exploring bustling and busy Soho. And if hanging out in a homely hotel room for the evening doesn't float your boat, you can always head down to the hotel's screening room for their Sunday night film club.
4 Richmond Mews, London, W1D 3DH
+44 (0)20 7559 3000
firmdalehotels.com
Rooms from around £360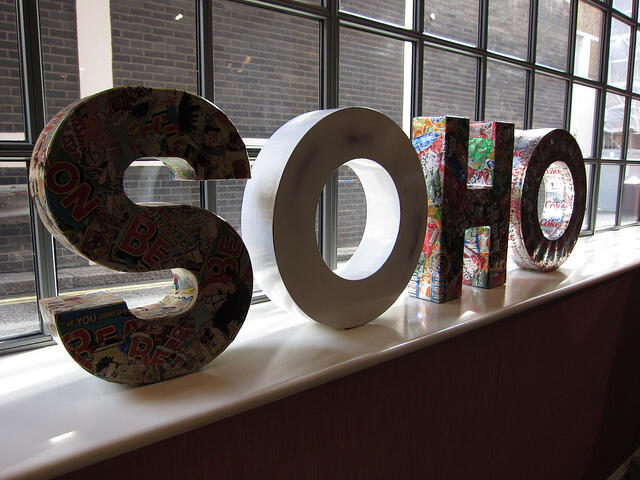 Sanctum Hotel
If edgy and glamorous is what you're after, then the Sanctum Hotel, located in the heart of Soho between Regent Street and Carnaby Street, is a must. Think 4-poster beds, mosaic mirror glass columns, and free-standing bath tubs. Head up to the intimate rooftop bar for a few cocktails above the crowded streets of Soho before checking out the hotel's hydro hot tub.
And if Fifty Shades of Grey inspired you and your partner to spice things up a bit in the bedroom, Sanctum Hotel is home to London's first luxury erotic suite, featuring an "adults only toy cupboard"!
20 Warwick Street, London, W1B 5NF
+44 (0)20 7292 6100
sanctumsoho.com
Rooms from around £190
Dean Street Townhouse
Proving that cheap Soho hotels are actually a thing is Dean Street Townhouse, which shies away from the superficially trendy and, instead, goes for a more traditionally elegant and timeless look. A Georgian townhouse located near some of Soho's best restaurants and bars, the rooms aren't huge but they do boast comfortable interiors and, let's face it, you won't be spending all your time sleeping anyway, not when London has so much to offer.
The restaurant at Dean Street Townhouse is particularly good, with a menu full of modern British dishes served up in their cozy dining room.
69-71 Dean Street, London, W1D 3SE
+44 (0)20 7434 1775
deanstreettownhouse.com
Rooms from around £200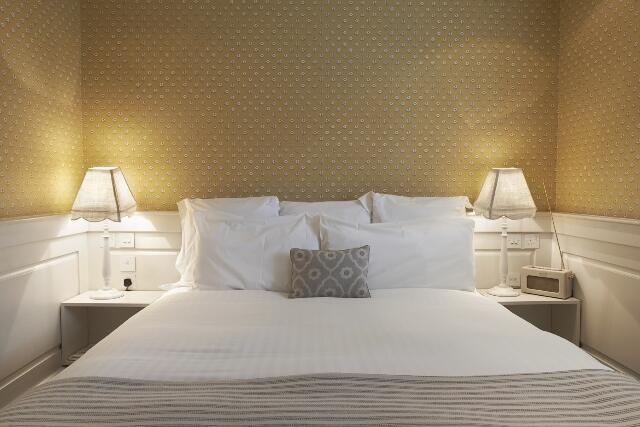 The Nadler
You know what's really cool? A hotel which feels like a home away from home. Where a mini-kitchen with a microwave, fridge, kettle (with complimentary tea), and Nespresso machine (with complimentary coffee) can be found right there in your room. This is The Nadler hotel, affordable luxury near Soho's theaters and brilliantly positioned for a spot of shopping on Oxford Street and Carnaby Street.
Now, the mini-kitchen's probably something to do with the fact that the hotel doesn't have its own restaurant. But, really, who needs to spend an hour having a long, luxurious breakfast when you could be quickly preparing your own and be out the door in a matter of minutes?
10 Carlisle Street, London, W1D 3BR
+44 (0)20 3697 3697
thenadler.com
Rooms from around £190
As you can see, trendy Soho hotels aren't hard to find. The only difficulty is choosing which one you're going to stay in on your next trip to London!