5187 Views
Czech beer and where to find it in Prague
Czech beer is some of the best in the world so it's no surprise that people in the Czech Republic love to drink it. The country has boasted the highest beer consumption per capita for an impressive 25 years running according to an annual study conducted by Kirin. So, what is it that makes Czech pivo so impossible to resist? Find out more about Czech beer and where you can try it for yourself in the capital city, Prague.
Dive into Prague's beer culture
Prague has a long history of producing beer. From ancient monasteries to recent craft beer aficionados, the city's beer culture has evolved throughout the years to perfect the hoppy beverage. The first recorded brewing in the city dates back to 993 at the Benedictine Břevnov Monastery. Today, world-famous Staroprammen in Prague's industrial Smichov neighborhood is the only major brewery in the city, but microbreweries are popping up left and right.
Located in the heart of old town, Pivovar U Tří Růží brews six beers on site that can be enjoyed in its 15th-century restaurant. Pivovarský Dům is another great Prague microbrewery to try. It's known for its unique creations such as banana, nettle, and coffee beers. For a true Prague beer experience, though, you must visit U Fleků, which has continuously been brewing beer since 1499. The Medieval interior might feel a bit touristy, but the beer won't disappoint.
Enjoy a pint in one of Prague's best pubs
One of the first things you'll likely notice about beer in the Czech Republic is all the foam on top. This isn't the result of a bad pour, it's just how it's served here. You'll also find that beers are listed by degrees. Tourists sometimes mistake this number for the alcohol content, but it actually refers to sugar from malt. The higher the degree number, the higher the malt content (and usually alcohol content). Most beers you'll come across in Prague are either a 10 or 12 degree.
How much is a beer in Prague? Well, that depends. In some small neighborhood pubs, you might come across a pint priced as low as 30czk, about 1.17 EUR. However, it's more likely that beer in Prague will cost you closer to 45-55czk, or 1.76-2.15 EUR. In the Old Town, you might even see a pint of Pilsner selling for higher than that. Don't drink at those places, you're being ripped off.
If you're looking for somewhere to try the Czech Republic's most famous beer, Pilsner Urquell, stop by one of Lokál's locations throughout the city for fresh beer straight from the tank. You even have the opportunity to pour your own at one of The Pub's numerous Prague locations.
If you want to sample a variety of local Czech microbrews, be sure to check out BeerGeek Bar and the Prague Beer Museum. Both places offer a large selection on tap, making it easy to try different craft beers from around the country and the knowledgable bar staff will be able to provide excellent recommendations to make sure you find your perfect glass of pivo. U Kunštátů, Pivo a Párek, and Gastropub 20PIP are a few more great pubs to check out if you're interested in tasting local craft beers.
Catch some rays in Prague's beer gardens
When it comes to enjoying a beer with a view, nothing beats Letná beer garden. While the beer range is limited, the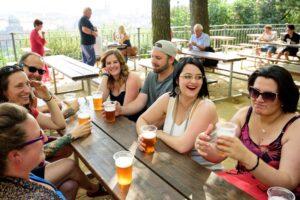 sprawling view of the city from Letná park makes it worth a visit. Hospudka Na Hradbách is another fantastic option for those who want to enjoy a beer above Prague. Located within the walls of the Vyšehrad complex, this somewhat hidden spot is a great place to sit and relax with a beer after exploring the area. If the mood for a drink strikes while you're up near Prague Castle, stop by the Strahov Monastic Brewery's beer garden to enjoy their handcrafted brews.
Prague surely won't disappoint those looking for something a bit different than the ordinary beer garden. Náplavka is one of the best outdoor drinking spots in the city. Located on the banks of the Vltava River between Palackého and the Vytoň tram stop, you can enjoy a beverage on one of the boat bars or grab a beer from one of the sidewalk vendors and sit at the river's edge dangling your feet over the water. Kasárna Karlín is an outdoor space that more artistic folk are sure to enjoy. This unique square is not only a great place to meet friends for a beer, but also offers a diverse entertainment program. One of Prague's newest outdoor drinking spots is Manifesto Market. A local favorite, organizers took a previously unused space and transformed it into a cultural hub.
Though it may be hard to compete with the Czechs' beer consumption, any trip to Prague would be incomplete without sampling some of the local brews. The best way to experience all that Prague's beer scene has to offer is to do a beer tour, such as our Craft Beer and Food Tour. Next time you're visiting the Czech Republic's stunning capital, don't forget to do as the locals do and enjoy a few pints of pivo. Na zdraví!