4901 Views
The Czech kitchen is unique among those of Central Europe, with its own twist on regional favourites such as dumplings and goulash, fabulous sauces, and a close familiarity with the frying pan!
The kitchen has been a place of pride for Czech women, so that male cooks have had to fight their way in! But while many are passionate about continuing a delicious tradition of home-made food, young people are generally less likely to take time to learn their family's recipes. As the culture modernises, traditional Czech cooking techniques are in danger of dying out.
So when you land in Prague, instead of merely trying Czech food, why not learn how to make it yourself?
Czech classics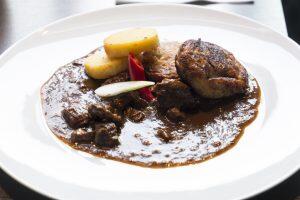 Local favourites include dishes like svíčková (roast beef in cream sauce), zelo (pork, dumplings, and cabbage), guláš (goulash), and hearty soups like bramboračka (potato). Just about everything should be eaten with a healthy chunk of bread in hand, and you will not be frowned at for washing it down with a beer.
A couple of decades ago, this bohemian style of cooking would have seemed almost rural in approach, but today it fits seamlessly into an international trend towards natural, authentic cuisine.
Fresh ingredients are a must, and a trip to the market to source independently grown fruit and vegetables is a treat for the senses! It's not just the ingredients that should be authentic. Microwave food is frowned upon, and you might even spot an older cook grilling their meat on the open flame of a stove.
Despite this fresh approach, little goes to waste. Many dishes can be left to stew and feed visitors over a long holiday at home. Czechs call this 'hotovi' or 'finished food.' Dumplings and sauce will always taste good with a few hours to brood – latecomers are sent to the kitchen to scoop up half-a-dozen 'knedliky' (dumplings) and a ladle of sauce. A stone soup laced with leftovers can become a magnificent thing in the hands of a well-seasoned 'babička' (grandma!)
Modern Czech dishes
Braver cooks might attempt a raw dish:, similar to beef tatare, is a patty of raw minced meat decorated with a raw egg and little mounds of diced onion, spices, and sauces. Meticulously presented, the tatarak is quickly mashed to a paste by the diner and spread upon deep-fried garlic bread. One for bold cooks and bolder foodies!
If the idea of minimal cooking appeals but you're not ready for the leap to raw meat, you'll be pleased to know that nearly anything can be wrapped in breadcrumbs and deep-fried!
A schnitzel such as the 'smažený řízek' (veal) is the classic, while leftovers are an excellent source of a quick and satisfying meal. Cheese, cauliflower, mushrooms, and potatoes, are all fair game as far as the deep fryer is concerned. Plenty of spices and a cool tartar sauce will keep things interesting, and you can kiss your hangover goodbye.
Mastering the Czech kitchen isn't just a delicious experience, then – it's incredibly practical! From cooking up an instant treat with whatever you find in your fridge to preparing a slow-burner that'll impress your guests no matter what time they arrive, learning to cook in a new way can reshape the way you see the world, just like learning a new language.
Visiting Prague soon? Our Prague Food Tour will allow you to sample plenty of Czech traditional dishes.