19661 Views
This post was originally published on May 25, 2015 and was updated on October 21, 2016.
Bad a@#, provocative, amusing, controversial, revolutionary, radical, bold, brash (we could go on, trust us): meet David Černý, the Czech Republic's most notorious sculptor.  47 years old, jet-black hair, and a mischievous demeanor, David Černý certainly looks the rebellious artist part. Rattling cages with works like "Brownnosing" and "Entropa", Černý has earned his place in Czech art history, alongside classic Art Nouveau's Alfons Mucha and Cubism's Bohumil Kubišta.
David first turned heads in 1991 when he was arrested for meddling with a prominent cultural monument – as in, he painted the Soviet tank pink in a political stance. And that was just the beginning. Nowadays, Prague, Černý's hometown, is strewn with his controversial pieces. And his audaciousness continues to earn himself a reputation around the world.
When in Prague, we recommend scoping out Černý's masterpieces – we've got your handy guide below (and if you join us on our eating tour, we'll take you by one or two of them, as well!). In addition to being a bit weird and interesting at the onset, most are thought-provoking and offer a window into some of the political woes the county has experienced post-communism. And as a local-oriented bunch, we believe experiencing the raw and real elements of a culture is what travelling's all about…
Pink Tank (1991)
Fifteen years ago, David Černý and his friends painted the Soviet Tank Monument, commemorating the Soviet liberation of Czechoslovakia in 1945: pink. The cherry on top was that they also included a huge middle finger. Why? Well, for many Czechs, the tank reminded them of the Soviet occupation that ended the Prague Spring in 1968 and henceforth, wasn't a friendly reminder. The prank was deemed an act of civil disobedience for which Černý was arrested temporarily.
Location: Military Museum Lešany, 20km south of Prague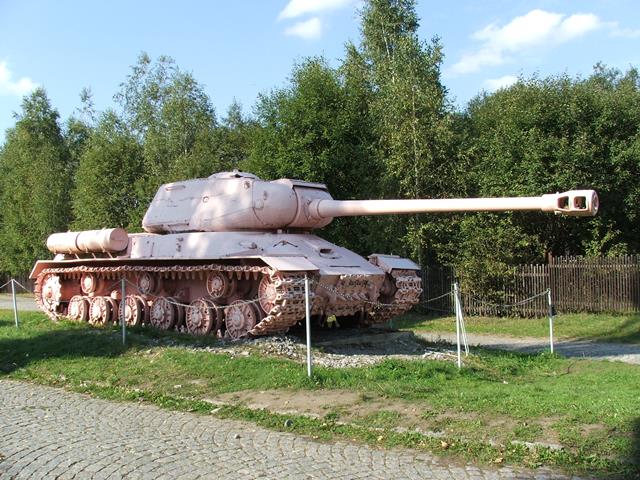 Man Hanging Out (1996)
Tucked along a cobbled street near Old Town Square, find Černý's sculpture of the hanging man. The man is meant to be Sigmund Frued, contemplating his fate casually dangling from the rooftop.  Freud was born in Frieberg, which is now part of the Czech Republic. Suffering from multiple phobias, he eventually committed suicide with the help of his doctor. The sculpture gained international interest and can now be spotted in London, Berlin, Rotterdam, Chicago, and Grand Rapids, Michigan, in addition to Prague.
Location:  Intersection of Husova and Skořepka street near Old Town Square.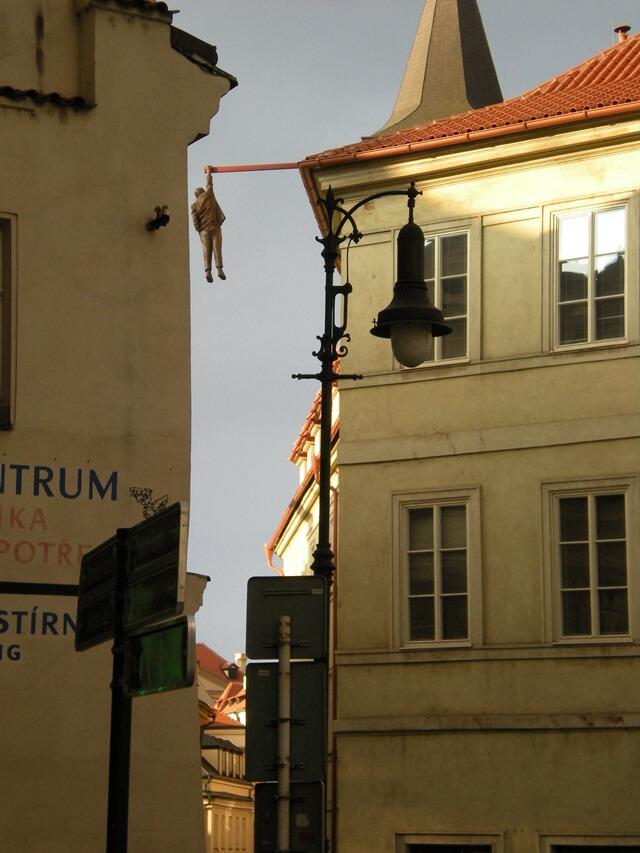 Saint Wenceslas (1999)
Around the corner from Prague's famous Saint Wenceslas statue, inside the Lucerna atrium, find Černý's rendition. Presumably mocking Czech's previous president, Vaclav Klaus, the Saint is atop an upside-down, dead horse.
Location: Lucerna Palace atrium, Štěpánská 61, Prague 1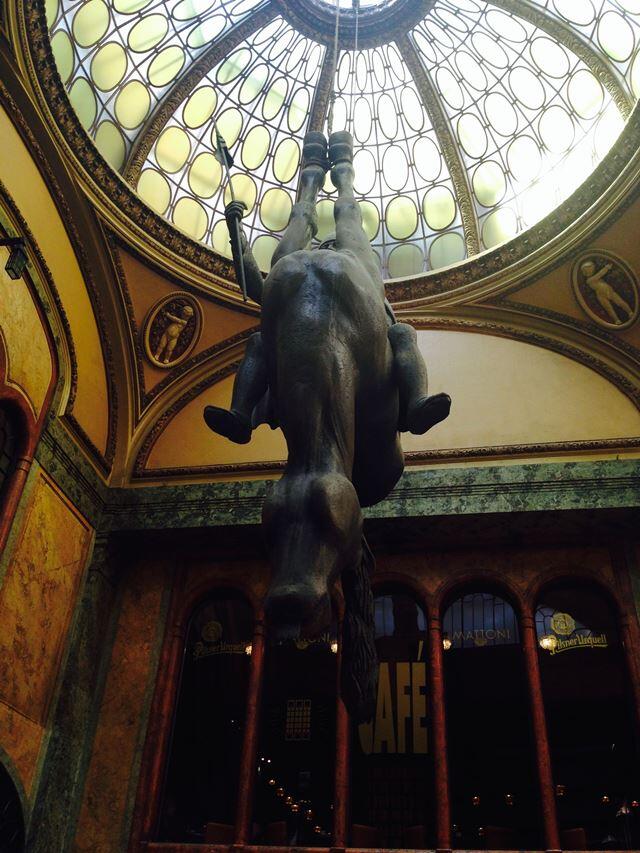 Babies, Žižkov Tower (2001)
Perhaps Černý's most visible work can be spotted crawling up Prague's largest tower: the Žižkov Television Tower. Ten gigantic babies (to make things weirder, they have slot machine-like faces) adorn the 216-meter (709-foot) tower lighting up with the colors of the Czech flag at night.
Location: Žižkov Television Tower, Mahlerovy sady 1, Prague 3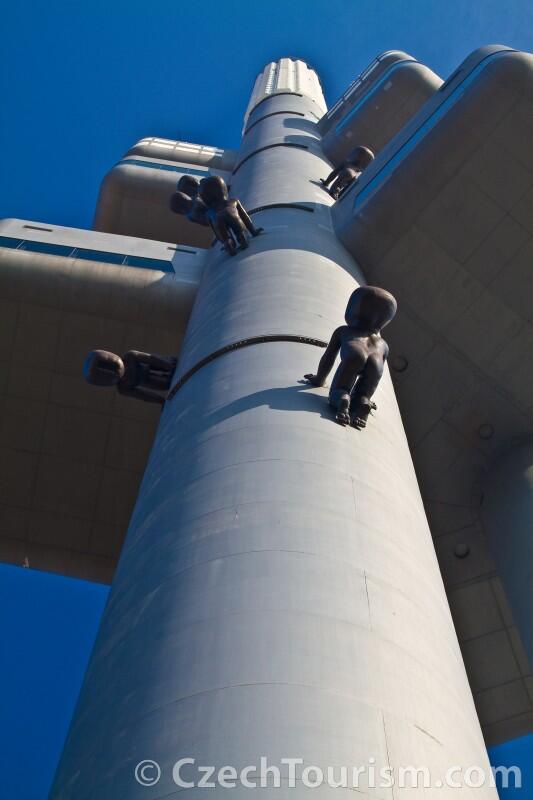 To see the babies up close, the bronze versions are on the grounds of Kampa Museum.
Location: U Sovových mlýnů 2, Prague 1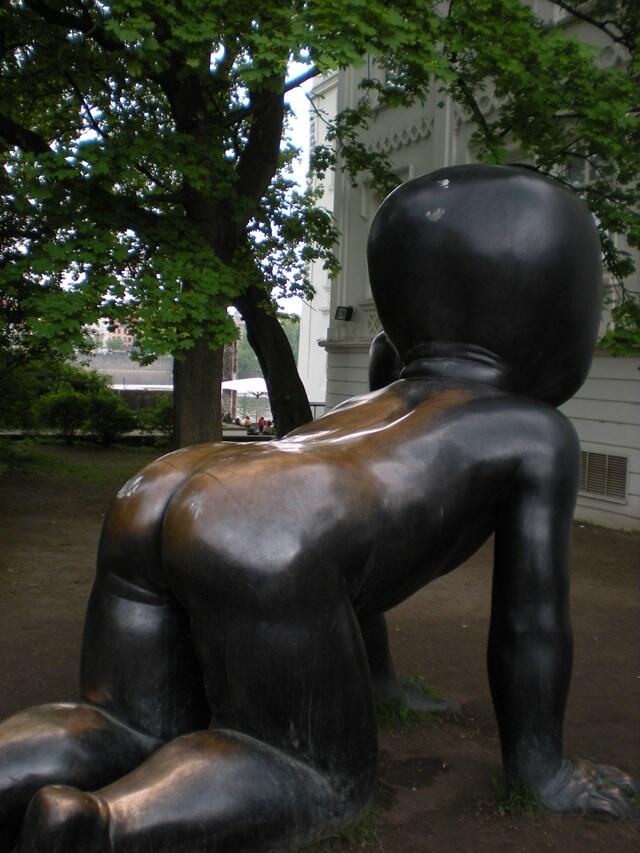 Brownnosing (2003)
Climb up the backside of one (of two) oversized naked statues, peer into the rear, and watch a video of Czech politicians (former president, Vaclav Klaus and the head of the National Gallery Milan Knížák) spoon-feeding each other to Queen's track "We Are the Champions". An obvious political metaphor.
Location: Futura Gallery, Holečkova 49, Prague 5
**********************
Like this? Check out Eating Europe on social media!
With Czech travel ideas, mouthwatering pics and much more, we're on…
Facebook | Twitter | Pinterest | Instagram
**********************
Piss (2004)
Next to the Franz Kafka museum, find a pair of bronze gyrating mechanical men urinating on the Czech Republic. Text a message to the number listed next to the exhibit and these guys will spell it out with their you-know-whats.
Location: Franz Kafka Museum, Cihelná 2b, Prague 1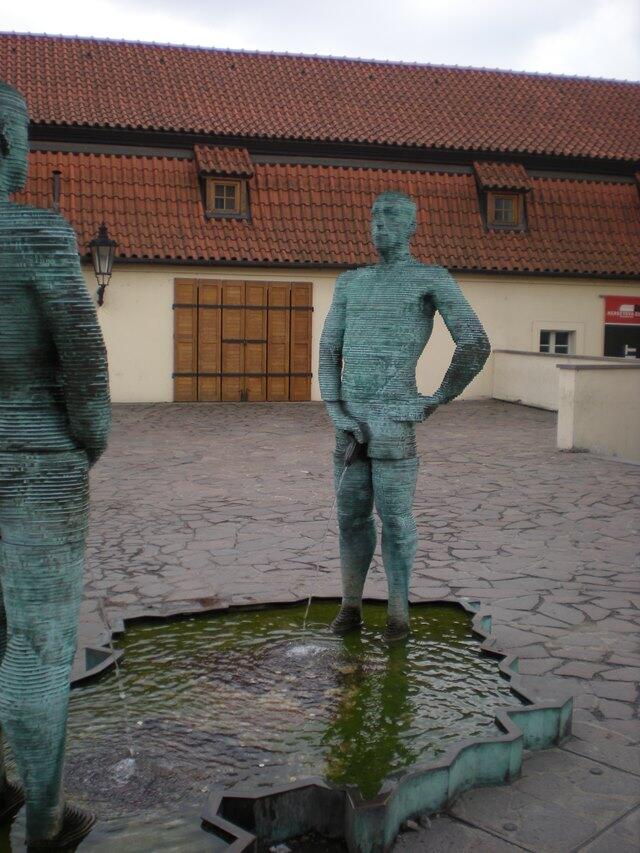 Entropa (2009)
The intent was to commemorate the Czech Republic's six-month presidency of the European Council and seek artistic input from each of the EU member states. Instead, Černý and two of his friends created a showcase of stereotypes for each country (for instance, Bulgaria was illustrated as a collection of squat toilets, and Italy as a bunch of footballers), offending several EU member countries.
Location: Justus Lipsius Building, Brussels, Belgium
The Finger (2013)
On the eve of the Czech general elections, Černý floated a statue of an obscene-gestured hand in front of the castle, in opposition to the state of Czech politics, perceived corruption, and President Milos Zeman's support of the Communist party. David Černý drew international attention for "sticking it to the man".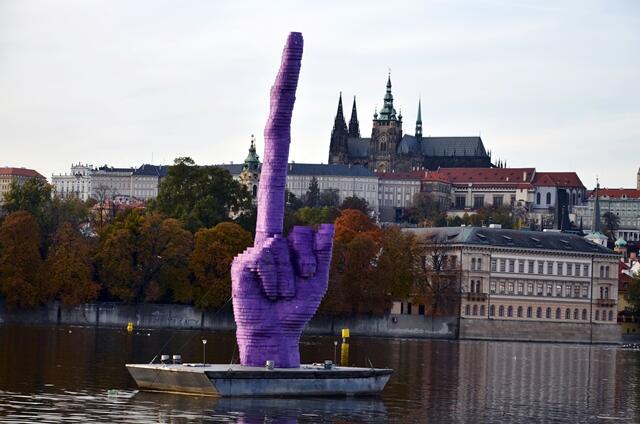 In Utero (2013)
Not far from Old Town Square (and the starting point of our food tour), you'll find this stainless steel structure of a pregnant woman where visitors can step inside to "experience" the womb.
Location: Dlouhá Street (square)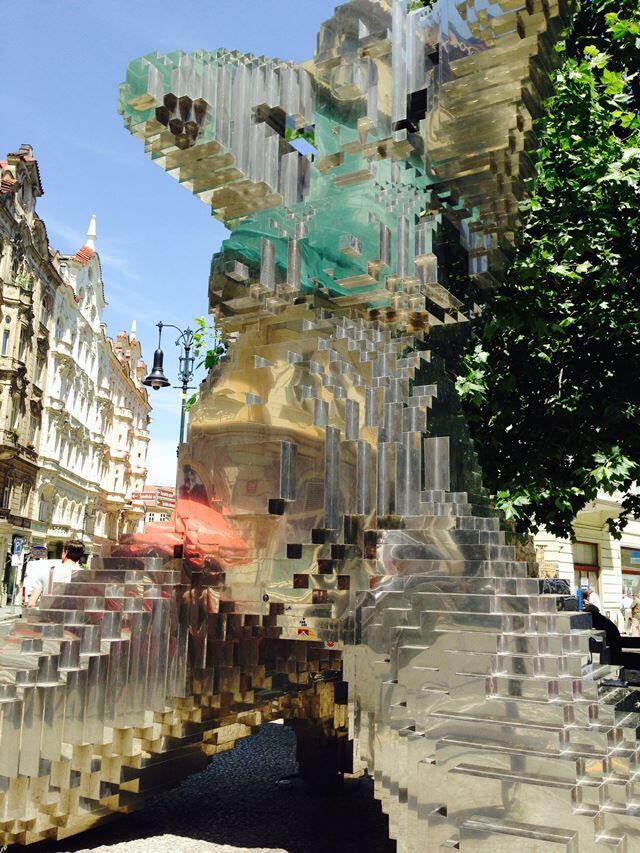 Meet Factory
Founded in 2001, Meet Factory is Černý's non-for-profit international center for contemporary art. Housed in an industrial building south of Smíchovské nádraží (next to the railroad tracks), the Meet Factory is open to the public for art exhibitions, film screenings, theater, and live music. Red cars on hooks (like bloody carcasses) scale down the front.
Ke Sklárně, Prague 5
+420 251 551 796
meetfactory.cz
Open: Daily 1 pm – 8 pm (and later, based on evening program)
Other Černý sculptures in Prague include:
"Fast Tuned Skull" at the Dox Contemporary Art Museum, Poupětova 1, Prague 7
"Shark" and "Pistole NY/Guns" both at the Artbanka Museum of Young Art (AMoYA) – museum is currently closed
"Embryo" at Divadlo na zábradlí, Anenské náměstí 5, Prague 1
Other Černý sculptures outside of Prague include:
"Feast of Giants" in Liberec, Czech Republic
"London Booster" in London, England
"Metalmorphosis" in North Carolina, USA
Planning your trip to Prague? Explore the city's culture, history, and food by taking our Prague Food Tour or our Brews and Views Beer Tour for incredible Czech delicacies!